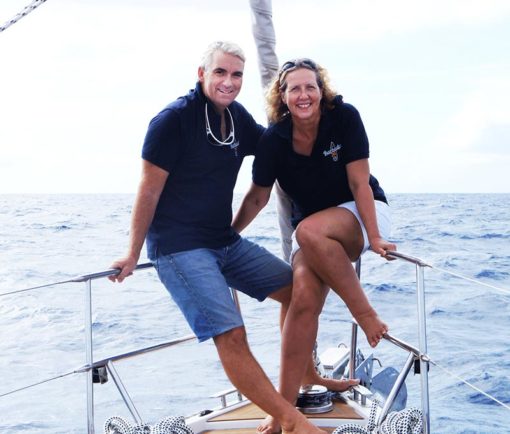 Ka "Mitzi" Binz, a gifted and award-winning designer and artist. She has led Design and Advertising Agencies for more than 28 years.
Holger Binz, business economist, has ran advertising and marketing agencies for more than 28 years.
We are citizens of the Grand Duchy of Luxembourg and lived in Berlin and Luxembourg.
Karin and Holger in brief
We are traveling for ages and more than 15 years ago we became blue water sailors too. We have visited more than 100 of the 197 countries of the United Nations. There should be more to come.
In 2016, we sailed across the Atlantic for the very first time, just the two of us. We were at sea for one year sailing a Hanse505 monohull from our homeport Valencia to the Caribbean. It was a crazy year, the hardest and best of our lives and we want more of that. So we decided to sell everything, change the vessel from a monohull to a catamaran and start an open end journey around the World.
In 2020 our new adventure began in Cape Town, almost. With our Leopard 45 catamaran "Rivercafé" we will sail our (super nice) flag of Luxembourg around the World. Open End. To us sailing is the perfect way to travel, to leave no footprint and not burden nature.
We both are not dropouts, we will certainly not be on an emigration show. Rather, we are beginners in a different way of life, we want to try something new.
For more than 28 years we owned and managed international marketing and design companies in Germany and Luxembourg. Moreover Ka did a lot of work as an artist (painting) (see Behance.net). We speak German, English, French and Luxembourgish, but we want to publish this blog in German and English only.
During the year at sea, we experienced that we were even more creative and our lateral thinking was much improved without the civilized everyday life. We will try a different rhythm and work on different topics during the journey. The results should be just sunny :-). We invite you to join us on our journey and we are looking forward getting your messages.