St. Martin and St. Barth
For a few days we lay at anchor in Marigot Bay in St. Martin, waiting for only the second visit of our trip (due to C19): our old friends Vera and Marc with their kids Vincent and Nelly.
The sandy bottom of Marigot Bay is formidable, our anchor dug in so deep that we had best hold even in 30 kn wind. We washed the salt from the crossing off the Rivercafe, filled our water and diesel tanks and stocked up on food and drinks. We even had time for an island trip with our friends Arzu and Emre, including a visit to the beach bar in Oriental Bay. As a nice gesture, the wind dropped when our friends from Germany arrived. For days we had a maximum of 24 knots – that's what I call a Caribbean welcome present.
Since our friends had not yet proven their seaworthiness, we wanted to take it easy and sail only short distances. Once around St. Martin, to St. Barth and back. We sailed about 40 nm in a week.
And then I'll let Vera have the floor, who writes about her visit to the Rivercafe:
Vera Augsdörfer, currently St. Martin:
Our long-awaited visit to the Caribbean
I started planning our trip back in November 2021. The time frame of April 2022 presented itself because Holger and Karin have planned to anchor in St. Martin then and there is a good flight connection to Europe (Lux – Paris – St. Martin). So we set off for the Caribbean on Sunday 3 April with our son Vincent, who has just passed his school-leaving exams and no longer has to go to school. Our daughter Nelly, 17, will join us on Friday 8 April, as she had to wait for school holiday.
The flight with Air France was really pleasant and better than expected. Once we arrived here, the temperature difference got to us first (from 0 degrees at home to a Caribbean 29 degrees). The jet lag should not be underestimated either.
Holger picked us up at the ferry terminal and took us by dinghy to the Rivercafe where Karin was already waiting with ice-cold champagne. We were very impressed by the atmosphere on the vessel, the hospitality, the blue colour of the water and the sky. The water is so clear that you can see all the way to the bottom.
The next day we weighed anchor and sailed to a small island called Tintamarre, where we stayed overnight. We went snorkelling and sun-down on the snow-white beach. Holger made us a wonderful Dark'n Stormy (rum cocktail), which we enjoyed right on the white beach..
One day later we sailed to St. Barth early in the morning. Duration: about 3 hours. Well, what can I say: Like something out of a picture book! Thats the Caribbean.
Today at noon we (the boys) want to go to a sports bar to watch Chelsea – Real Madrid and in the evening we have booked a table in a nice restaurant in Gustavia. Otherwise, we like to cook and eat on the vessel because it's so nice and uncomplicated.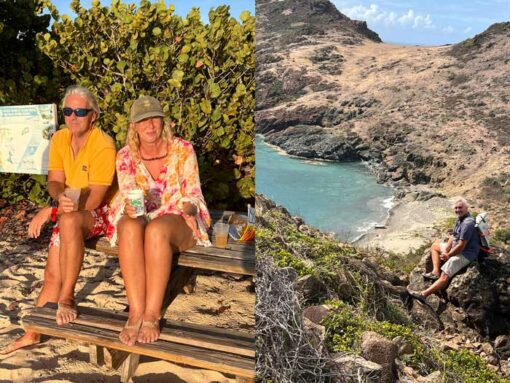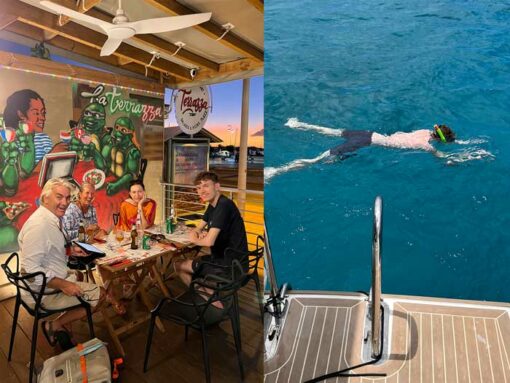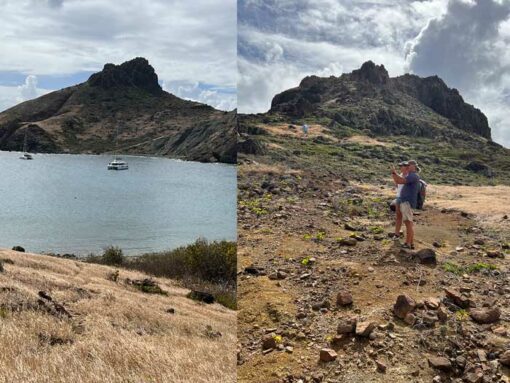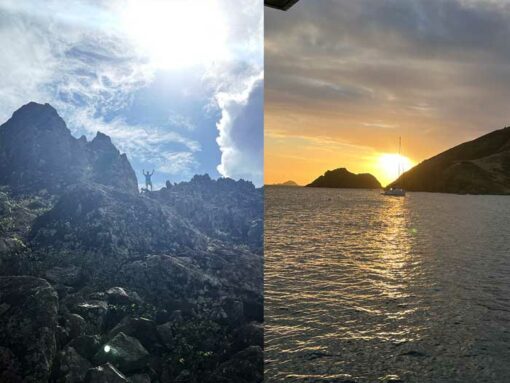 Holger has planned our route so that the sailing distances are not too long and demanding for us landlubbers. Unfortunately, I suffer from seasickness, although I have prepared myself, which is really not pleasant. But it gets better from day to day!
The way back to St. Martin is via another small island, Fourchue, where we will also anchor overnight. Friday we have to be back in St. Martin, as our daughter will be arriving then, and she will stay with us on the Rivercafe for another night. Saturday we have to say goodbye to Holger and Karin. We will spend another week in Marigot while the Rivercafe prepares for the next guests, namely Jil and the children.
We learnt that it takes a lot of bureaucracy and paperwork to sail from island to island, which is actually incomprehensible since St Martin and St Barth both belong to France. There is also a lot of organising to do on the ship to cater for several people.
This visit will remain in our memories as an unforgettable "Eventi" and we thank Holger and Karin for their hospitality. / Vera Augsdörfer