One more week to go
As expected time flies in Las Palmas. There are only two important things to do on board before leaving on Nov11. A leaking window has to be replaced and the water maker should then start its service. Everything else was done last week. The Rivercafe is fueled up and almost ready to go.
We have even stashed most of the provisions. Our Minister of Pleasure and Happy Life – Ka – will write separately about provisioning. It is unbelievable how much food 5 people need for three weeks. It feels that our vessel lies half a meter lower in the water.
A productive week also included an invitation from OCC Port Officer Agustin to his house in the south of the island. Three crews from Ireland, Sweden and Luxembourg met corona-compliant for a BBQ and an entertaining afternoon. If it did not already exist, the Ocean Cruising Club would have to be invented. Thanks Agustin for the kind invitation. And the pleasant side effect: we enjoyed the warmth of the southern part of the island.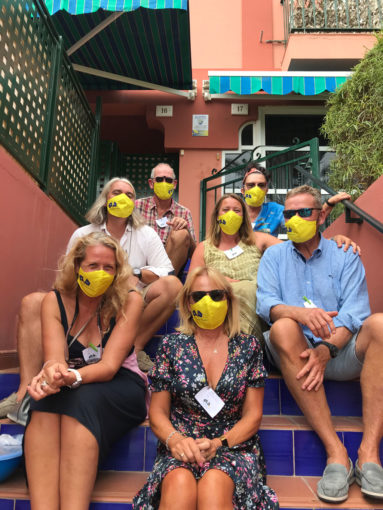 Some of you will wonder if I completely drove nuts when I complain about having to put on long trousers every now and then. Ka even talks about cold, bad weather. In numbers this means 24 degrees (celsius) and partly clouds in the north of Gran Canaria. Talking about bad weather is perhaps a little off the mark when I think of our friends in Northern Europe. But for all I care it can finally get really warm. And that will soon be the case.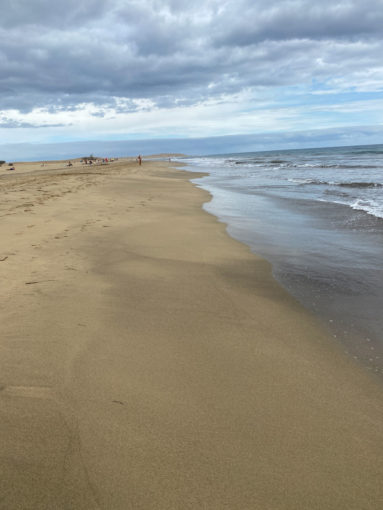 Just before the last week before the start our crew is complete. We are very happy to have Gary from South Africa and Jana & Toni from Germany on board.
Vessel approved
Also the ship acceptance of Rallye Control is done. The Rivercafe has the permission to sail the ARC+. Sounds like it was done quickly. But the whole thing is a complex matter that must be completed before the ARC Officer comes on board for the acceptance. C19 compliant. What is required as safety equipment is quite steep. State-of-the-art life raft, satellite communication, epirb…, the list is long … and expensive. Everything needs the latest certificates and approvals, this also applies to the medical kits.
For all crew members the ARC requires personal life jackets, which are not available in discount stores. We do have 8 self-activating life jackets with signal lights on board, but they are not ARC compliant. The ARC requires life jackets of the finest quality, with personal AIS beacon. This is a homing device that can be used to locate those who have gone overboard in the sea. This is of course a good idea, but this ARC compliant lifejacket equipment alone costs each crew member over 1.000 €. This is especially useful for things that you definitely don't want to try.
Unbelievable, but we still had to retrofit, e.g. we still needed an external radio antenna just in case our mast brakes. And then we had to extend our – in my opinion already impressive – emergency flare range even further. I guess we could equip the next fireworks at the Grevenmacher wine fest on our own.
Apart from that, the ARC+ is quite different from the usual ones due to Corona. There are no parties in Gran Canaria, no live seminars, no excursions and no flag parade. To compensate, all crews have to take the Corona test three days before departure. Big fun. From Nov1 on we are not allowed to have any contact with others and the only 26 crews left, have to stay in "bubbles".
We hope that we will be able to enjoy a little bit of ARC atmosphere on the Cape Verde Islands and St. Lucia. There the numbers are much better than in Europe. But all this does not detract from the good atmosphere between the crews. There are radio rounds, whapsapp groups and ladies meetings on the beach.
Everybody is very careful and tries not to get infected. A positive case can cause big problems for the whole fleet and a ship with a C19 case on board is not allowed to leave. A nightmare for every crew. Because whoever has come this far has already invested a lot in this voyage, in time, money and emotions – and high expectations of course.
C19 also indirectly affects us
Unfortunately, we are now also affected by the C19 situation in Europe. Ka`s parents are not well. Her mother has been in poor health for some time, but returned home after a hospital visit. Now her father has also been seriously affected and is under intensive treatment. It is very distressing to be 4 flying hours away and not be allowed to visit. Only both of us have our best thoughts to send. We cannot do more than continue our preparations.
All the ships that are here in Las Palmas have already spent a long time at sea, 5 days and nights at least. Mostly sailing from Madeira, Gibraltar or Portugal. The Rivercafe surely has the longest journey with Cape Town behind it. But in front of everyone there are 3.000 nm Atlantic waves as soon as we pass the harbor wall. Those are the moments when you respectfully realize how big and wild our nature can be. And surely many will ask themselves why they do this to themselves.
We are now turning into the home stretch and the excitement is rising. For the last week we have planned extensive briefings and trainings. But there will also be time for a ship christening. The champagne is already cold.
The weather should also get better again, but I think there is nobody at this jetty who is not looking forward to the Caribbean. And to the cold rum punch on arrival. /Holger Binz