Talking about Easter, hairstyles and vaccinations
Don't worry: that we're talking about the weather has nothing to do with the fact that we don't have anything else to say. But first we would like to tell you about our last days.
We spent the Easter holidays in Les Saintes, in the best company. From Thursday onwards there was no mooring ball available and over 20 yachts anchored in the side anchorage zone. (No problem with the minimum distance of 1.5 m to the other yachts). 🙂
The sun was shining and we were even both able to squeeze in a hairdressing appointment. That's not so trivial, because Caribbean hairdressers hardly can deal with thin European hair. So it's all the more pleasing when you find a European hairdresser. My first Caribbean hairdresser couldn't understand that I didn't want shaves, ornaments or threadlocks. I am always amazed to see how vain men here are about their hair. But don't worry, I'm still long-haired, so is Ka.
There was one special thing here over Easter. Because of C19, all restaurants and bars normally have to close at 10 pm. Over Easter, there is apparently a tradition in Guadeloupe of drinking too much and then celebrating drunken car accidents at night. In order to avoid hospital cases, everyone had to close at 8 p.m. over the weekend. From Tuesday onwards, everything was as usual.
So it was an enjoyable Easter, even with our traditional Lindt bunnies. Our Easter present was particularly remarkable: our first Corona shot. We got the shot on Tuesday and then felt really bad for two days. But life goes on and in one month the second vaccination will follow. We have been working on it for weeks. We were supported by some very nice people and in the end everything went quickly. What a relief for us and the rest of our journey.
That was a halfway successful transition to our actual topic,
The weather of our journey.
Something is different in the Caribbean. Very different. The weather is going crazy. Since we've been here, there's been far too much wind. It rains much more often than usual and it is colder. We were able to compare the wind with that of our 2016/2017 trip. Then we had mostly 4 Bft, often 5, very rarely 6 and never 7 Bft. Now it is exactly the opposite. Until Easter, we hardly had a day with less than 20 knots of wind. 6-7 Bft was the most frequent weather forecast.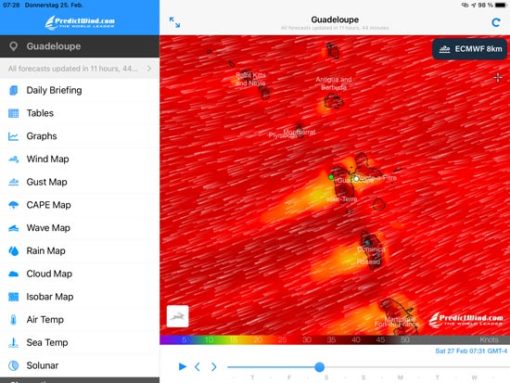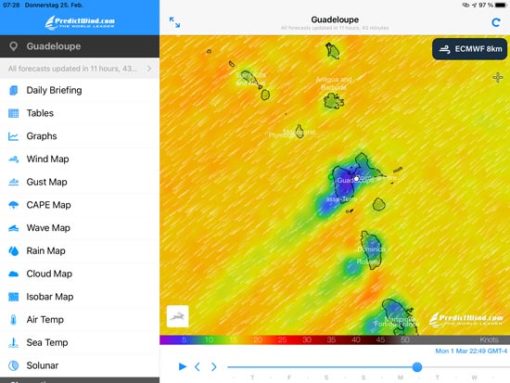 Photo left: the redder the more wind, Photo right: should be the normal forecast, but its rare
Since Easter it has become a bit calmer. We have been on board for over half a year now and had our first calm night on March13. Today is April4 and until 4.30 pm we had the first calm. Then in the evening there were some good gusts again.
We remembered the rain and the temperature differently, because on our last trip we didn't need any warm blankets at night as we do today. The locals confirmed: too cold, too wet. Not sweating at Easter is not normal. And the rain at the wrong time of year gets under the skin of most people. We always have to leave the drain of our dinghy open when it hangs on the davits. Otherwise it will fill up with rainwater in minutes. June to November is normally the rainy season. I'm curious to see what the sky will throw down when it's already so wet in the dry season.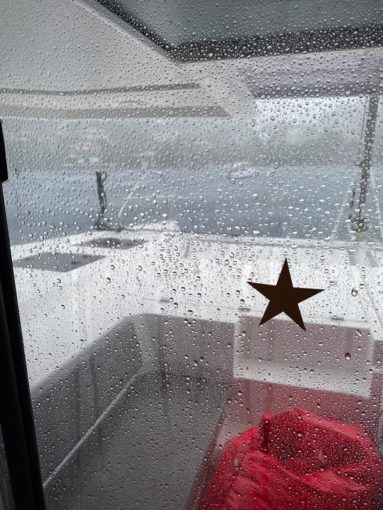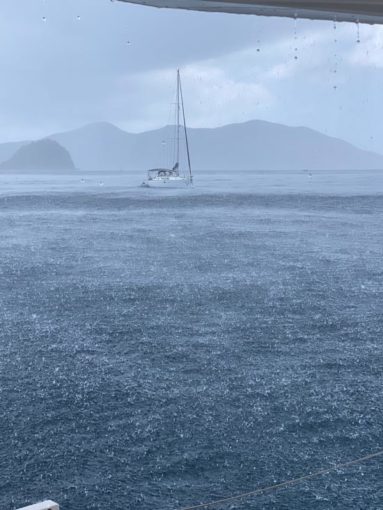 I guess you can't drink enough disinfectant to ignore climate change. So there it is, in all its glory.
On our last trip, we hardly ever had to change our route planning because of the wind. This time, the weather apps are our most important tool. Our light wind sails are enjoying extraordinary disregard.
We have even got into the habit of furling our particularly attractive Luxembourg flag at anchor, because we are running out of flags. The strong wind regularly rips them. This is particularly unfortunate, because we are often asked about the "roude Leiw", a true exotic in the Caribbean.*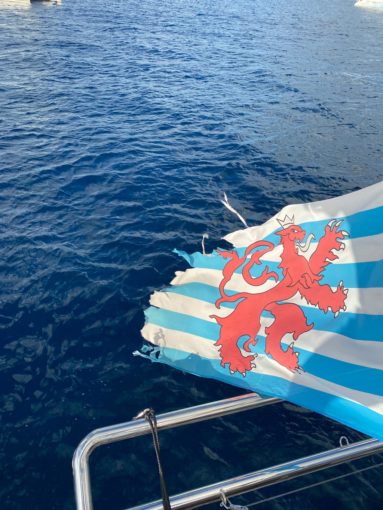 It will be very interesting to see whether this is an exceptional year or whether we have to live with it permanently. If the winds continues to rev up like this, it will certainly affect more than just our planning.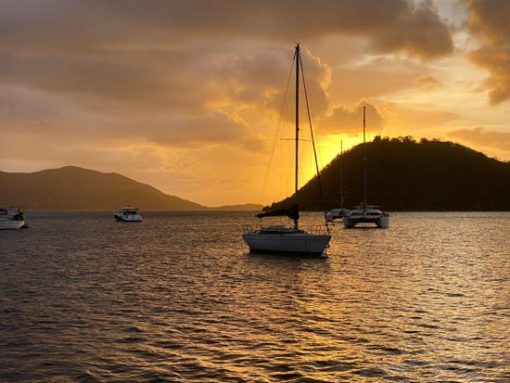 Photos above: rare calm seas
The next few days we will sail the Rivercafe into the marina at Point à Pitre. There, the last more extensive work will be done. We will be fitting an additional 1,500 watts of solar panels and that will require some more extensive rebuilding and refitting.
So the next few weeks will be very different, with shore life and no jumping into the water in the morning. If all goes as planned, we will set course south in early May. The next Hurricane Season is not far off. /Holger Binz
* If any of you know a source of good quality Luxembourg flags, I would be very happy to receive a tip.