Dominica, the lush island
Our friends Moni and Tilman were our last visitors for this season. They flew to Guadeloupe and joined us in Les Saintes. We treated them to a few more days in Les Saintes, on land and on water.
On Monday morning we sailed 22 nm to Dominica. Wind from 60 degrees between 15 and 30 knots gave us 9 knots top speed with reefing in main and genoa. A cool baptism sail for Moni. And the perfect contrast programme with a completely different island ahead.
72,000 inhabitants live mostly frugally, excluding the cabinet, on a third of the area of Luxembourg. Needless to say, Columbus once again claimed the discovery of the island inhabited by the Kalinago natives (1493). Subsequently, England and France alternated as occupiers 7 times until the island became independent in 1978.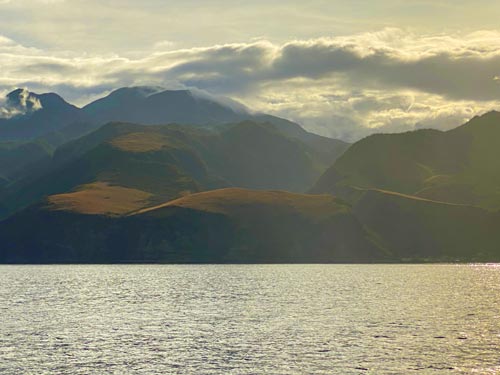 Our day trip ended in Prince Rupert Bay, in the north of the island, with the town of Porthmouth. Dominica has finally eased its extreme C19 regulations. It was a tough time. Locals had no income from – mostly eco – tourism and got no support from their government. The already poor island, was in sheer survival mode.
So we didn't question the announcement that you needed an agent to enter and leave the island. The islanders need every East Caribbean dollar they can get. Jerome and Nikel from Cobra arranged everything for us and delivered stamped passports and clearance papers on board. We moored the Rivercafe at a well-maintained mooring ball, for which we were very happy to pay 12 USD a night. Dominica lives with modesty.
As poor as the people of Dominica are, the nature is incomparably rich. The beauties are raw and only roughly developed. So there are no fancy roads or driveways, nothing is elegantly decorated, everything is simple. That's what makes it so charming.
Indian River
It is hard not to fall in love with Dominica. The island is a dream in green. Our first excursion took us to the "Indian River". The river is below sea level and carries mostly brackish water into the mangrove forests. The second part of "Pirates of the Caribbean" was produced here and the hut of the witch Calypso still stands today. In the middle of the bush is the deeply relaxed "Bush Bar", a Refugium with delicious rum.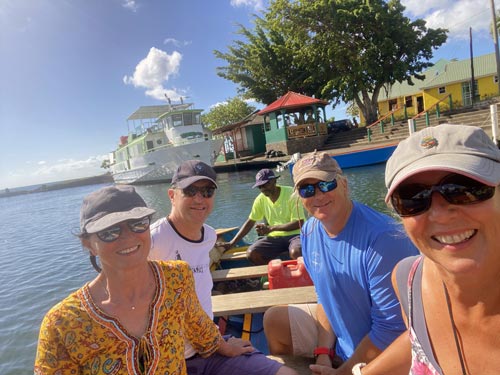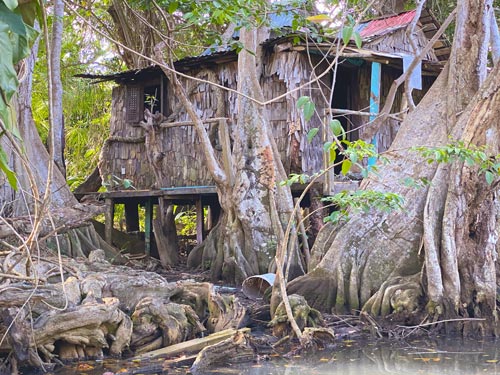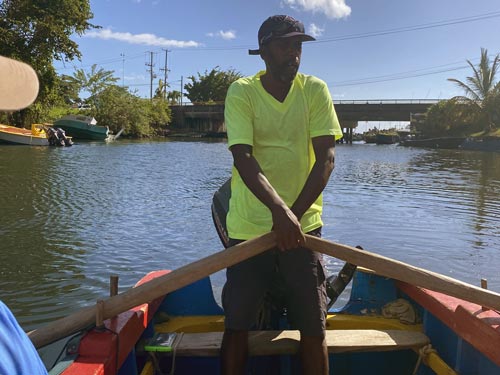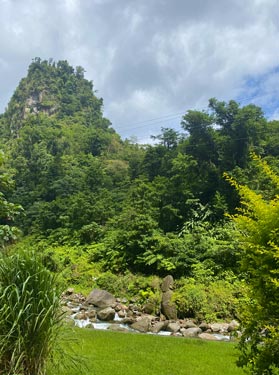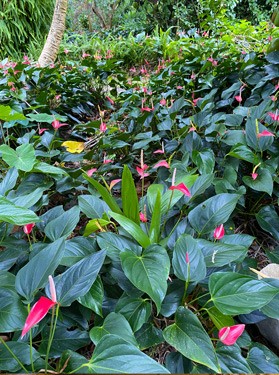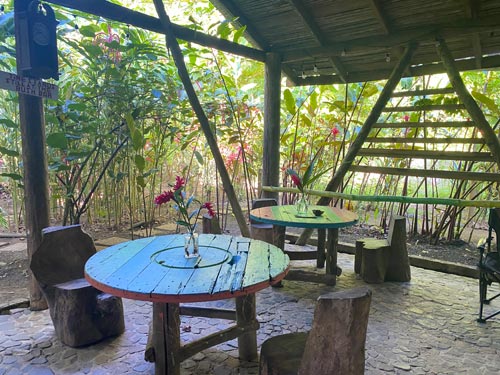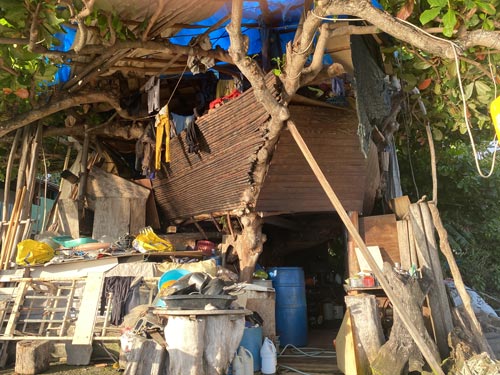 Champagne Reef
We visited Champagne Reef with our friends, in the very south of the island. We climbed over the stone beach into the bubbling underwater world, where it felt like trillions of fish were enjoying the warm water and rising bubbles as much as we were. It really does look underwater, like in a champagne glass. Only you are swimming in the middle of it. Unfortunately, we forgot our underwater camera.(sorry, thats why its a stock photo). And despite its volcanic origins, it doesn't smell of sulphur.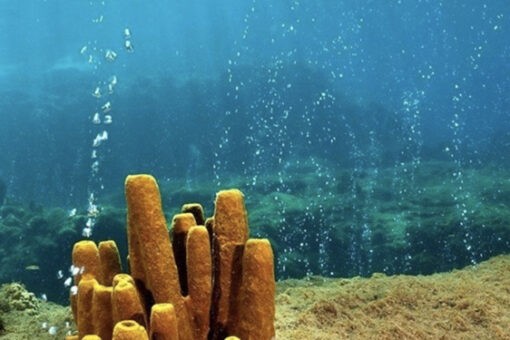 Titou Rocks
Titou Gorge was our next trip. Rare enough that we can step into fresh water. You swim through fresh mountain water between towering rocks to a waterfall. There is only this way through the water. Spectacular. Definitely worth a visit if you ever pass through Dominica.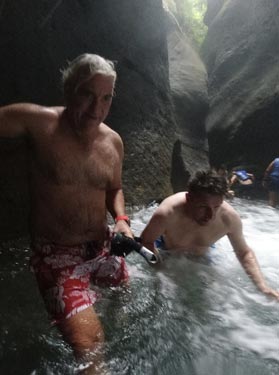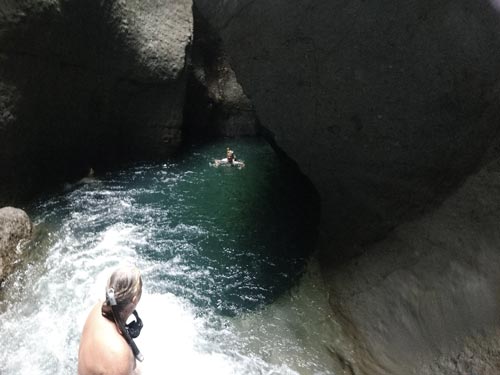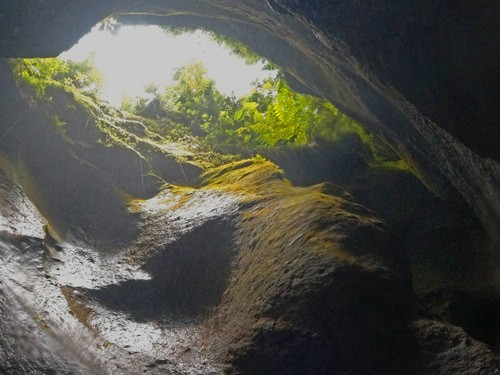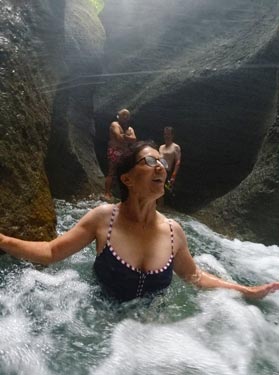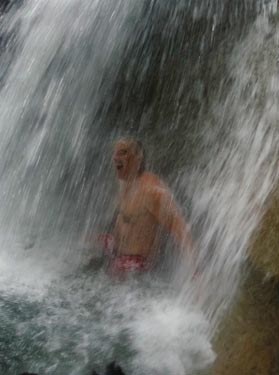 Trafalgar Falls
The Trafalgar Falls – Dominica's second largest waterfall – was also something we had to show our friends. It is an archaic moment to see how the majestic two waterfalls rush from the mountains 65 m deep into the jungle. For me, there's a little family story to go with it. Without knowing about my parents' visit to Dominica, we found a black and white photo that shows them in the 60s at exactly at this waterfall. Back then, travelling was still a real adventure. This probably also explains the reason for my wanderlust. If you ever go there: you can climb into the waterfall – with a guide – and swim in a hot and a cold pool.
The falls have never gone dry, there is so much water – and rain – in Dominica. So much, in fact, that China is rumoured to want water rights from Dominica in return for an alleged 300 million investment in road building and infrastructure. Of course, these were built by imported Chinese workers themselves and local workers got nothing out of it. The old game of the Chinese: how to buy land cheaply. A frequently practised game in the Caribbean.
Hot tub – Iron bath
Last but not least, we took the opportunity to literally step into an iron bath. Dominica, like almost all Caribbean islands, is of volcanic origin. There is still a lot going on under the earth. There are sulphurous springs and lots of iron. In some places you can climb into a brown bath to wallow in the warm, iron-rich water. Very relaxing, especially after a long hike.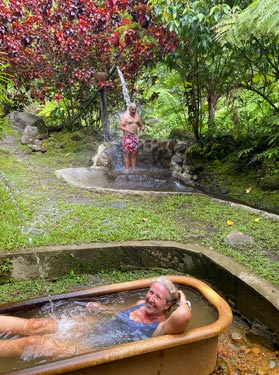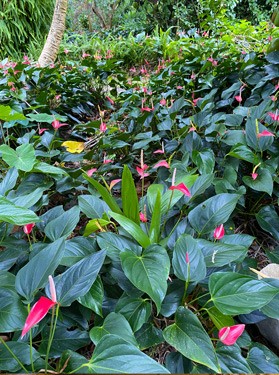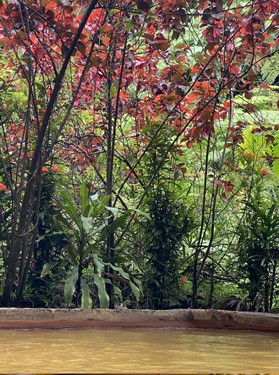 By the way: 40 % of Dominica's energy is generated by hydroelectric power, 60 % by diesel power plants. These dirty machines are to be replaced by thermal power plants by 2025. What a pleasure to see that countries are looking at their natural resources and not succumbing to the allure of the easiest solution. Dominica has volcanic power and water in abundance.
Once again, there was far too little time for the island between Guadeloupe and Martinique. An island that has somehow fallen out of the world.
Our next destination is Martinique, 55 nm away, where our friends will leave us again. More next week. / Holger Binz