Discovering Grenada
Grenada is the southernmost of the Windward Islands, at 12 degrees north. Outside of the most popular hurricane tracks. A good reason for sailors to spend the time from June to November here and a good income for the locals in the offseason of normal tourism. C19 has put fierce gaps in the sailor field, but there are still plenty of ships lined up in the marinas, moorings, at anchor or on the hard here. We are enjoying finally meeting a truly international sailing community again.
For us, this week was time for a few excursions to get to know the island better. Ka and I have been here before, but that was a long time ago. It takes a similar amount of time to drive from north to south as it does in Luxembourg, even though the island is only 15% of the size. It is mountainous, immensely green and forested. For some roads, it's sensational that Google Maps finds them. 112,000 people live in six districts, all named after saints. No wonder with almost 90% Christians, spread over endless strange churches, including "the martyrs of Uganda" and other experts.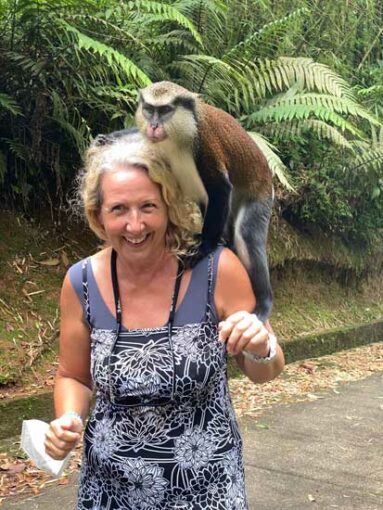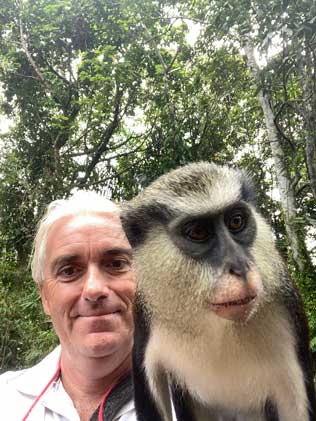 War and China
In 1974 Grenada became independent, but is still in the Commonwealth. In 1983 the island became famous because the USA declared war and invaded. A real thriller. The whole thing was over quickly and Grenada subsequently on a different track. Today, the Chinese have everything under control. That's how times change.
Grenada is a famous spice island. And rightly so. Nutmeg is so plentiful here that many pave their paths with the nutmeg shells. For the past two years, the dry season hasn't come and there is plenty of rain, which makes everything sprout. Chocolate, spices, medicinal herbs – everything that touches the earth grows here.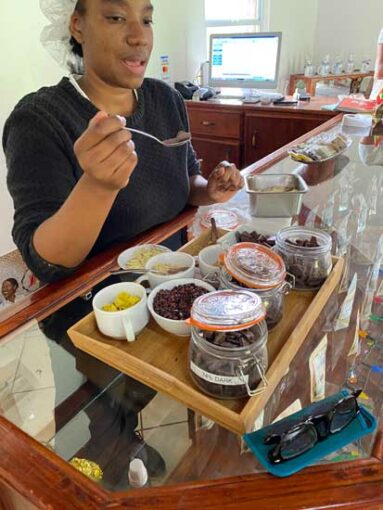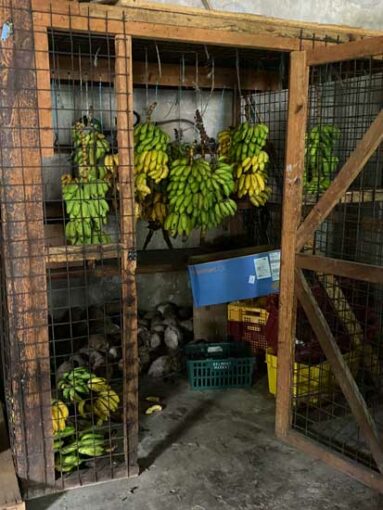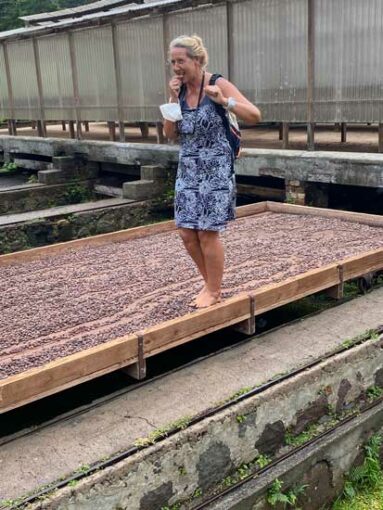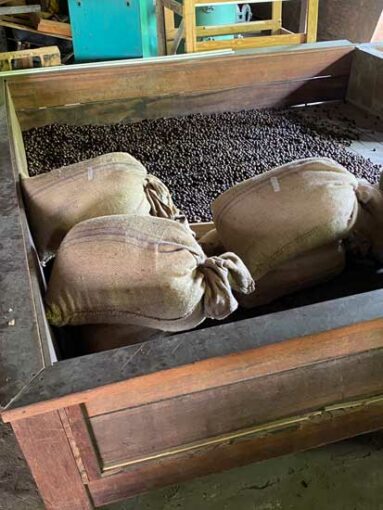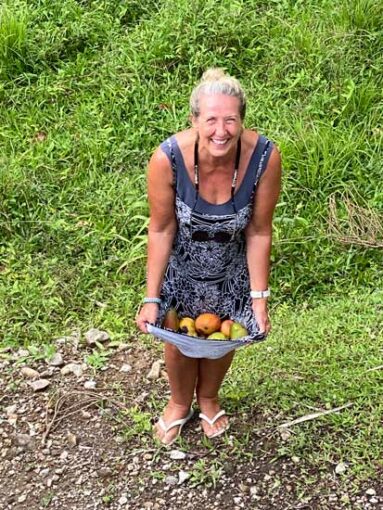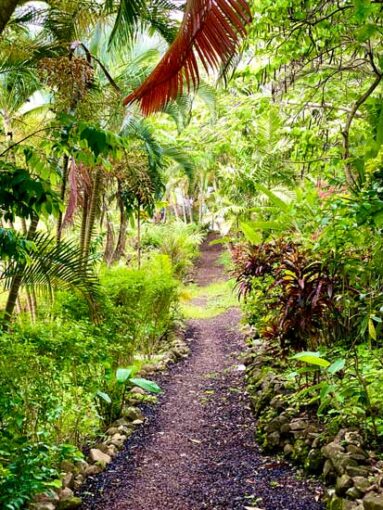 A few days we drove all over the island. We loved the Belmont Estate plantation. We enjoyed a wonderful tour by Kelly and tasted everything that came within mouth's reach. All organically and sustainably produced: chocolate and an uncountable amount of fruits and greens. The chocolate is traditionally grown and produced. Simply delicious. Ka was used to kick chocolate beans barefoot, saying it was "women's business." The chocolate and nutmeg beans are sorted by hand because that secures jobs. It's even cheaper than electricity for the old machines, they said. Well, electricity is very expensive in Grenada and there is very little solar and wind to be seen – despite a lot of sunshine and wind.
We made other stops at the "Maar" Grand Etang, at the Crayfish chocolate plantation and then at the ocean view jungle lodge, Mount Edgecombe. An oasis with a few rooms and comatose views. Lying the infinity pool, you can stare right out over the ocean and into the jungle. Super laidback, this property.
Then gardens and spices were next on the agenda. In the "Sunnyside Garden" we experienced a really bad tour. A lady, immediately explained to us: vaccination was not necessary, because God would take care of them. Oh ha, maybe not on us. And obviously not on her either. Well, in Grenada there are actually no cases. But whether that's because of God or the extreme entry control with excessive PCR tests – I have my tendency. Actually we should have left right away. In addition, we should probably also pay the monthly costs with the entrance fee. Definitely no recommendation, although the garden is really nice.
More interesting, but no blow friendlier ran our tour in "Lauras Spice Garden". The lady had so no desire to explain her impressive organic pharmacy that we could hardly get behind her.
We still had time to hike around the southern cliffs and blowholes and looked at a few more bays where plenty of sailors spend their time. On our way we also met the "Phare Bleu" lighthouse ship, a tip from our friend Walter. (Dear Walter, unfortunately it is closed).
In Grenada the end of the Turtle Nesting time has just arrived. I.e. turtles bury their eggs on the beach and the babies dig themselves out and plod to the sea. Of course we wanted to see that. For sunset we drove 1.5 h north again. In the night darkness we squatted on the beach, in the strong wind and wished the Turtels here. Unfortunately without success. At 23.45 pm we gave up and made the 1.5 h way back. Someday it will work out.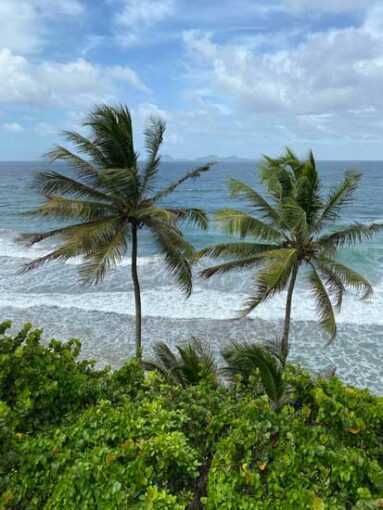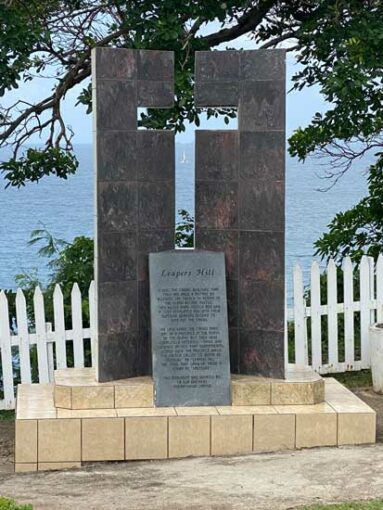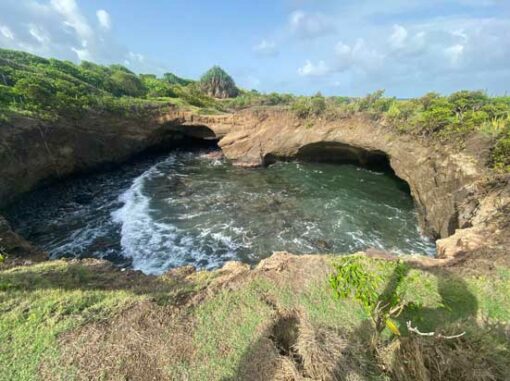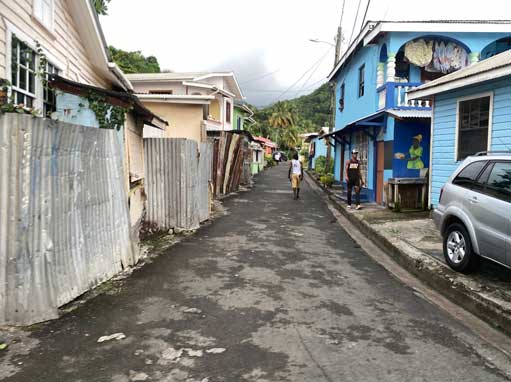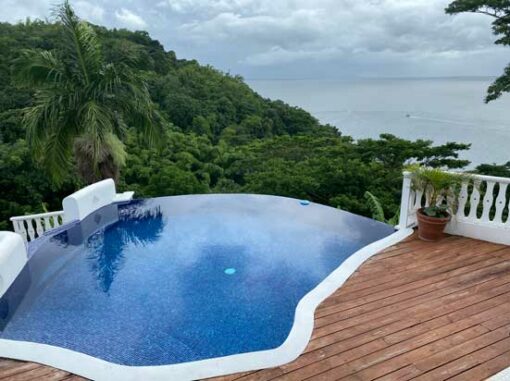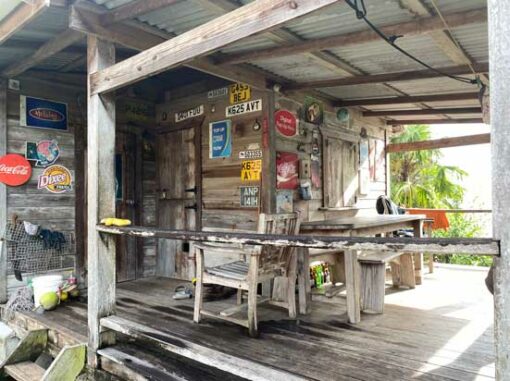 Experience so far
So far we are enjoying our time here, the island is simply beautiful. We have had mixed experiences with the Grenadians so far. However, in the friendliness ranking of all the islands on our trip, they are in last place. The minimum income is about 250 USD and that probably drives to the hunt. It may happen that in offer in EC dollars (East Caribbean dollars) subsequently turned into US dollars afterwards – and thus three times as much. All the more pleasing are the exceptions, the reliable and nice people.
Dealing with the pandemic also takes some getting used to. There are no cases here and therefore many believe that vaccinations are the devil's work or nonsensical. We are always told that C19 can only come from visitors. And against it many and very expensive PCR tests help, which we must make. Where the sun shines, there is also shade.
The island is a good tip for normal tourists too, the mix is right. Beaches, forests, water sports, hiking, relaxing. Everything is possible. Also the offer of the hotels covers all wishes. From the mega hotel to the jungle lodge. If you don't find something for your taste here, you won't find it anywhere. For the offseason now in summer, there are many offers. It is always warm and short, warm rains are here all year round.
Until we come soon after for a few weeks to Europe, we will still enjoy a few days the sailor social life and look around a bit. On the island of nutmeg and chocolate /Holger Binz