AbsoluteIy necessary: I need a new name
After an exciting and spectacular past week, our wish has indeed come true: little excitement this week. We are still in Guadeloupe, still on the main island, still in the capital Point-a-Pitre. Not only are we on a fantastically beautiful island, there is also French cheese and I talk about real cheese :-), really good wine and a very varied cuisine. It's the best food you can find in the Caribbean IMHO.
In Guadeloupe, people speak French, at least in theory. In fact, it's Créol. Sounds like French with 5 chewing gums in your mouth and then spoken with your lips closed. Reminds me of Mickey in the movie "Snatch" (a super film). Takes some time getting used to. The place name signs are in French and Créol, as an introduction to the spoken language. Linguistically we get along fine, especially Ka is an expert in pigeon languages.
New name for Holger
But I still have a serious problem. Nobody gets my name. "Holger" is probably the weirdest name people can imagine here. Really no one can get along without spelling it. Good thing my parents don't have to experience that any more. On the English-speaking islands, it's barely OK. Holger is most often Hogar, sometimes Holgar. Sounds even more like Viking. In the French islands, it doesn't work at all. I now only make reservations in restos with any French name crossing my mind. I just have to remember in the evening which made-up name I just used.
So: I need a new name and for that I need your help. Please send me your suggestions so that we can finally get something to eat again. (Comment here or to h@sailrivercafe.com). Thanks a lot.
What else?
What else drives us? We are still trying to find a solution for the blackouts of our electrical systems. Leopard (Yann) is quite supportive and they took care that the marvelous electrician Stephan checked the system and replaced a solenoid. We hope thats it now, so cross fingers.
Apart from that, we still had time for a few tours around the island. First with a rental car for the longer distances and with our folding bikes for the shorter distances, e.g. to Point-a-Pitre. We went to the jungle and the beaches in the north of Basse-Terre and Grande-Terre. I won't say anything about it, you can see it in the photos. Grande Anse is the first beach I know where there are waves from the sea side and the land side. Very funny.
Guadeloupe seems more contrasting than Martinique. Especially the nature. There are more poor huts and more beggars. Wealth is seen not very often. Economically, it seems quite active here – as it is in Martinique. There are industrial areas and the economy does not only rely on tourism. In the last four years, almost nothing seems to have changed.
Life is cheaper than in St. Lucia, for example – I still don't understand how the people there get by at all. Low income, high prices. It's quite expensive to feed yourself there. The French islands are comparable to our living costs in Luxembourg in terms of food costs. Those are the cheaper places in the Caribbean. And you can get everything you want – just like in Martinique. Thanks to France. However, the supply is faltering and new orders will not make it in an appropriate time right now. The number of flights is greatly reduced and this is having an effect. Our mail from Europe doesn't arrive either.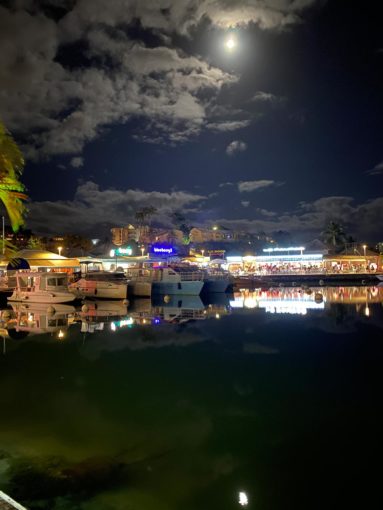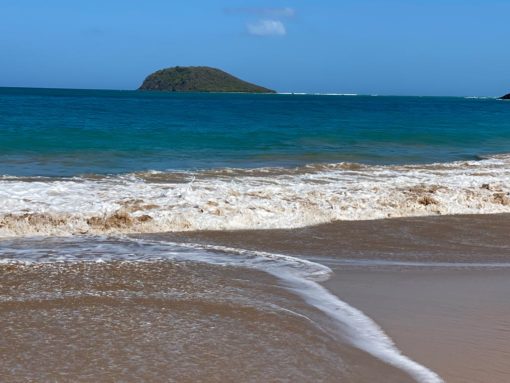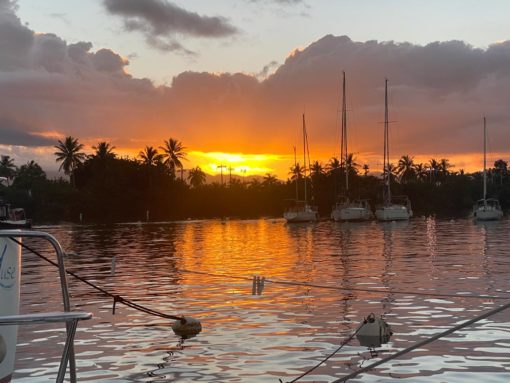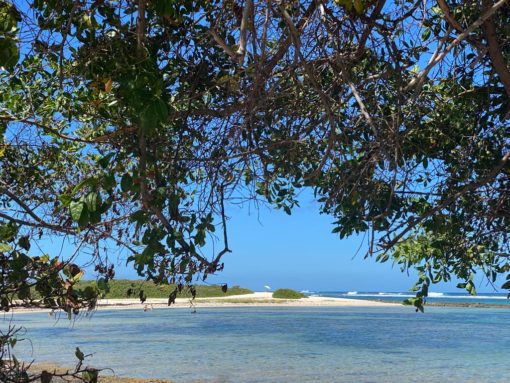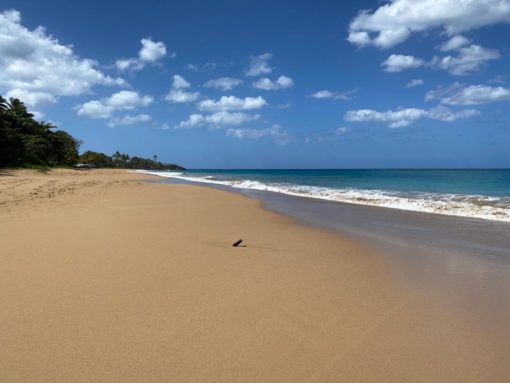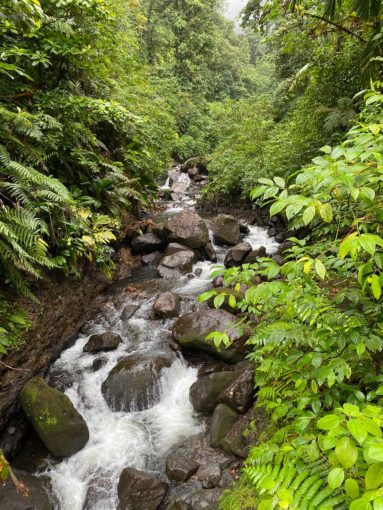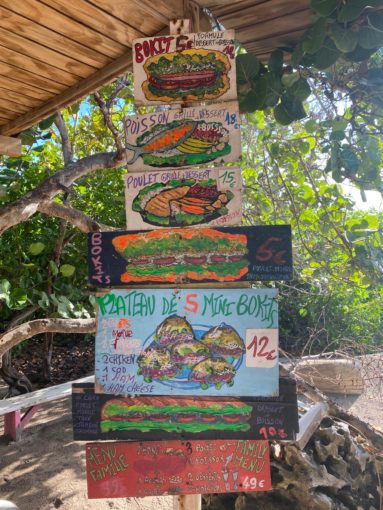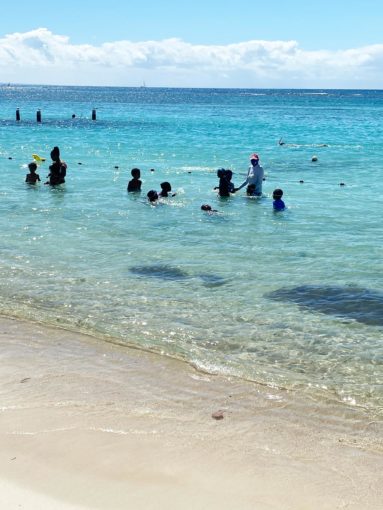 up: Marina Bas-du-Terre at night, beach with Island (death in paradise) in Basse-Terre, view from Rivercafe, beach view in Grande-Terre
down: beach "La Perle" in Basse-Terre, after a hike, jungle, a usual menu, kids swimming class

      

up: est side Grande-Terre with Desirable, north side of Grande-Terre, beach boy, simply a path
down. more beach guys, normal nature, wild beach
The next sailing destinations
Our ARC+ sailing buddies have roughly split into two camps. One has decided to sail in the so-called Caribbean bubble. St Lucia, Antigua and Nevis & St Kitts. This saves quarantine times. The non-EU people seem to feel more comfortable there. Supposedly there are a few more islands in there, e.g. Dominica. But when we were there briefly, they didn't know anything about it.
The French bubble with Martinique and Guadeloupe also saves some C19 nose-picking. St. Barths and St. Martin have special rules. And the Virgin Islands are still closed.
We would like to go from Guadeloupe to Antigua and Barbuda, so out of the French bubble. But that doesn't fit at the moment. Everything is closed in Antigua until Feb19 and there are curfews at night. We would have to stay in quarantine for 14 days. But a visit to Antigua without visiting Shirley's Hights is like Oktoberfest without beer. Therefore, we wait a little longer in Guadeloupe until we have clarity about the next places. Did I mention that there is French cheese here? 🙂
The weather – or more precisely the wind – is making it a little easier for us to stay in Guadeloupe right now. The forecast for the next week is constantly around 30 knots of wind, and as we all know, it usually gets stronger. C`est la vie. Sailing in Corona times is unpredictable and the weather does what it wants anyway. At least we don't have to shovel snow. We also have winter here in the Caribbean, but the days are slowly getting longer again. /Holger Binz