Experiences after 5 months with a Leopard 45
After a few thousand nautical miles and almost 5 months of life on board, this is a nice opportunity for a first evaluation of our decisions. Are we happy with our choice of cat in general and Leopard in particular?
In the bay of La Grande Anse in Martinique we are just a bit blown in, because at 7 Bft despite land protection we don't really want to go through the even windier passage to Dominica and Guadeloupe. Until the wind eases, we have time to recap.
While the Monos roll ahead of us, we sway a little to ourselves. We are largely unperturbed by the strong wind in the bay. Ka was playing the piano just now. So all is cool.
The living space on the Leopard is magnificent. In terms of comfort and quality of life, this cat is unbeatable. When sailing, a mono is still more fun for me. Not unexpectedly, we have weaknesses upwind, strengths downwind. At our crossing, we probably wouldn't have arrived much later with a proper 50 mono with the right sails than with our Leopard. But it would have been much less comfortable.
We also feel very comfortable in terms of sailing safety. On the Atlantic, the lady coped splendidly even with considerable waves. We can clearly remember more unpleasant moments during our last crossing on the Hanse. And when sailing, you can certainly make a coffee at any time without bruising or burning yourself. Or even sleep in bed. Everything a bit easier. The docking works much better than expected, although the port side ist a blind side from the helm. And at anchor: life on a cat is light years better than on a mono.
Ka and I agree that the decision to go for the cat was spot on.
Then the question remains: was Leopard the right decision?
When you're on board for 5 months and you have only been on anchorage since last week, not everything went perfectly. We had a lot of technical problems with the Leo. But 90 % had the same cause: electrics. On our boat, it must have been a first-week apprentice or a fitter with a permanent hangover at work. A small excerpt? Antenna, mast cable, radio, AIS, watermaker (multiple faults), windlass, anchor control and anchor chain counter were not working. Light bars were missing, navigation plotter defective. Cables are the wrong colour, contacts are loose or badly jammed. The wiring diagrams are rubbish.
Somehow it seems that nothing that needed electricity worked. And the icing on the cake was the deadman fuse, which gave us a total blackout in the middle of the Atlantic. I honestly have no idea how we would have managed without a professional (Garry) on board, with my  limited technical skills. And at some point it's no longer funny when every electrician on board is amused or scratching their heads over the installations. I have made my opinion known to Leopard. I'm curious to see if there is any feedback. And how has Leopard dealt with it so far? For all the problems on the Atlantic, there was zero support. The Leopard employee in Cape Town dared to tell us in the middle of the Atlantic via Sat Mail about the usual warranty procedure. That was very poor.
Where there is shadow, there is also light.
When we arrived in the Caribbean, at least the warranty department in France, Yann to be precise, was a real help. He arranged for the last acute fault to be rectified in Martinique. All in all, it seems to me that Leopard has a lot of room for improvement when it comes to customer service. There is simply a lack of small gestures, substantial support and quality control. Yann is an exception to the rule, he was really supportive.
If it weren't for the endless electrical problems, things would look very different. The Leopard is very good crafted. Nothing rattles or creaks. There are many nice details that make life on board pleasant. But the biggest advantage for us is the front lounge with the passage door. This front lounge is an additional living space, a real blast. It's exactly how we imagined it. Sometimes we have breakfast in the front or in the back. Sometimes we sit or lie in the wind at the front, sometimes we prefer to sit in the lee at the back. It was important to us that we got one (of the last) Leopard 45 versions without a top lounge. A great decision. There is so much space on board for 2 or 4 people that this roof thing would be completely useless and only a disadvantage.
Our power supply is really great. With the lithium batteries and solar panels we are self-sufficient in electricity. Only for the washing machine do we occasionally need extra electricity from the generator or shore power. It's a great feeling not to have to count every ampere hour.
When the Leopard is working properly, she is just the right boat for us.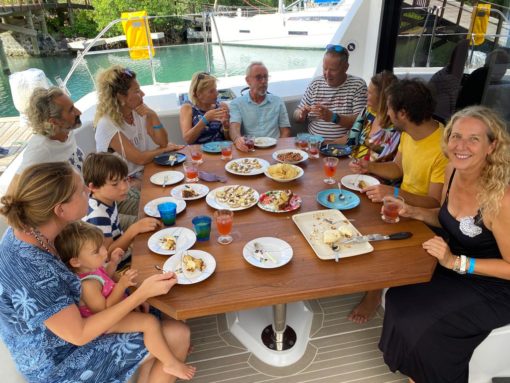 We have spoken to owners of new Lagoons or Fontaine Pajots in recent weeks. Technically, they had as much trouble and also only a manageable level of support, but at least they had Welcome Packages, which are not provided from Leopard. (its always in the details).
But we have the advantage that we don't have to wait for a dealer network, but have to/can hire the necessary craftsmen ourselves. That saves time. We then pay their bills in advance and Leopard then reimburses, eventually.
The main difference with the other Cats is that we just like our boat design a lot better. The door to the front lounge is brilliant and always provides fresh air. We haven't had to use our air conditioning for a minute yet.
And as for the sailing performance: it's ok. A Leo is not a gunboat, but we also wanted a cruiser. Compared to the Lagoon and Fountaine Pajot, she runs great and is also easy to handle for two.
If we have indeed eliminated the issues on board now, we will probably appreciate the boat more with each passing day. The frustration will probably fade and the pleasure will grow. The Caribbean is just a perfect place for Cats – and it just so happens that that's where we are. Let's see what we think after 12 months on board. We'll keep you posted. /Holger Binz