Spurned beauties
If I had to name the most underrated and unknown Caribbean island, it would be Nevis. Together with its bigger sister St. Kitts within sight and separated only by a channel, the two form the Caribbean state of "St. Kitts and Nevis." Home to only 53,000 people, almost 12,000 of them on Nevis. Hardly any sailors stray here and even normal tourists prefer incomprehensibly other islands. But K&N should be in the top of the charts, for us they are among the most beautiful islands of the Caribbean. Let's go to Nevis.
Shortly after sunrise we set off from Antigua on the 53 nm (just under 100 km) way to the west, with a wind of 180 degrees – that means straight from behind. It was the calmest day since we have been in the Caribbean with mostly under 10 kn on the open sea. Our arrival started off pleasantly, with the catch of an exceedingly delicious Portuguese mackerel – our favorite fish. We took a short chance without sargassum grass, which otherwise makes fishing impossible.
30 nm before our destination, the nearly 1,000 m high Nevis Peak showed us that the direction was right. The mountain is located in the middle of the island and is almost always covered by clouds. This provides enough rain for a fertile and blooming landscape.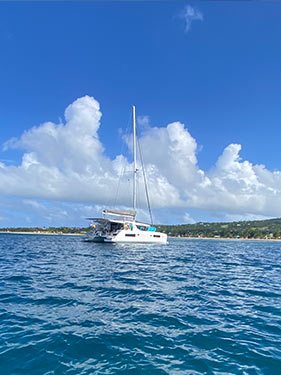 Rivercafe on Pinneys beach
For clearance there is only one anchorage on the west side, in Pinneys Beach with 10 mooring balls. If those are occupied, you can anchor with good holding. Pinneys is located between the "capital" Charleston and the Four Season Hotel that you can't even see on the beach, hidden by palm trees. Only 3-4 visiting yachts and 1-2 mega yachts shared with us a large and beautiful anchorage that can be a bit rolly from time to time. There were turtles swimming next to us, some schools of fish and we were in the territory of the biggest and most curious ray (with baby rays) we have seen so far.
The westerly exposure protected us from the strong gusting easterly wind, which convinced us to secure everything on deck. It is interesting that you hardly notice anything of the wind on land. Probably that's why tourists and sailors often have a different perception of the breeze in the Caribbean. Only 200 meters away from land, it became really windy, while the sandpipers only enjoyed a nice breeze.
Some things in Nevis are tedious and leisurely. Clearance can take forever because either Customs or Immigration or Port Authorities are not there, but you need all three. So the check-in can sometimes take two days. On the other hand, you can moor your dinghy at the jetty in the capital without locking it up. Nevis is especially safe, people are very friendly and nobody stresses. Charleston is small, but quite nice and one of the nicer Caribbean places. Even though there is a lot of trash in the bushes on the side of the road, like almost everywhere in the Caribbean. There is a market with fresh fruits and vegetables and also a quite ok supermarket.
Nevis Island tours
Right at the jetty there are drivers waiting who offer great trips around the island. And you should definitely do that, because there is much more than beach and plenty of special things to see on Nevis. Nevis was one of the most important and valuable islands in colonial times, although it is only 100 km2 small. No need to mention that once again Columbus "discovered" the island. I guess the Arawak natives probably lived contentedly undiscovered on their islands until then.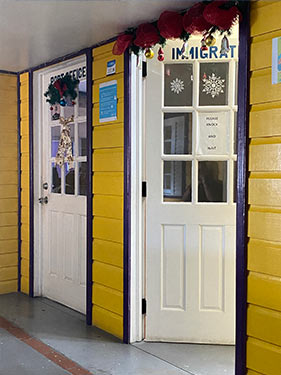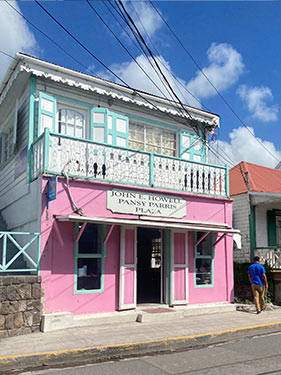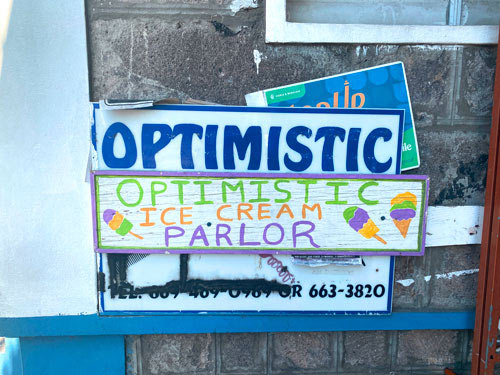 Clearance office, "Plaza" of Charleston
In the course of time sugar was grown on plantations and later Nevis became an important slavery market. This history has been impressively presented in Nevis, with a kind of open air museum that tells about the history and living conditions of slavery.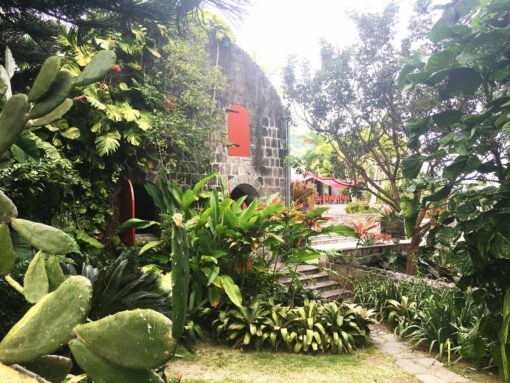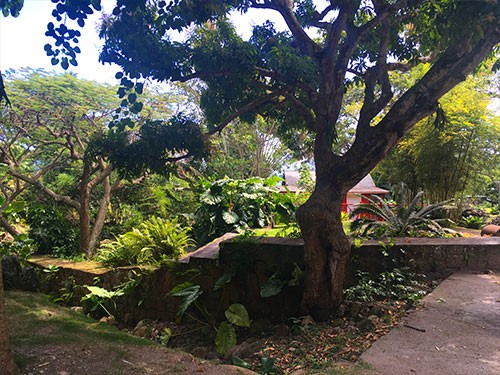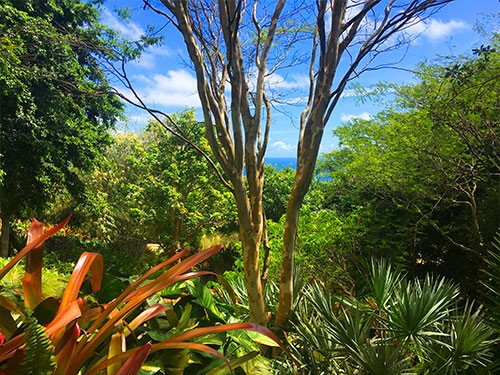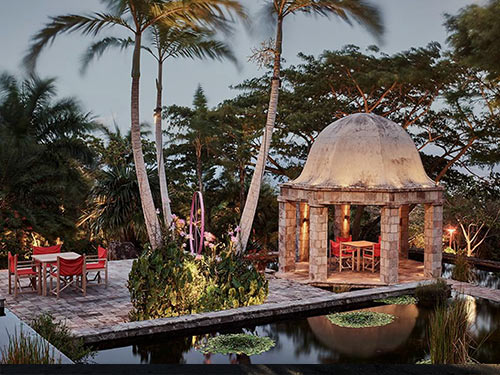 Golden Rock and Nisbet plantation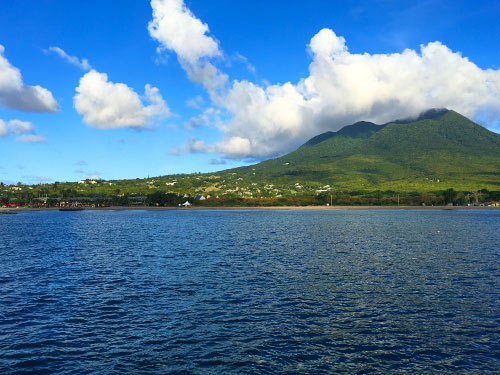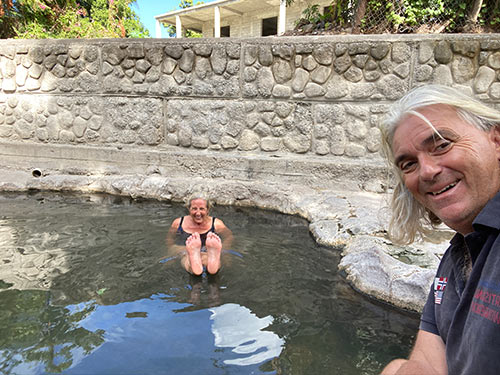 Nevis Peak and hot springs
If you come to Nevis, you must visit the "Golden Rock Estate" and "Nisbets" on the island circuit. Lady Nisbet was the wife of Lord Nelson and this shows that there is a lot of history here. Both former plantations are now lovingly restored boutique hotels. Great. For non-sailing visitors there are still some hotels on wonderful beaches, like the Four Seasons. We celebrated our wedding anniversary there with a dinner. When we made our reservation, they seriously wanted to charge us $200 USD fee to dock our dinghy. Funny. The hotel is fantastic, the food was delicious and the service among the best we found in the Caribbean. A worthy venue for our wedding day. The beautiful hotels are in the top price range, but that is almost everywhere in the Caribbean.
But that's not all in Nevis. There is a lot to hike, places worth seeing and if your back hurts, there are hot springs. At the beach in the west there are cool beach bars and the gently sloping beach allows relaxed swimming.
You can easily understand that we love Nevis. We simply feel comfortable here and the atmosphere is very pleasant.
Last but not least we need to mention St. Kitts. Unfortunately, we don't have time for the larger island on this trip, but it is also rather in the grip of the cruise tourists who flood the island daily with 2-4 vessels. St. Kitts is also a really beautiful island, but with a very different atmosphere. If we have to choose one, as we did this time, our favorite is definitely Nevis.
By the way, there was a referendum on the independence of Nevis in 1998. Presumably, Nevis wanted to take the place of Vatican City as the smallest nation in the world. The referendum was rejected. For us, however, little Nevis is definitely very high on our Caribbean hit list. / Holger Binz