Christmas and New Year's Eve in Antigua
When the waitress in a bar in "Les Saintes" brings the favorite drink and snack without asking, it is urgent time to leave. Preferably to our next destination: Antigua.
But before we left, AirFrance – or better Frankfurt Airport – lost Ka`s luggage from Europe. After three days, a lot of unnecessary stress and costs, we could finally leave Guadeloupe with suitcases. A suitcase is much more than clothes for sailors returning to a vessel. It contains all the "treasures" that you can not get in the Caribbean, even if it is only vinegar essence.
The sailing days in the last weeks were fantastic and our Rivercafe flew north, with 7 to 10 kn speed and always reefed. The wind was mostly from 80-120 degrees (apparent), rarely below 20 kn, mostly around 25. Now and then it went over 30. If you do not have to sail a catamaran hard against the wind, sailing in these winds is a real pleasure and the boat thanks`s with speed.
Leopard recommends the first reef from 21 kn apparent wind for the 74 m2 mainsail and 25 kn for the 50 m2 genoa. We almost always sail reefed, because the wind in the Caribbean is always above that. And there are usually some strong gusts on top of that. We don't even need to think about our gigantic Code D or the 168 m2 spinnaker.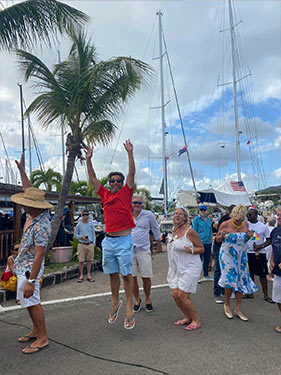 Ka`s Birthday Party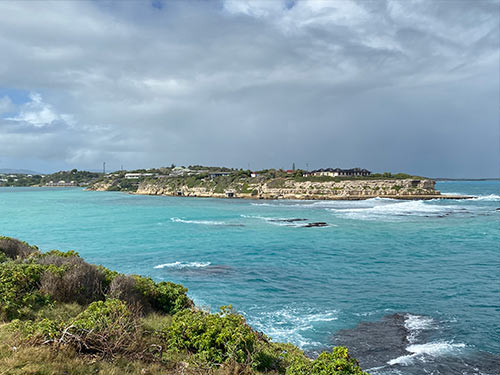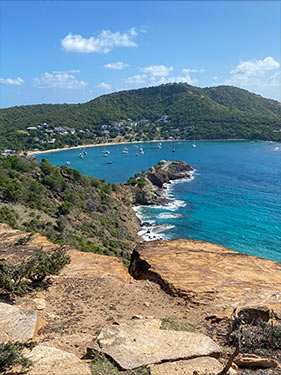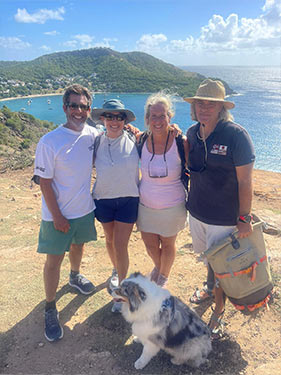 East coast Antigua, Devils Bridge, English Harbor, Hike with friends
Festive Antigua
We know of no place in this part of the Caribbean more Christmassy than English Harbor in Antigua. Kitsch drips from the decorated trees and our own Christmas tree on board, fits in perfectly with the festive image of Nelson's Dockyard.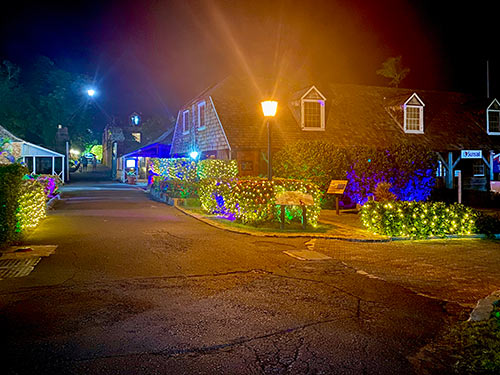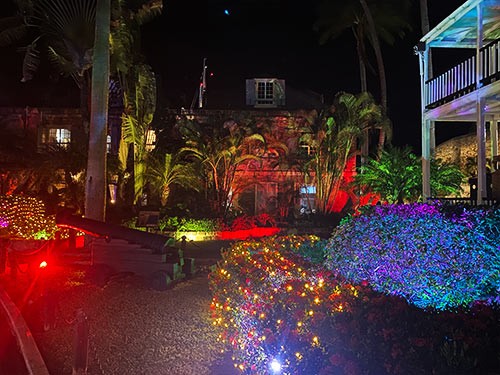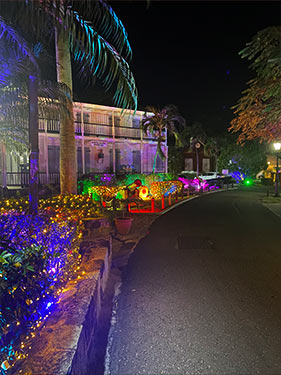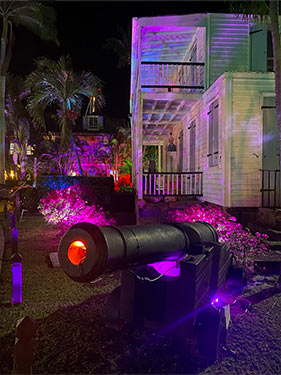 Christmas mood in Nelsons Dockyard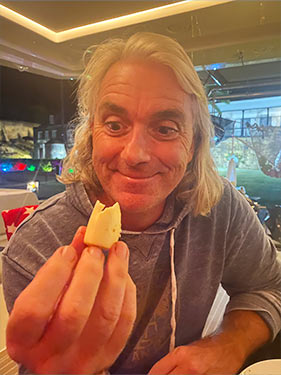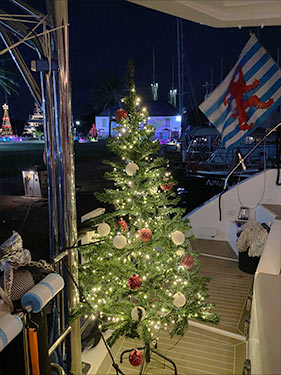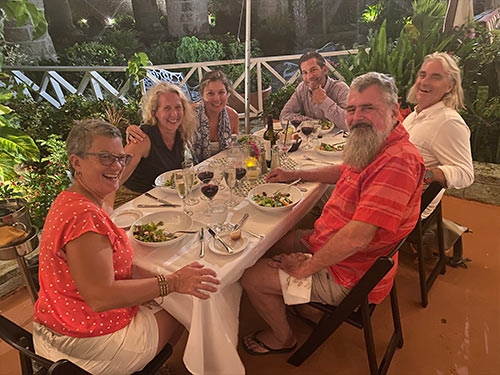 Thanks Hannah and Henri for the Christmas sweets, Rivercafe Christmas tree, Dinner on Dec24
When you can't celebrate Christmas with family, you're especially happy to spend time with friends. One of the highlights of a sailor's life is the friendships that are made and maintained over distance and time. For nomads to meet, it takes either luck or arrangements to meet on special occasions.
To our great pleasure, our Canadian friends Danielle and James came to English Harbor especially for Ka`s birthday and Christmas, and our American friends Melissa and Jeff extended their stay. So it happened that we celebrated Ka`s birthday on Dec23 with twelve of us. Not bad at all, for a nomadic life.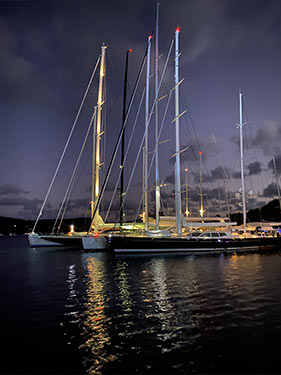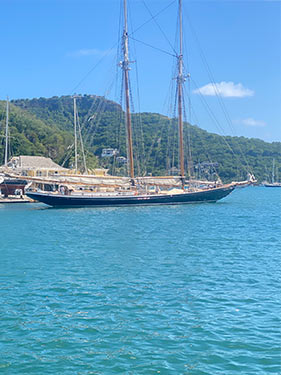 Honorable neighborhood 
Caribs love to celebrate and they do it loud and colorful. Christmas Eve we ate festively together and sang Christmas carols in the harbor with many other fellow sailors. On the 25th of December – the "real" day of Christmas here – there was a "Champagne" event in Nelson's Dockyard, which is one of the 5 "must events" for Christmas according to the New York Times. With champagne it is not so far, but with the full dose party music, until the ears glow. At New Years eve it was similarly loud and wild only plus fireworks and horn concert of the truly great vessels in our neighborhood like the 150 ft J-Boat Hanuman.
We wish you all "Happy New Year" and a hopefully very enjoyable 2023.
The season plan
Our final destination this season is Florida, until mid-May. Ahead of us are about 2,000 nm (3,700 km) along the way. On the globe, this all looks pretty "around the corner", but when you plan the route, the numbers get bigger and bigger. The reverse route from north to south is one of the most unpleasant routes and is aptly called "thorny path" by Americans, against wind and waves. In our direction from south to north it should be more pleasant, mainly with wind from behind or sideways (downwind, reach).
The longest stretch of these nearly 5 months, we planned with two months for the Bahamas. During the Christmas days we were well briefed by friends and now know the hotspots in a district, whose 700 islands would easily be enough for a whole season.
The first legs will be day trips. From Antigua to Nevis, St. Barth and St. Martin. There we will stock up again on the French side, because until May it will be frugal with food. The Virgin Islands, Turks & Caicos and the Bahamas are famous for their clear waters, but culinarily wise, very low expectations are appropriate.
From St. Martin to the Virgin Islands we have the first night trip of the season. A few days in the British Virgin Islands – which, by the way, have raised their prices considerably – and then our ordered Star Link receiver will be ready in the US Virgin Islands. Then we will finally be able to be online abundantly.
Further along the route we have planned a visit to San Juan in Puerto Rico. From there it is 3 days and nights to the Turks & Caicos, one of the hottest vacation islands worldwide. Then in the middle of March we want to arrive in the Bahamas. If any of our sailing friends feel like it and have time: from San Juan to the Turks we would still have room for fellow sailors.
Next time we will write about the wonderful island of Nevis, which will appear on the horizon soon.
Happy New Year, health and joy to all of you. /Holger Binz