Travel preparations in times of Corona
It`s a magic number. In 100 days we take over the "Rivercafe" and our full-time sailing life begins. Ka counts the days until we leave Luxembourg, that is 16 less. In theory. Because then came that stupid Corona virus. Nevertheless our preparations continue as planned, even if more bumpy. The pandemic hits us at a time when a lot of things are already done. We now hope that the situation will ease in the next 2-3 months and that the World will move again. It would be a bad nightmare for us if we could not leave in mid-June as planned. But lets stay positive.
And there is no turning back, because our coffee machine is already gone. She and her buddy, the Thermomix are on their way to Cape Town. In the company of 20 moving boxes that our British shipping company picked up in Luxembourg and is shipping them to Cape Town. We were really lucky, because the truck left Luxembourg 3 days before the borders were closed because of Corona.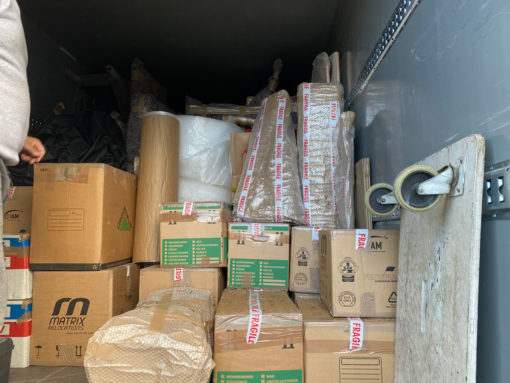 If everything is going halfway normal, everything is already stored in customs in South Africa when we arrive and is waiting for the transport to the Rivercafe. The guys from customs will work hard on the stamps for up to 2 weeks, after all, its still only personal stuff is in transit. I hope it will be faster – it is about important things like good coffee in the morning on board.
In the 100 days since my 200 day report it's been really busy. We have sold our house, car and the first furniture. Every day somebody rang the doorbell and picked up things that we offered on Ebay. Looks like a new and promising career as a grocer. So if any of you need anything, just ask us. A whole household is ready, tendency strongly decreasing. But Corona is also causing increasing sales problems for us, as in the global economy.
Otherwise there was a lot of bureaucracy. We have extended passports, applied for VISA, ordered fresh credit cards and vaccinated against yellow fever, as some countries demand. We can't get health insurance in our country. Luxembourg is obviously too small for that. But there are other nations.
For the "Rivercafe" we had fenders made and produced really cool crew shirts. The Yacht Chandler in Cape Town already know us. We order everything we can from local suppliers there. I am really looking forward to a davit so that the dinghy fiddling of a monohull finally ends. And that's why we ordered a proper dinghy, a symmetrical spinnaker in Luxembourg colors and worked through some things in the order lists. All flights are booked and we hope that they will start. The number of ticks in our checklists seems to be more convincing. In all modesty I would say we have accomplished logistical masterpieces as Cape Town is not around the corner. It's an incredible amount of things to handle.
On April 25th we are organizing a garage flea market – as Corona agrees. And then the grocer's career ends again. We only have a few weeks left in our future ex-house. For 12 years we have lived in this dream house and enjoyed every single day. What a warming realization. However, we still get weird looks when we tell that we want to give it up to stagger through the World.
After the house handover we want to fly to Egypt, if the virus is merciful. It is time to remove a flaw in our sailor's vita: we learn to dive. We have already done the theory online in the grey days. On June29 we fly from Frankfurt to Cape Town. Oneway flights have something magical, something definitive. The glass of champagne before take-off will especially appreciate the occasion that we leave Luxembourg and Europe behind us.
When we arrive in South Africa, it will be winter. That's relative, but at 15 degrees I definitely need some warm clothes and blankets at night. We will spend two and a half months in Cape Town before we set off for the 6,000 nm crossing to the Caribbean. We will need the time to set up the boat, hopefully fix only a few defects and get familiar with the "Rivercafe". After the shakedown we have hired a coach to take us on some training rides, even to places where it is no fun. I hope the sea legs will grow back quickly. In between we will go on a safari – while we are in Africa – and fly back to Europe to say actually goodbye to the family. I am sure that we will enjoy the time in Cape Town. We know the city a little bit and are looking forward to the everyday life with the Capetonians.
And we are especially happy that we have a great crew for our maiden voyage. 3 + 1 friends will accompany us and with a 4/5 crew everyone will get enough sleep on the planned 35 days and nights at sea. Jana has agreed one minute after the purchase of the "Rivercafe" – now it will happen, her dream of a long crossing. Also Ute and Hermann are friends and TransAt(lantic) very experienced cat sailors. They accompany us until Brazil. We know each other from our first crossing. The two were one of a few vessels of the Barbados 50 Rally, which had no problems at all on the Atlantic crossing. I hope they bring that with them to the "Rivercafe". In Brasil the two then disembark in the southern hemisphere before the equator and with Toni another friend will jump onboard for the equator crossing and the last 2 weeks to Barbados. Toni himself is waiting for his new cat.
So we have not only good sailors on board, but also good friends. The same wavelength is pleasant for a nice time together and good conversations – especially with such a long distance and 2 months together on board.
In the next few days we will receive our ship data and I can then register the vessel and apply for the radio frequencies. Then there will finally be another "rouden Léiw" – red lion is the name of our cool merchant flag – on the oceans. In the AIS tracker (which allows you to track the position of ships worldwide) we will be the only ship in the World with the name, "Rivercafe".
Our last 100 days will certainly be more influenced by Corona than we would like. We will spend the time in a house that is getting more and more empty and we will use the time to say goodbye to friends and family. Hopefully more personal than digital, as the virus wants.
The rest will be bureaucracy and packing. It is overwhelming that it will soon start, our World journey. I remember when I wrote an 830 in the steam of my shower, the beginning of an unbearably long countdown that will soon come to an end. However dear reader, stay healthy and in a good mood. / Holger Binz