Puerto Rico – a dusted pearl
The weather made for an extra couple of days in Culebra. It looked good for Wednesday and we said goodbye with one last evening at the iconic "Dinghy Dock" bar – a must for sailors. At sunrise we lifted anchor and through the haze of the sea Puerto Rico could already be glimpsed on the horizon.
On our way north, we first have to go a few hundred miles west, along Puerto Rico and half of the Dominican Republic. On the way to the Turks & Caicos, you can sail north or south around PR. The masochists go via the north with the hard seas, with little to no anchorages, but with the capital San Juan – but with no space for vessels of our size. The hedonists take the southern route with sheltered anchorages and some Zen places.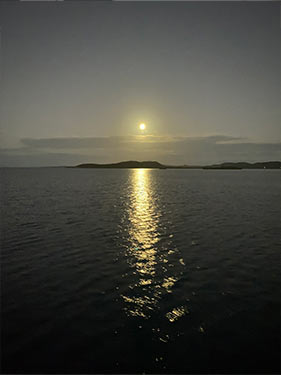 "Moonset" around 6 am
We chose the southern route and were rewarded with wonderful anchorages. After 25 nm we reached Puerto Rico's east coast. We continued south and after 50 nm we anchored in Patillas, a quiet and really beautiful bay, protected from the open sea by an enormous and picturesque reef. We enjoyed the evening silence of nature, a particularly quiet night and continued early in the morning.
We made our second stop after 20 nm in Salinas. This bay is very shallow and quite crowded. We anchored in the entrance at the mangroves and immediately saw manatees strolling past us. There are only four different kind of those species left that have not been wiped out by humans. The Florida Manatees live mainly in Florida, but apparently also further south in Puerto Rico. Manatees are incredibly friendly creatures and watching them gives you a big smile and makes you feel good.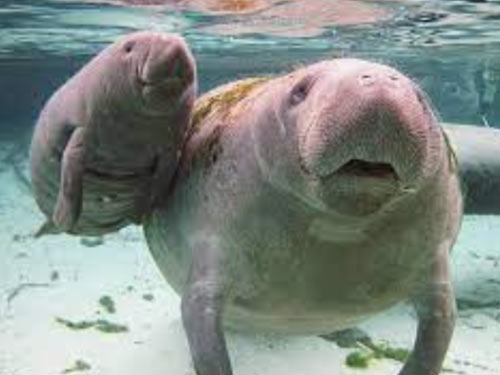 Manatee – Stockphoto
For our last stop on the south side, we opted for Parguera and were greeted by dolphins as we entered the bay. We were the only boat to drop anchor in the large bay behind the reef and enjoyed good wave and fine wind protection. Again, the wind dropped towards evening, giving us the peaceful feeling of a silent and smooth sea. This was undoubtedly the calmest waters of our entire trip.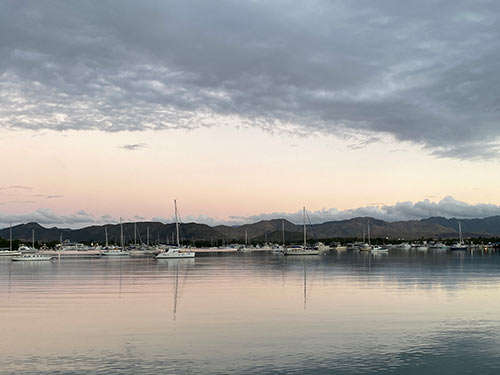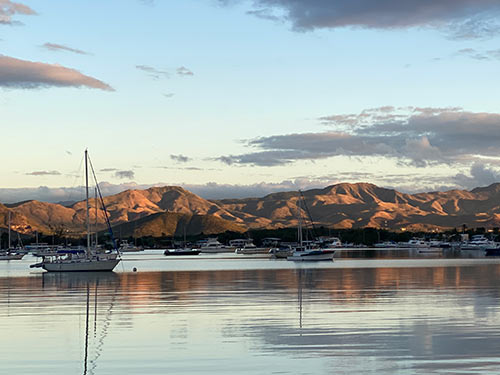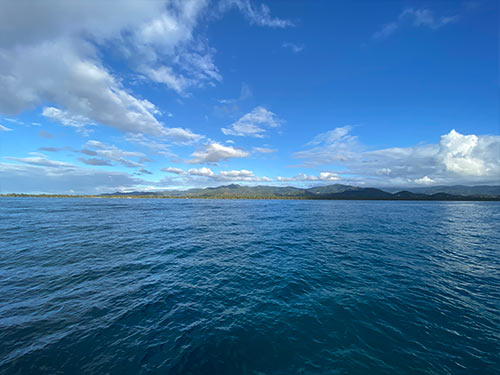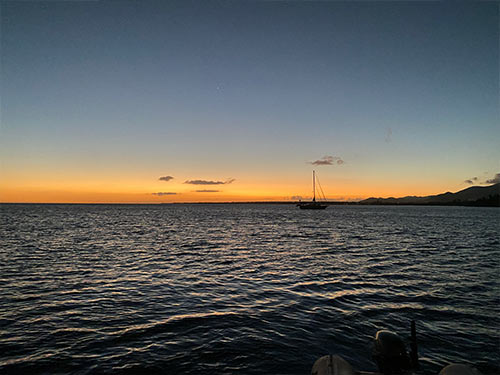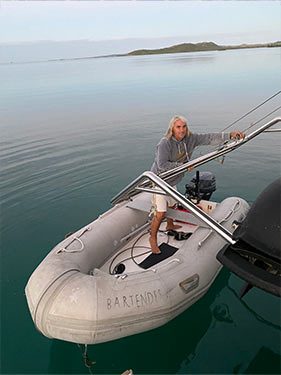 Incredible calm seas on anchorage, middle: mountains of Salinas, Pargeira
Puerto Rico is known for its bioluminescent bays. There are three places: Fajardo in the northeast, Vieques Island – with which we have bad experiences, and Parguera – the only bay where you are allowed to swim. It's pretty cool to see a ghostly glow in the dark night every time you move in the water. You can even see the fish coming closer, illuminated. Photos unfortunately didn't turn out, so here are a few borrowed ones.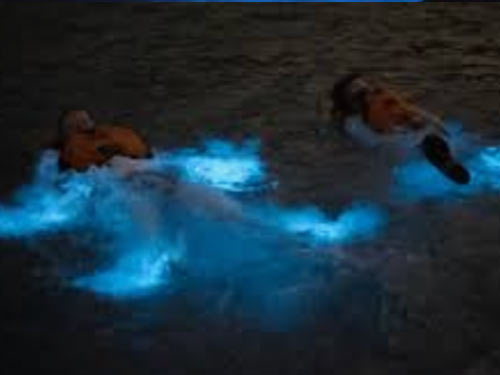 Stockphotos – ours were worse
Mona Passage
After 100 nm around the south of Puerto Rico, we turned north on the west side into the Mona Passage. In the bay of Puerto Real we wanted to settle our check-out, bunker some provisions and wait for the right weather window for the infamous "Mona Passage".
Books have already been written about the passage between Puerto Rico in the east and the Dominican Republic in the west. It is a legendary part of the "thorny path" between the USA and the Eastern Caribbean. The Mona Passage is about 55 nm wide (just under 100 km). The nature of the seabed makes it challenging. North of this passage is the deepest point of the Caribbean Sea, at over 7,000 metres. In the passage, the seabed rises to 200 m and it takes little imagination to imagine what the few thousand metres of swelling water will do. If the swell is not crazy, then the wind is. And vice versa. We have to wait for the perfect weather window.
We are well equipped with all kinds of weather services. But as we had special respect for this passage, we booked an individual routing from the American sailing weather guru Chris Parker. He only gave his "go" after 5 more days. So we were given a few extra days in Puerto Rico, which we used for a few trips over land.
Tripp through the West and South
A three-hour drive from the west to San Juan was too far for us. We checked out the west and south sides of the island and that was more than enough for a few days. Puerto Rico is an island of contradictions. The 3.2 million Puerto Ricans are US citizens, but many don't speak English. They are incredibly friendly and considerate, but the houses have bars and fences. PR has the best roads in the Caribbean, but almost no signs. But without a doubt, they have the best music of our trip so far.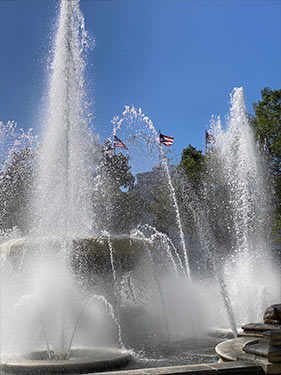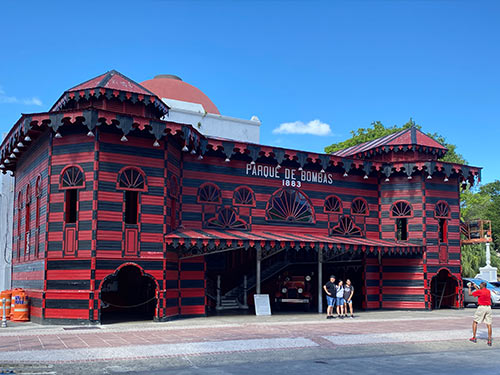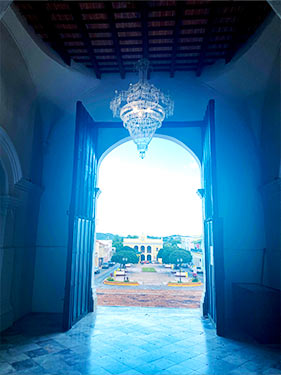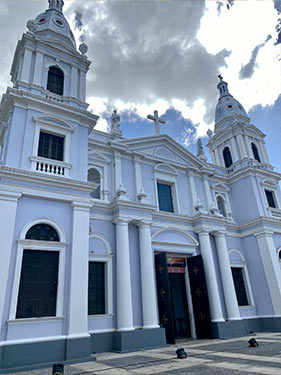 Ponce and San German, splendour and misery
Puerto Rico is poor. The best educated people have emigrated to the USA and many small towns and villages are abandoned and decaying. You find a lot of substance that points to good times gone by. After all, there were good times once. One finds remarkable architecture from the old times. The houses are much better maintained than in the rest of the Eastern Caribbean and there is no rubbish in the ditches. The cost of living is lower than in the southern Caribbean islands, but still far from cheap. The nature is so fantastic that tourists should actually overrun the island, because it is a real pearl with incredible diversity. We will certainly come again.
Next destination: Dominican Republic
The Mona Passage is only part of our next leg of just under 150 nm. A stretch for one day and one night sailing. After changing plans several times and talking to sailing friends, we will stop in the Dominican Republic after all. The country has a particularly bad reputation among sailors because bribes are said to be demanded constantly and everywhere. Our friend Martin recommended a marina in Samana that would also take care of the registration. And I read in a research that demanding bribes in marinas is forbidden. But if Martin, not a fan of marinas, raves about it, it's certainly a nice place for us to spend a few relaxing days after what will surely be a very strenuous passage.
Next time we will hopefully write from the other side, when we put our feet up for a few days after a successful passage in the chic marina of Samana. /Holger Binz
Practical tips for entering and leaving Puerto Rico
For non-US sailors, the entry regulations in Puerto Rico are confusing, even though it is US territory. The CBP (Customs and Border Patrol) is responsible for immigration, customs and cruising permits.
If you have already entered the USVI with a B1/B2 visa (visa is mandatory for immigration), this also applies to Puerto Rico. Coming from other places, you have to go to immigration at a Port of Entry. For immigration, everyone on board must show up with a passport. For Puerto Rico you need a customs clearance and a US Cruising Permit (valid for one year) for 37 USD even if immigration is already some. If you forget one beforehand, it can get expensive.
You can do everything in one of the only 4 (+ 2) ports of entry (CBP in San Juan, Fajardo, Ponce, Mayaguez on the mainland – or the islands of Culebra and Vieques). Without immigration, you can register with an App called "CBP Roam". After entering the data, you get further announcements via video chat. We did customs and cruising permit after the CBP video chat in Culebra. CBP Roam only works for entry.
Exiting the country is even easier. A visit to a Port of Entry is not necessary, the passports are not stamped again. You can download the "CBP Form 1300" online, fill it out and mail it to CBP. The form will then be stamped and returned by mail as a clearance. The entire clearance procedure is free of charge.