Charleston – Savannah – St. Augustine
It is incredibly boring to live on a vessel and not be able to sail. The daily heavy rain and little variety don't make it any better. Hurricane Season is still going on and before we started breaking things to be able to fix something, we set off on another trip. It takes 3-4 hours to fly to the USA from St. Lucia and the South East was still missing in our USA coastal experience.
We flew to Charleston, hopped in a convertible and started our 1,000 mile (land miles this time, 1,500 km) road trip to Miami.
Charleston
The cities on this part of the coast are among the oldest in the USA. Charleston was founded in 1670, which is really ancient by US standards. The city of 140,000 on the coast is friendly, dignified and Southern. Horse-drawn carriages clatter through the streets with traditional houses and Southern State mansions and don't give visitors the feeling of living in 2022. Spooky tours and woodoo create the perfect Southern ambience. Life is slow-going and relaxed.
It is fun to stroll through the streets, especially King Street. There are many unusual shops and only few franchises. Most shopkeepers have plenty of time and feel like chatting. Restaurants offer oysters and seafood and many are better than the usual reputation of American restos. Since you can't make reservations anywhere diner one has to wait patiently outside the door, there's always a conversation there, too.
Downtown, you can enjoy the sea and the passing vessels dreamily on the shore or on the pier. But the beach is 30 minutes away by car in Sullivans Island – with beach houses reminiscent of California. To our great pleasure our Norwegian friends Jill and Jörn came 300 km from their home in Charlotte. We were all so happy to see them again that they also joined us in Savannah.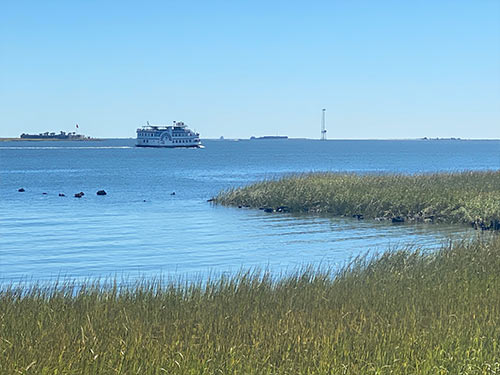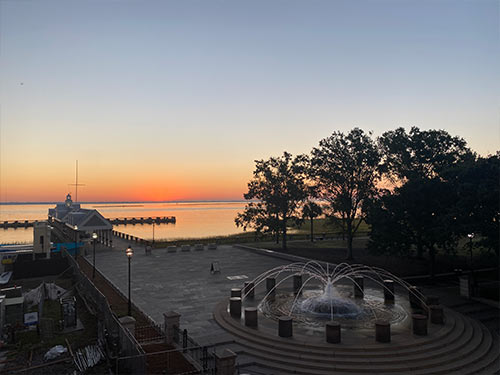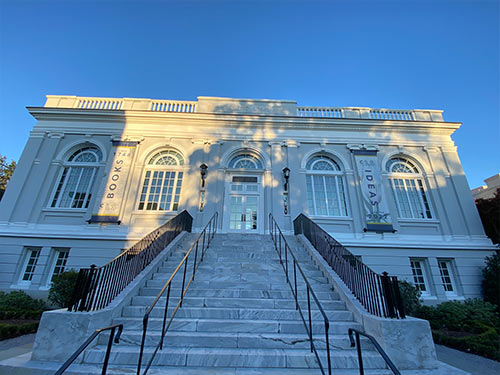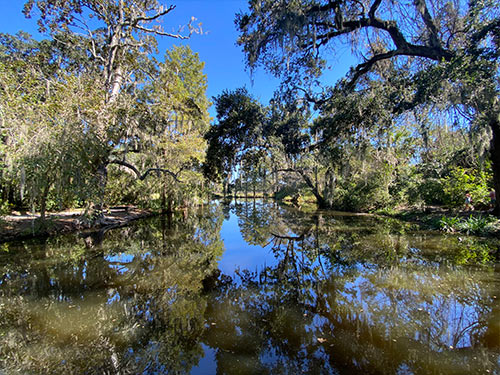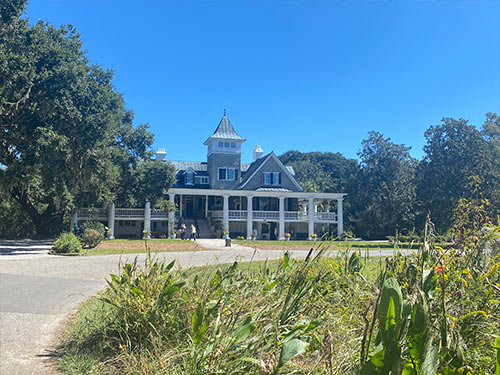 Southern state impressions from Charleston
Savannah
When you talk to Americans about Charleston and Savannah, a longing smile flits across their faces. In fact, the two cities are very special places. Savannah was founded after Charleston in 1733 and has comparably few inhabitants. Both cities are within easy walking distance. You probably wouldn't find Savannah from the air because it is so green. There are trees and plants like in a forest on every block, and a fountain on every other block. Savannah is probably the greenest city we have ever visited.
We had caught the perfect day and the perfect hotel. In Forsyth Park, the Savannah Symphony Orchestra played just for us – and 20,000 other visitors. Big A, a blues guitarist from Morgan Freeman's Blues Club in Clarksdale, spiced things up with Delta Blues – blues from the Mississippi Delta. Not really my cup of tea, but it fits here as perfectly as steel drums fit in the Caribbean (and they don't fit anywhere else). In case anyone still has some spiritual jobs to handle: Woodoo is big in Savannah. And if you're looking for a poet: in Forsyth Park you can hire the poet Sophie Daniele, who has relatives in Luxembourg on the side. I've been thinking for a long time about what occasion I could book a poet for. At least now I know where.
Savannah is not directly located on the ocean and it also takes 30 minutes by car to get to Tybee Island. You definitely have to allow yourself that time, it's a great place. At the southern end of the beach, a river flows into the sea and dolphins hunt for breakfast just a few metres from the beach. There's a lot going on in the water. Dunes protect the wooden beach houses from storms, and in the streets from the second row onwards you find American cliché life in American cliché houses.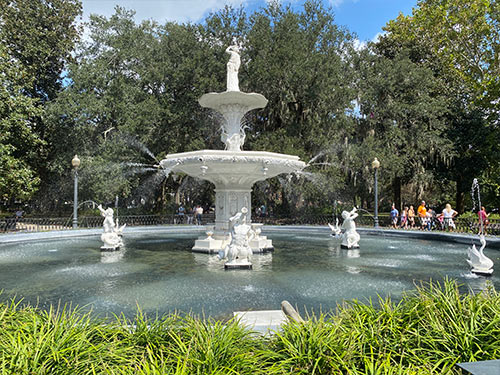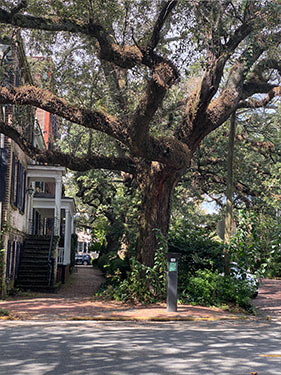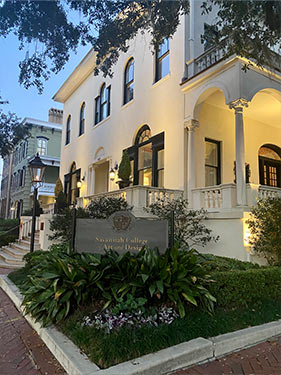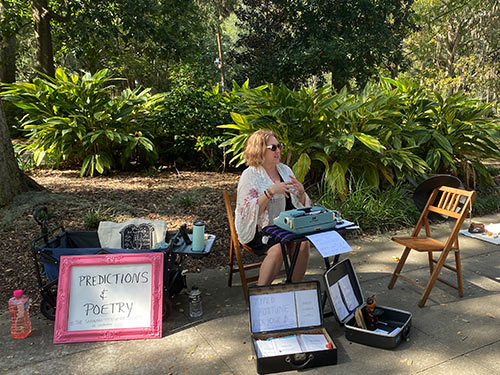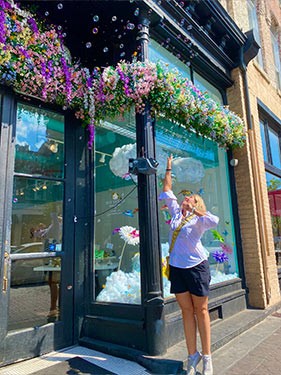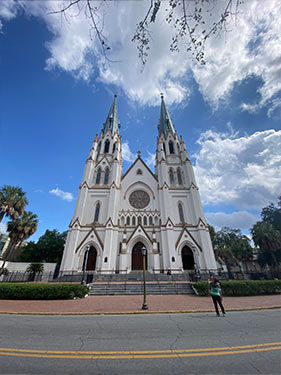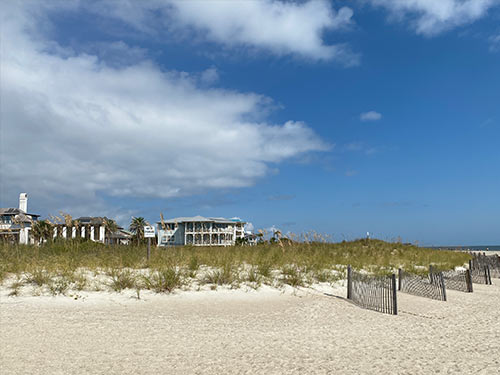 Forsyth Park, Concert with friends, City impressions, poet to rent, Horseshoe crab on the beach
St. Augustine
Three more hours of driving south, through surprisingly green and gentle nature, then brought us to the oldest city in the United States. 1565 is chiselled somewhere as the founding date. The city is small, only 15,000 inhabitants with certainly more tourists. We both felt really uncomfortable from the first moment. Yet the town is really cute. Nice houses, a pedestrian zone and the Inner Costal Waterway within sight. This is an attempt to write something nice.
In fact, there are not even decent hotels, our Inn was already the best rated in town. The rooms smelled of dog – dog ownership is very popular in the US and no one doubts that dogs belong in hotel rooms.
Everything in St. Augustine seemed stuffy, poky and not of this time – in a bad way. As soon as we stepped out of the hotel, we ran into a run-down woman promoting a dubious ex-president and his election lies. "Brendon" stickers made it clear where the majority was leaning. Again, we heard so much absurd nonsense that morologists are sure to find their paradise here. In the shops we saw people openly carrying guns. Unimaginable to see civilized people carrying weapons somewhere in Europe. It's based on a constitution amendment from 1791 and we write the year 2022 now.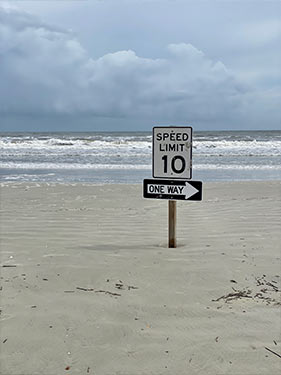 Most of the cars are somehow almost all trucks. We met almost everything here that stands for the worst of the USA according to our world view. A backward oriented place, stuck in the 50s and not the least bit in touch with the present. Surprisingly, there was internet – albeit….surprise: of bad performance.
Even the beach is unusual. You can drive directly onto the beach with your vehicle. Pedestrian path by the water, car route by the dunes. The pickup RAMs park near the water and people heave themselves into their deck chairs with beer cans.
We had to leave here quickly and so we shortened our usual 3 days to 2 in order to quickly make our way further south and into more pleasant surroundings for us. More about that next week. /Holger Binz