Palm Beach – Fort Lauderdale – Miami
A day earlier than planned, we opened the convertible again and drove another 4 hours south. With the boring highway speed of max. 70 miles (112 km/h), one has a lot of time to enjoy the environment. It remained green and beautiful the whole way. Again and again we passed "RV Dealers" (recreational vehicle), dealers of unbelievably many and unbelievably large motorhomes. A very popular activity in the USA, touring the country in a RV.
West Palm Beach
You won't see any RVs at all in Palm Beach. You don't see any "middle-class" stuff there at all. But more about that later. We stopped in West Palm Beach and were lucky to find a very charming hotel with only 9 large rooms, run by Fabian, a friendly Hamburg guy. West Palm Beach has 110,000 inhabitants and is located right on the water, on the Lake Worth Lagoon. You can eat excellently in both Palm Beaches. My "moules frites" in a real French restaurant were as good as in Paris.
Palm Beach
The two cities are separated only by a waterway, connected by lift bridges. These are opened not only when yachts want to pass the Coastal Waterway, but also when "commoners" want to express their displeasure and harass the mega-rich on the other side with protests. These people are annoying for the Palm Beach population, but who else maintains the gardens (sorry, parks) of the residents?
Of Palm Beach's 10,000 residents, 43 are billionaires and certainly no one is not a multiple millionaire. To speak of houses in Palm Beach would be a shameless understatement. Most of them are palaces though. Some with thousands of square metres of living space. Even the utterly tasteless Mar-a-Largo of an pathetic ex-president stands here. Clearly the architectural low point of Palm Beach.
Behind hedges several metres thick and high, I often had the impression of seeing the Vatican Palace or the Embassy of Saudi Arabia.
Everything is incredibly well maintained, from the beach to the shopping areas with stylish and completely overpriced Italian cafés. Palm Beach is a biotope of the immensely rich. A European is allowed to say that, as many Americans assume that Europeans are socialists, if not communists. We enjoyed the time, it was fun.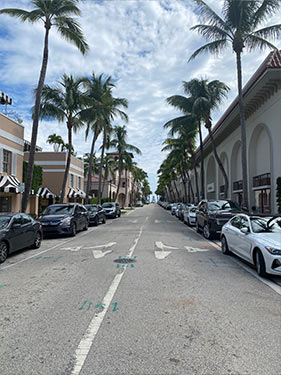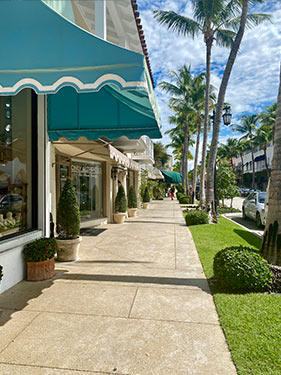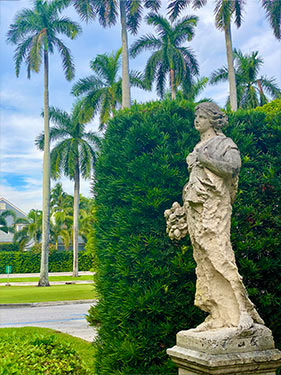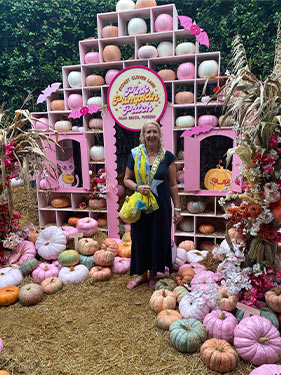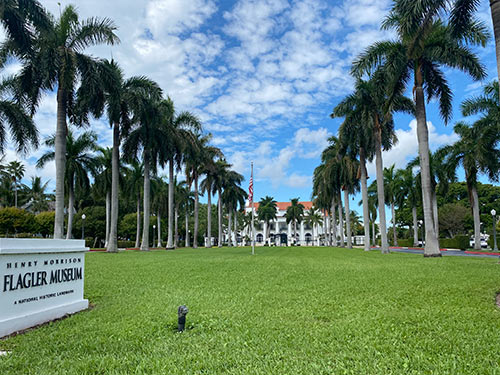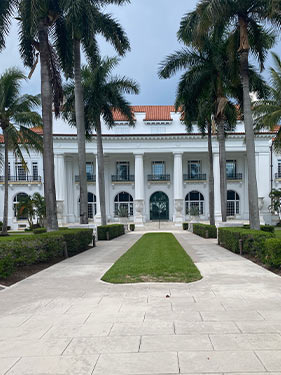 Normal steets, halloween insanity, normal mansion, Flagler Museum, another normal mansion

Fort Lauderdale
On the 100 km from Palm Beach to Miami, one city merges into the next. It is a continuous development with beautiful and not so beautiful. Our next stop was in Fort Lauderdale.
This city of 180,000 inhabitants is called the Venice of the United States. Of course, the houses have nothing in common with those in Venice, except that they are situated on numerous waterways. By water taxi you can admire villas and estates from the water side, and the gondoliers are always sure to tell you truthfully which celebrity lives or lived where. Even if not everything is true, such a trip is entertaining.
Some properties are spectacular, others absurd. One was built by the decorators of the Harry Potter movies in just that style, for the favourite niece. Others are built for Hurricanes 5. The gardens mostly extend to the water's edge and it doesn't take much imagination to guess that this city will look very different in 10-20 years with rising water levels. Fort Lauderdale does has a real city center. The main road is Las Olas Boulevard which is a very long street with many shops, restaurants and galleries.
When we visited Fort Lauderdale, everything was being prepared for the Boat Show, supposedly the biggest boat show in the world and the most important event of the year in the city. Of course, I don't forget to mention the nice white beach that makes Fort Lauderdale a real tourist spot. 2-3 days were enough and it was time to move on.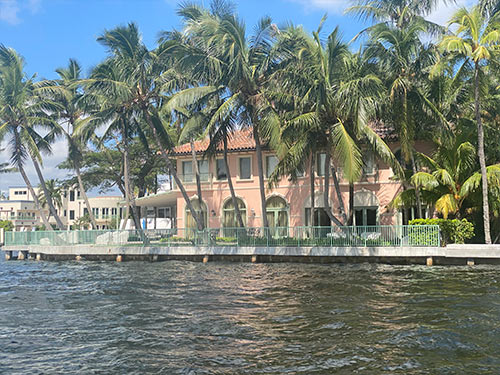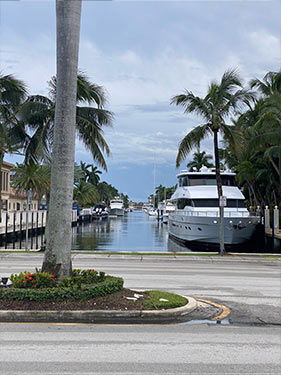 Waterfront living, waterway in fort lauderdale, ka and her tree, water picnic, parking lot and symbol of a devided country
Miami
The last place on our road trip was Miami. We drove via Miami Beach to Downtown, where we had booked ourselves in for this visit. We had visited Miami a few times before, but this time we had other things in mind than normal sightseeing and beach visits.
Surprisingly, Miami is only the second largest city in Florida after Jacksonville. Miami itself has only 450,000 inhabitants but the Miami metropolitan area is home to 6 million people. The transitions to other cities like Miami Beach, Hollywood or Miami Dade County are fluid, everything feels like one city.
Miami Downtown reminds a bit of New York with its skyscrapers, only in warm and in Latino. 70 % of the people are Latinos and Spanish is spoken more than English. The climate is exactly to our taste: warm with very few exceptions. There is water, canals, beaches, palm trees and an incredible amount of green. Coconut Grove is super lively, very international and just fun. Gables is actually a huge park with lots of extraordinary houses.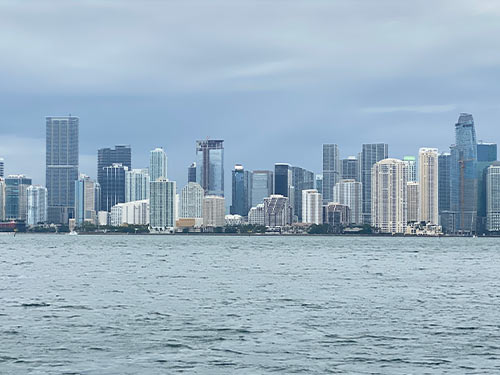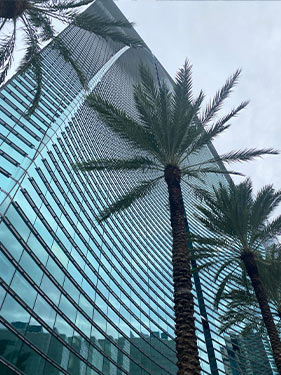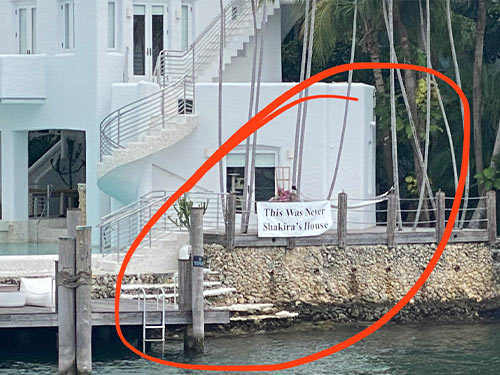 Miami skyline and downtown, Gables, animal life, city life and annoyed residents
Then, a bit away from the coastline, there are endless housing estates, the size of which you can actually only see from the plane. We had three days for Miami, which was far too little.
Actually, our entire trip was far too short. We were able to see a little more of the diversity of the USA, visit unusual places and understand a little better what is going on in the States at the moment. The contrasts in this country are colossal, not only in terms of social and economic differences. The contrast could hardly be greater in terms of education and mindset.
Charleston, Savannah and Miami were our highlights. Seeing St. Augustine was ok, but will not be repeated. Palm Beach and Fort Lauderdale were entertaining. And Miami had it all in one.
And that brings our Hurricane Season trips to New York, Europe, Seattle, Alaska and the US Southeast to a close. We experienced and saw a lot. And as you read this, we are setting sails again and starting a new sailing season. I hope, dear reader, that you will remain loyal to us in our third season. And if you like to write to us: we will answer every mail, I promise. / Holger Binz