The season finale and anchor buoy experience
Sailing is more fun the more time you have. Then you can just wait out unpleasant weather and only sail on when conditions are good.
At the weekend, such unpleasant weather passed through the passage between Martinique and St Lucia. The forecast was for 30 knots of wind (so it will be more) and a wave of considerable size was also announced. Perfect weather for not sailing.
For our last 25 nm of the season to St. Lucia, we had more pleasant sailing conditions in mind. That's why we stayed in Martinique for another weekend. For Monday, only 20 kn of wind and a smaller wave of 1.9 m were predicted, with a frequency of 7 seconds instead of 6. Sounds like little difference, but it is not. The length of the wave makes an enormous difference when sailing and one second is quite a lot. We once sailed in the Pacific in 4-5 m waves. But the wave frequency was so long that it was much more pleasant than 1.5 m wave at 5.5. second frequency.
The only real challenge of the day were the countless fishing nets in the middle of the fairway. Lines and old plastic bottles were floating everywhere, many of them only visible metres from the boat. It became a slalom until we were finally in deep water. We have never seen so many fishing traps as in Martinique. The fishermen couldn't care less about damaging vessels. By now we wouldn't mind tearing these things either, but the lines can get caught in the propellers. You can't approach Martinique at night under any circumstances.
On this short trip we had company from a buddy boat. Our friends Pascale and Jean-Noel sailed the route with us, also on a Leopard 45. After half an hour of wild evasive manoeuvres, we finally trimmed the sails heading 200 degrees, our favourite course in the Eastern Caribbean. Wiser from experience, we put a reef in the mainsail as a stress-preventative measure to avoid windy surprises.
A perfect day of sailing
What a marvellous day of sailing it was, one of the best of the season. The wind was blowing at a perfect angle between 65 and 100 degrees, mostly around 18 knots. The Rivercafe was sailing happily towards St Lucia at up to 9.5 knots. We were actually too fast for fishing, but we cast our lures anyway. We could see schools of fish swimming and jumping next to us, but Sargassum grass got caught in the bait as it often does and fish don't like vegetables. After three times of retrieving, cleaning, casting, we gave up. Our season record is 9 times this procedure. This year fishing is almost impossible, so much harmful sargassum grass is floating in the sea.
To compensate for the lack of fresh fish, we were rewarded with a visit from dolphins.
This wonderful sailing day lasted only 3 hours until we turned into Rodney Bay. This was also our destination after our Atlantic Crossing. This time there was no finish line waiting, just an almost empty anchorage in the northern bay, right by the Pigeon Island nature reserve and the Sandals Hotel.
Eased entry into St. Lucia
This time we didn't need any Corona test to enter St. Lucia, as the regulations have been greatly relaxed. Our vaccination certificates were sufficient. Sailclear in advance online, then in person at Rodney Bay Marina to Health Authorities (both of us), Customs, Immigration and Port Authorities. And after two visits and 40 ECD (East Caribbean Dollar) fees, we were in. With the relaxed C19 rules, the mood on the island has obviously improved a lot. People are in a much better mood than when we arrived in November 2020. No surprise there.
After we were convinced that our anchor had found a good holding, a Caribbean deluge began. Almost 20 hours of continuous strong rain with incredible amounts of water. If we hadn't taken our dinghy on board early enough, it would have sunk. Only once in Panama did we experience such amounts of water, but never for so many hours. St Lucia is now definitely washed down and not a molecule of salt will be found on the Rivercafe.
Of course, the continuous rain did not keep us away from the water. St Lucia is located at 14.05 degrees north. In the more northerly Virgin Islands (18.40 degrees) we had a nice water temperature of 26 degrees celsius. More southerly In St. Lucia it is 28 degrees celsius and that is not really refreshing even with our Caribbean temperature calibration.
We also enjoyed the reunion with our Canadian friends Danielle and James, whom we also met by chance in the bay. One of the nice things about sailing.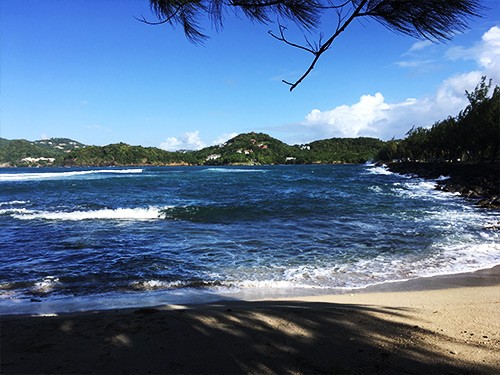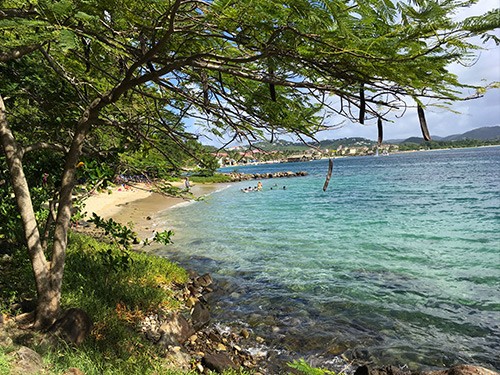 Impressions from St. Lucia. Last photo: the Sandals overwater bungalows with our anchor bouy (the tiny red thing)
Pleasant theft
Excursus Anchor Buo
y. We have got into the habit of deploying an anchor ball or anchor buoy when anchoring. We use it to mark the position of our anchor under water. This way we show other vessels where our anchor is located so that no one throws their anchor on ours or on our chain. It also shows in which direction a ship is drifting and how much chain we have out. It is also easier to pick up the anchor because you can see where the vessel has to be steered. The tricky thing is to keep the buoy directly above the anchor and not let it drift out. We have developed a solution that works well. To do this, we attached a shackle to the head of the anchor with a 5 mm elastic rope 8 m long. The rope is passed under the anchor buoy through an eyelet and weighted down with a 100 g lead weight. The weight pulls the excess rope to the seabed and the buoy stands exactly above the anchor. This allows us to adjust ideally with a rope of 8 m to different depths from 3 to 10 m from the water surface.  
On the third night at anchor, Ka heard a fishing boat chugging past us. A glance into the moonlit night showed her that our anchor buoy was gone. Instead, we found a fisherman's marker at the same spot. Fishermen use it to mark the end of what is usually a huge net. We were pissed off, already the second buoy stolen in a few days. Early in the morning, two fishermen rattled up to collect their prey. They cheerfully admitted that they had ripped off our buoy during the night and taken it with them. How could they had any idea that a buoy marked with "Rivercafe" and "don`t touch" signs could have anything to do with the "Rivercafe" right next to it. Randy, with a grass-green shirt on his grass-green boat called "God sent" promised to bring our buoy back. And indeed, in the late afternoon Randy jetted by and handed over our buoy and the torn line, beaming with joy. So a theft turned into a "loan" and a sympathetic encounter. We were happy about the honesty and returned the favour with a cold beer. In a good mood after this pleasant experience, we also treated ourselves to one.
These days we will try to repair the damage to our hull under water and then hopefully there will be some usable weather left for snorkelling or diving. With freshly filled fresh water tanks we will then make our way to our hurricane hole Marigot Bay, just 8 nm away from us. For our official end of season. / Holger Binz