USVI – City life and nature reserve
We had a wonderful time in Water Island. After a few days somewhere it really happens that you feel a bit at home. You get to know the locals, know that "Matthias" has German roots and lives near the fort. That "Bill" and his wife also have a house in St. Thomas and the car is right at the pier. And that "Heidi's" snack bar in the mountain not only has a beautiful view, but is the center of the islands social life. And when you have gotten to know all this and have actually already spent far too many days (5) in one place, then you have to move on. Because otherwise there is too little time for the other places. It is always a "hello and goodbye".
You couldn't really call our next leg "sailing on". It was only a few miles from Water Island to Charlotte Amalie, the capital of St. Thomas.
Charlotte Amalie, St. Thomas
In one of the last posts, I wrote that this city lives from cruise tourism. It doesn't seem to be quite like that, the merchants are having the great awakening. In the time without cruise ships, some shopkeepers found they had the best sales. Christine, for example, had record sales in her store when no cruise ship tourists came. This was due to residents venturing back to their main city and even normal hotel guests more than compensated for the sales.
During our time, we had days with no vessels and those with 5 ships, which then washed 18,000 tourists onto the island. Someday I'll write in more detail about cruise tourism.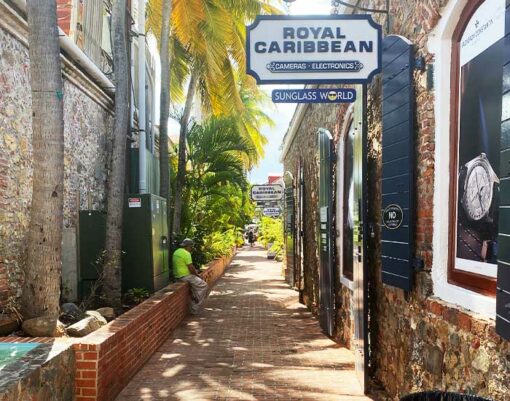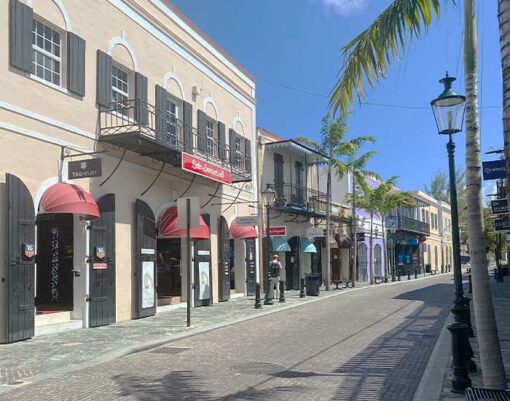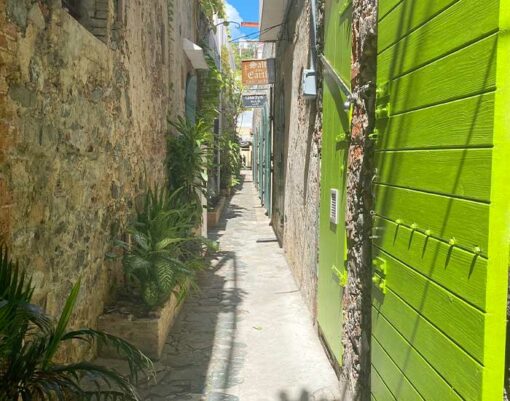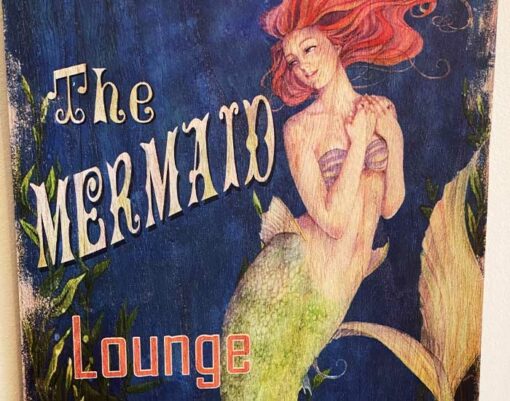 Charlotte Amalie is a nice little town. No hurricane, but the pandemic have left traces in the form of many empty stores. The main street reminds me of "Asterix and the Avernerschild" (sorry, I don't know the english title). One village in that story has only stores with "coal and wine". In the main street of Charlotte Amalie it the same but its "watches, jewels and alcohol".
So we were all the more pleased to see that a particularly curious store survived. A maritime bric-a-brac store, names SOS Antiques For almost 30 years, things from old ships have been restored and sold here. It's effectively a maritime antique store. You wouldn't be surprised to see Blackbeard himself standing at the cash register. The visit is very entertaining and recommended.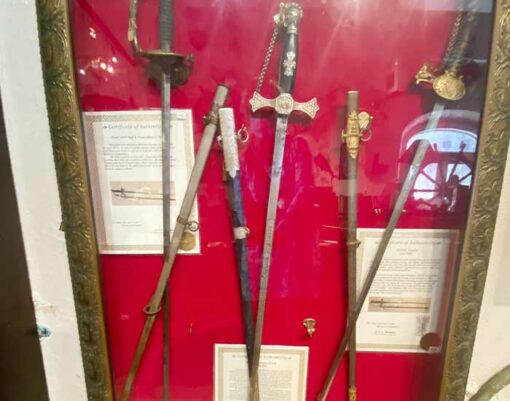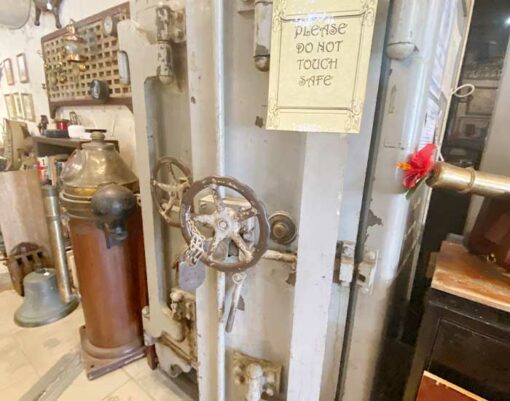 Great St. James and the Pizza boat
Before we started looking for houses and developing business ideas, we pulled up anchor. The next destination was also only 8 nm away, Great St. James Island. We were just off Christmas Cove, a rock pile and excellent snorkeling area. I can't remember ever seeing so many different kind of fish in one place. It was like being in an underwater aquarium. Unfortunately, the weather turned unpleasant. With strong winds, clouds, rain and especially no sun, you don't see that much under water. Therefore also no photos. But still, a great snorkeling spot.
Great St. James hosts the pizza ship "Pi". Fresh pizzas are prepared swaying on a small barge and sold at a price around 33 USD. At noon, boats come to pick up pizza. We must have had some bad luck, because after our pizza we both didn't feel very well.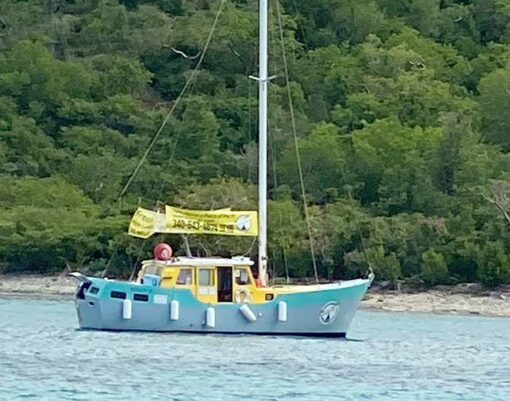 In St. James one lies useful protected from wind and waves. But the weather forecast promised more bad weather and very strong wind. Since this will be our last week in the USVI anyway, we sailed to St. John to duck on the west side of the island from the east wind.
Beautiful St. John
When we were decided, we lay again in Maho Bay in St. John, anyway one of the most beautiful bays of the Caribbean. We were safely moored on a mooring ball of the nature reserve and the wind whistled loudly through the rig for days. Not thinking about hanging out laundry or continuing to sail.
In Maho the local was named "Chris" and we learned that just across the beach a piece of land was for sale, for a slim 7.5 million USD. Just the property, not the whole island. Our friend Serge would now say: location, location, location. Brave for an island that doesn't even have a phone store. However, St. John has so many countless dream beaches and bays that the Balearics would trade their finest for any one of them in a heartbeat.
Turtle Nesting Beach Maho
Maho Beach is indeed special. Moreover, it is a Turtle Nesting Beach, where the turtles bury their eggs and let the sun hatch them. Visitors are tolerated, touching turtles is punishable by 5,000 USD. At least 20 times a day, huge turtle shells appear next to the ship as a reminder that this is a nature reserve. Numerous rays lie deeply relaxed in the sandy bottom. And we even saw dolphins and nurse sharks in the bay.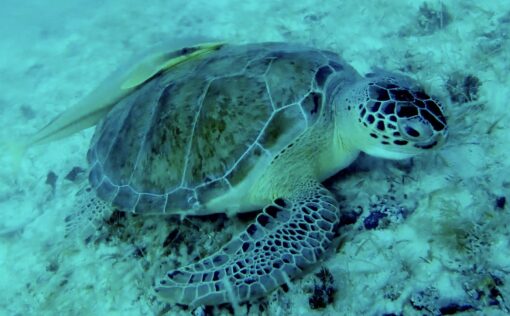 Thats the full Video: https://youtu.be/i3uIeylK4XM
In Grenada, we once spent a night, traveling to a pitch-black, cold and stormy turtle nesting beach at the other end of the island to see "nothing" for hours. And here the little guys are breeding right on the warm and sunny beach. But only 1% of the hatched babies survive. The breeding season is still a little way off. On the Virgins the hurricane season starts already in May and then the beach belongs only to the Turtels and their offspring.
Time of departure
To our delight we met again our friends Melissa & Jeff in Maho, who are on their way with their super cool H/H 50 catamaran. One last fun dinner together on the Rivercafe. The two are now on their 2,000 nm way to New York and Martha's Vineyard, with a stopover in the Bahamas.
It has already begun, the time when crews prepare for their hurricane time and slowly move toward their sheltered locations. Until we meet again sometime.
So now our USVI time ended, with heavy hearts. To top it off, we even got our C19 tests for free, as well as check-in and check-out. Everything super fast and super friendly. In the BVI we pay 290 USD for this and still have to endure ill-tempered immigration officials.
We see the BVI from here, but without forms and stamps they are universes away. On the BVI we will meet some friends again, as meanwhile on almost every island. The longer we are on the road, the more lovely people we meet. Hello and Goodbye. See you next time / Holger Binz
Weather report:
Sunrise 6:31 am, sunset 6:28 pm, temperatures day 28 c, night 23 c, wind: 5-7 bft, constantly blowing unpleasant and gusty, at night sometimes especially strong. Lots of rain, lots of clouds, little sun. Strong swell. Not nice weather.