The calm beneath the surface of the water
The opera singer Elsa Dreisig opened the radio show "Klassik Pop et cetera" with the following words: "The world, despite stress and sadness has so many beautiful things to offer".
That's how I feel when I'm under water.
Three more days on the Rivercafe. I am sitting in Fort Lauderdale. In a marina, in a city and slowly I understand that a huge part of this journey is now behind me.
The plan used to look different. Three to five years in the Caribbean, then off through the Panama Canal to the Pacific. But as is so often the case with sailing, plans are only rough guides. Going to the Pacific now would mean that we would see our family and friends even less often and that is exactly the opposite of what I have been longing for for some time now.
There are, of course, some other reasons why we first put in a Mediterranean loop, but Holger has already described them in the last article.
Already from the beginning of the trip I was overwhelmed by the many impressions and the thought crossed my mind very ofter: how should I remember everything without constantly running around with the camera in front of the nose?
So I started to draw. I don't want to bore anyone with the difference between drawing and painting and illustrating. But switching from my canvases, which are usually over 15 ft2 in size, to a 12.9 inch tablet took a little getting used to.
And because I was most fascinated by the scenery under the surface of the water, a whole series of paintings was created.
Underwater Circumnavigation
In the last 3 years we have changed location 157 times. In some places there was not much to see. Especially the dreamlike Bahamas have turquoise water but you probably wouldn't talk about abundance of fish or shimmering underwater life. That was quite different in the British, American and Spanish Virgin Islands and in the southern Caribbean in general.
I saw sharks and rays, but also seahorses and small water spiders, funny crabs and in "The Bath" a lobster, big as a baby.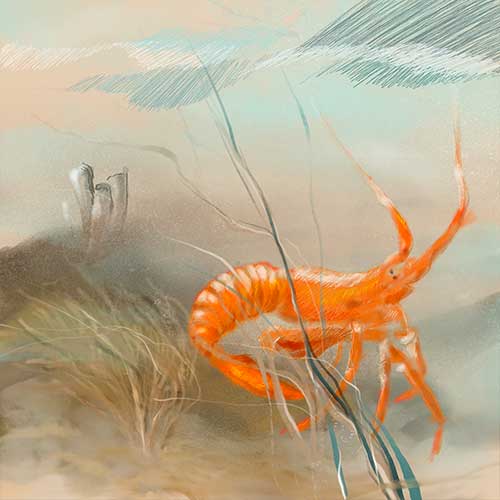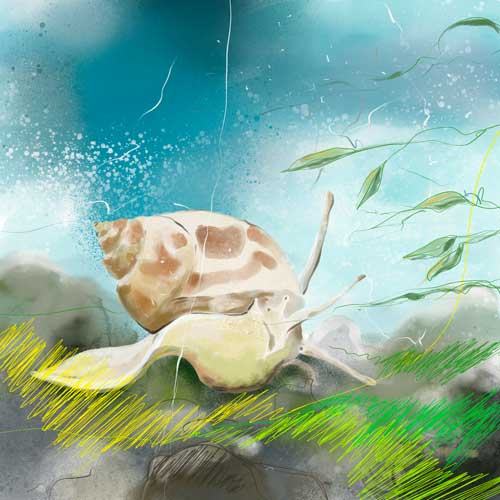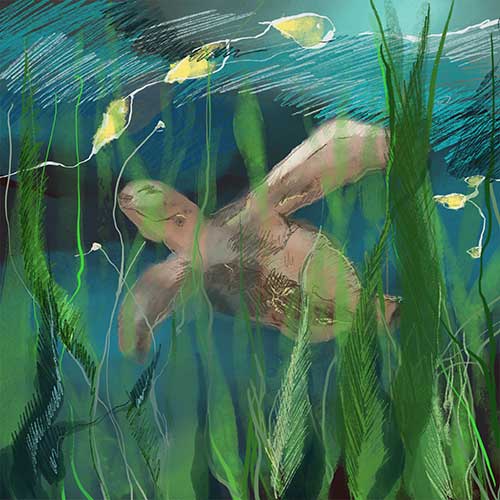 If there is a God, he has done his masterpiece in the sea and every fashion designer should learn to dive and see how colorful the clothes of some fish are.
Underwater you learn to laugh. There are the flounder species, of which only the eyes are visible until they quickly dart away and their blue-turquoise dot pattern becomes visible. Or an octopus trying to escape a "bunch" of fish that just annoyed him. Within 1 minute it had changed color so many times that I only discovered it again later by accident on the film footage.
The plant life underwater is amazingly diverse. Most plants are softer than those above ground. They are flexible whether it is seagrass or even kelp. They are enormously adaptable and hardy.
I didn't have it so easy with one or two sea creatures. I have an allergy to a very specific, very small species of jellyfish. Jellyfish are particularly fascinating to me. They are dancers in the sea can move in all directions, sometimes let themselves fall as if gravity was in the water, like on land. Or they pass by me with their 5000 best friends and stare at me without understanding.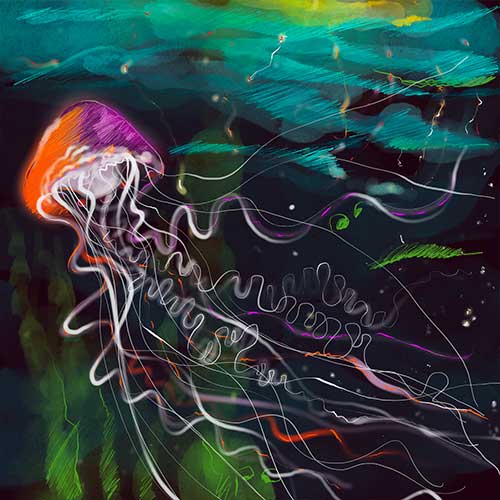 Of course, these fellow inhabitants of our earth are not only beautiful, some are just funny. A thumb-sized triggerfish, wanted to bite our friend Anders in the butt with vehemence. Anders was just too close to his nest. The dwarf obviously wanted to defend it. Another one a Remora of about 1 meter thought Holger in his black wetsuit would be a nice buddy to join as a pilot fish.
There are many things that impressed me. While free diving I got a small lung rupture and thought a lot about dying in the water. I spent a whole night worrying about my friend Nilla, who slipped and fell down a waterfall while hiking in Guadeloupe. And for the first and hopefully last time in my life I experienced "Big Game Fishing" . So it comes as no surprise that some of the Underwater Circumnavigation pictures are a bit gloomy.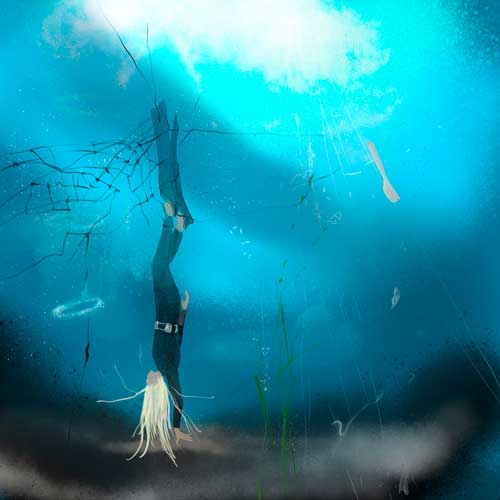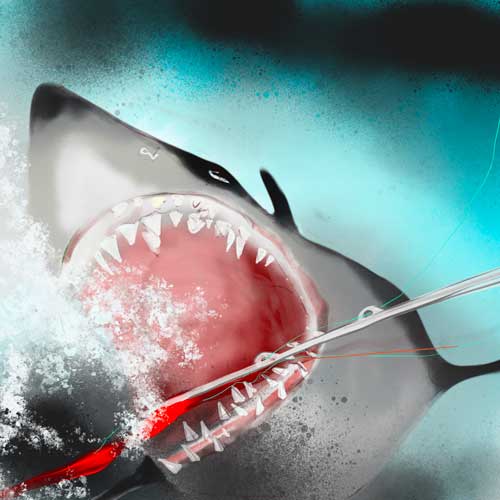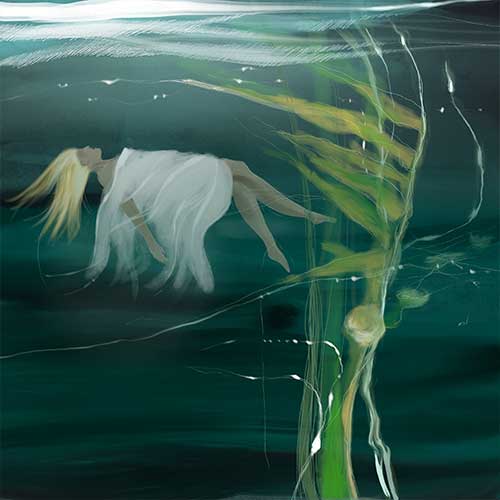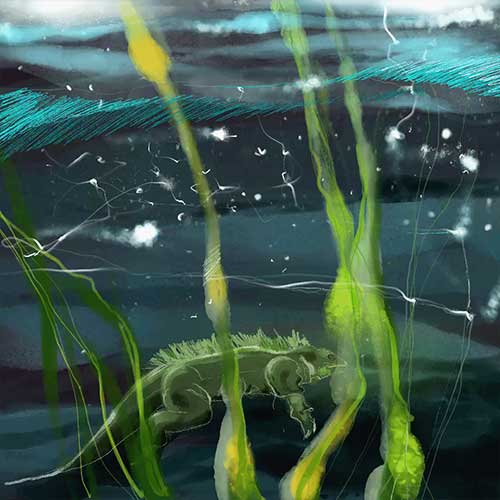 I will miss the silence under water, watching the pure and drifting with the fish during the next 5 weeks without a vessel. Of the many places and underwater worlds I have seen, most are still in my head waiting to be drawn. 25 drawings are finished, more to come.
Officially I sell the illustrations as digital art on Opensea, a platform for NFTs. Here the platform sets the prices and I have little influence.
If you want to have a printed version of an illustration, you have my mail address. A print on Fine Art Hahnemühle 350 gr. paper is about 270 Euro.
me@karinbinz.com
And on my website karinbinz.com are also some Making-Off's to see. / Karin Binz