Exumas National Park
Enough of pigs and James Bond, our friends back on the plane and good weather predicted – these were plenty of reasons to leave Staniel Cay.
Our next destination was Exumas National Park. We stayed in the protected Exumas Sound and set course for Cambrigde Cay (AKA Little Bell Cay) – two names for one place. The favourite spot of our friends Jeff and Melissa and as always a first class recommendation. Cambridge Cay is the first stop in the Exumas National Park, which stretches from here to the north, almost to the end of the Exumas. This means that our fish supply has dried up for the time being, because any kind of fish hunting is prohibited in the park. Well, actually, any kind of supply has dried up, because there is neither food nor restaurants. There is nothing at all, except nature. The supply on board will have to do. Luckily we make our own water, because there is no water to bunker either.
The Exumas National Park was one of the first in the Caribbean to be established in 1958 and since then rangers have been caring for this pearl of the earth. And what a pearl it is. We are relieved not to have to decide whether we find Polynesia or the Exumas more beautiful.
The national park has the best mooring balls we have ever seen. Good enough to moor yachts up to 50 metres. More than enough to give us a peaceful night's sleep. Moorings cost USD 40 per night for the Rivercafe and up to USD 200 for the largest yachts. Anchoring is a little cheaper. This income is enormously important for the park and it is all the nicer that yachties pay reliably.
Cambridge Cay and O`Brien Cay
When we were moored in Cambrigde and wanted to jump into the water, a passing bullshark convinced us to postpone the swim. The bull was followed by reef sharks, somewhat more tolerable fellows. And in their wake swam four huge Blue Spoted Rays. All well relaxed. Since the Bahamas, I always carry my dive knife in the water, even when swimming. Just as a precaution in case a shark has a bad day.
10 dinghy minutes away is O`Briens Cay and I have no words to describe its beauty. At the entrance to the cay is the so-called "Aquarium". A wonderful snorkelling spot with corals and fish. When you dive down, it also feels like you are actually swimming in an oversized aquarium. The park has wisely placed buoys for dinghies, so you can glide into the depths in a relaxed manner.
Enough with snorkelling, you head into the shallow cay. The reward is a sandy waterscape that no human could have created. The water is so shallow that we got out of the dinghy and pushed. Then around the corner you find a small Blue Hole, in the middle of the water. Just look at the photos, that explains my lack of words.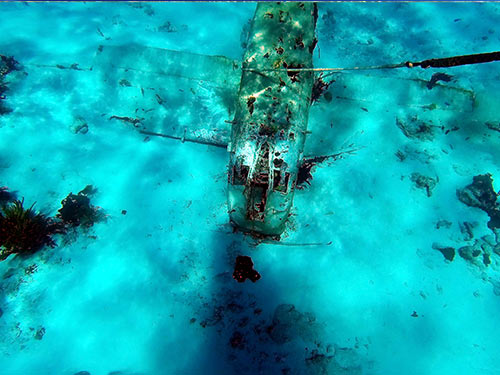 Airplane and Aquarium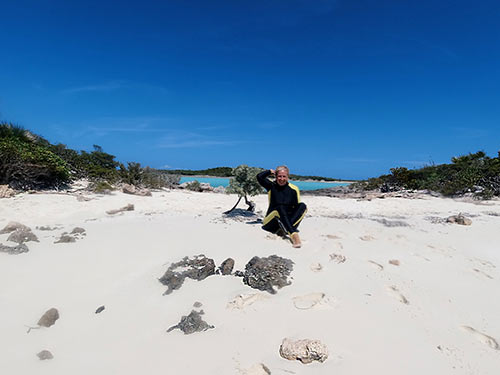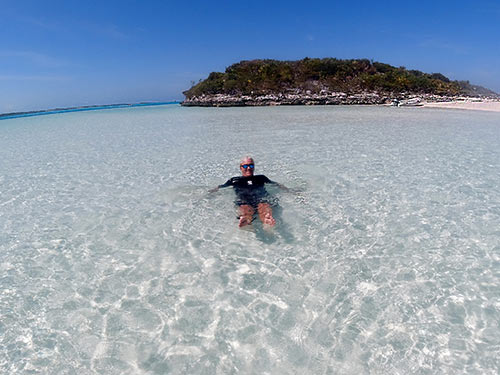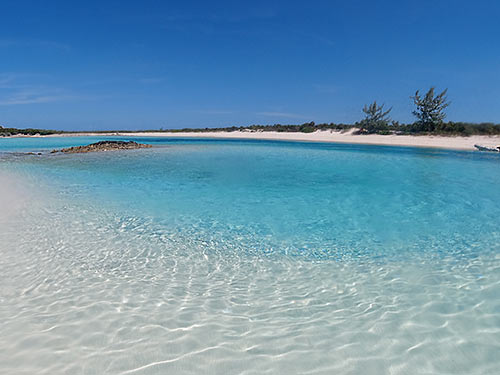 Barren Landscape but incredible Ocean with blue hole
On the way back, we made a small diversions to an aeroplane wreck that has been lying in the water for years, as there are several of them in the Exumas.
We enjoyed the complete solitude of the Cays, the silence only interrupted by birds or surf. The flora on the small islands has adapted to the barren conditions and nothing grows tall. Flat bushes dominate and for the first time in my life, I could have jumped over palms and trees.
Warderick Wells Cay
On the third day in Cambridge, we got a radio message from the nature park rangers late in the morning that we could have a spot in the North Field of Warderick Wells Cay. We immediately set off on the two-hour journey.
Warderick Wells Cay Noth field, snall channel and sandbanks inbetween. National Park Photo.
If Cambridge and O'Briens blew us away, Warderick was the complete knockout. There are mooring balls in a narrow channel, anchoring is not an option. We got a super spot in the bay. Right next to us was a sandbank and, depending on the tide, the stern of the Rivercafe was so close that we could jump off the boat onto the sandbank and then wade in the ankle-deep water. Everything is crystal clear, you can see every fish swimming past the bottom. There is no Pantone palette for the many colours of blue.
The animals seem to know that they are protected here. The water around us is teeming with life. Ka has made friends with four turtles that float around the Rivercafe in the morning and afternoon, not bothered by two huge rays that majestically pass us by regularly. In the afternoon, a curious nurse shark comes to our swim ladder looking for playmates. Even his two pilot fish are cheeky. They are remoras, they look like swimming Klingons. A 50-60 cm big Remora wanted to adopt me as his new shark during a snorkelling trip, he was already attached to me. I didn't like that. Again and again, sunfish, rays or bio-illuminating fish drift past us at night. One bay is teeming with baby rays that are practising swimming in the shallow water of just 20 cm or smelling human feet as them come by curiously. With all this splendour, it is no wonder that we spend a lot of time in the water.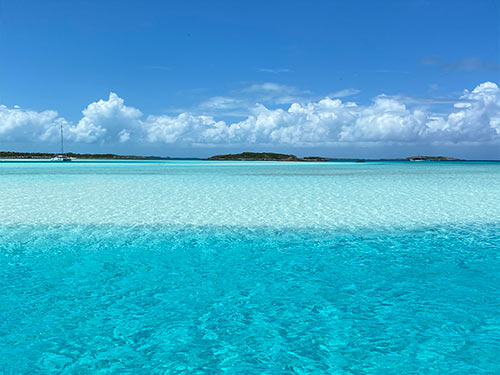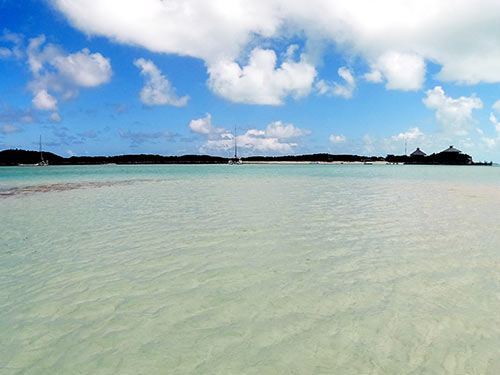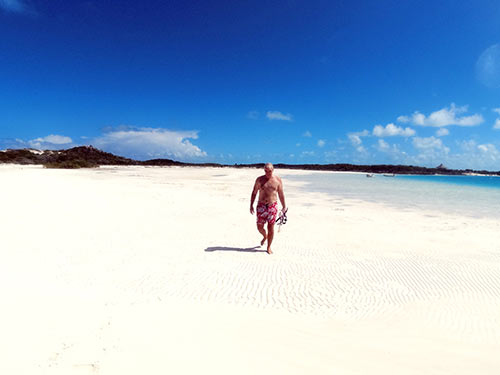 Rivercafe stern is right at the sandbank. Shallow beach with baby rays barely covered with water
We feel it is a great privilege and reward to be in Exumas National Park. It is the reward for many exhausting and also unpleasant sailing days. Visiting these places is only possible with your own boat. There is no infrastructure for tourists, no hotels, no restaurants, no transport. So the number of people remains small and this obviously does nature a lot of good and makes this a very special place in our world.
Land and Sea Park
There are a few hiking trails on land. One trail leads to Boo Boo Hill. It is traditional for sailors to leave a wooden sign there with their ship's name. Right next to it are blowholes, through which fountains are forced underground through the rocks at high tide. Other trails lead over hills to incredible viewpoints or to secluded beaches that couldn't be more beautiful. These Exumas beaches are so incredibly beautiful and empty that we wonder if we will ever want to visit "normal" beaches again.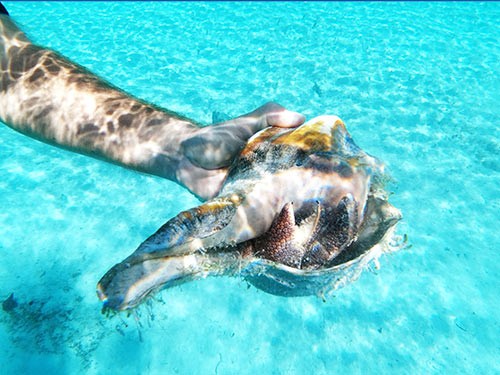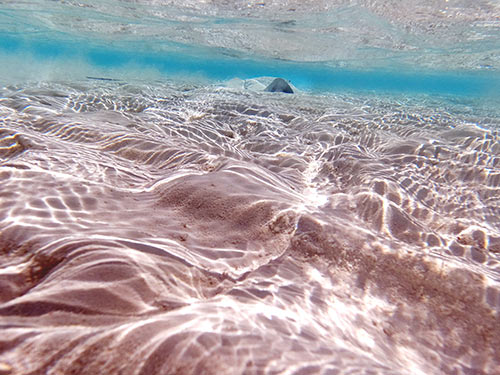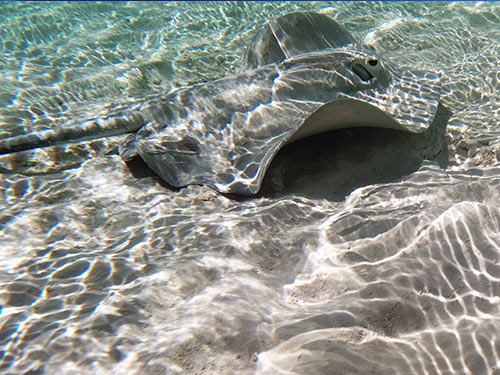 Crabs in shell, Rays in shallow waters in Muschel, Rochen im flachen Wasser
Bradley is the park manager of Exumas Park, head of a crew of 5. Far too few for the 450 km2 area. But Bradley always motivates volunteers to give a few hours to help with something. Or to donate. The yachties who come here are happy to make their contribution, and not just in cash. Once a week, on Saturday afternoons, there's a sailors' get-together on the beach. Everyone brings something and you get to know each other. Luxembourgers are very exotic, with almost exclusively Americans and Canadians. And as I write this, "our" nurse shark is coming to visit us again. Can only be a matter of time when he jumps on board.
We couldn't imagine a more beautiful place to spend Easter, a truly magical archipelago. Without chocolate eggs and Easter Bunny, but with our Easter Shark.
We will stay longer than planned and spend the days in other places. But the wind will take care of that, because it's supposed to be stormy again. Even in paradise it sometimes gets wild / Holger Binz