Our last days in the Exumas
We have only a few days left in the Exumas before we move on to Part 4 of 6 of our Bahamas trip, to New Providence with its capital Nassau.
Saying goodbye to the Exumas is made pretty easy for us right now. Since 3 weeks we have mostly bad weather. Lots of gray, not enough sun, rain and the wind is rarely as forecast. The weather forecast in all systems is as reliable as a politicians promise.
Monday night was one of the worst we have ever had aboard the Rivercafe. Totally unpredicted. The forecast was 10-20 kn wind, calm seas, calm night. At 6.30 pm it was exploding. Lightnings all over the sky. Everywhere. The night was lit up continuously. Thousands of lightnings and we were in the middle of it. On this chart you can see what was going on around us. It was like the world was coming to an end.
The blue dot is us, everything in yellow are lightnings
We stowed our electronics in the oven and started the engines so that in the event of a lightning strike, we would at least have them running. Then we could only hope that we wouldn't get hit. In addition to the lightning, we had rough seas and winds close to 40 knots. At least our mooring ball had perfect holding. But the Rivercafe jumped, as if on wavy, high seas. It was just scary. Many hours later, the lightning subsided and we got some unrefreshing sleep. The next morning, we saw sun, but the swell and wind remained super nasty and the Rivercafe continued its dance on the mooring ball.
Even before that night, our mood was not the best. It's about time we got back to anything city-like. In two months, we've only had the tiny Georgetown to get supplies. For five weeks now we have been without food supplies, without fruits and vegetables. Frozen spinach saves us from scurvy. Without a doubt, this is the most frugal part of our trip. That is the disadvantage of constantly heading for uninhabited islands. But there are no inhabited ones – that's the Exumas: only nature and nothing on land. But especially the weather gnaws at our mind. We had imagined something more Bahamian in the Bahamas. We are deeply impressed how much the weather affects our Bahamas experience. Either we have an overdose of "solitary nature" or an underdose of vitamins.
So we are looking forward to Nassau, even though many sailors think it is not worth it. But finally some provisioning, seeing people and having restaurants cook for us. What a distant memory.
For some time now we have had to be careful with our water production. Since the starter battery of our generator is broken, we have no energy backup for gray days with too little sunshine. Our normal consumption is easily covered by our ample solar panels and lithium batteries, but the watermaker is a greedy little guy and demands sunshine.
Now let's turn off the bad mood mode, because there was other stuff to report.
Warderick Well to Shroud Cay
From Warderick Wells we sailed with two American buddie boats to Shroud Cay. We continue to make new and interesting friends of people and their extraordinary stories. People we would hardly meet otherwise. This broadens our horizons and is a much appreciated highlight of our trip.
Shroud Cay is another uninhabited island consisting mostly of waterways with mangroves. An incredible amount of mangroves. Some of the waterways are so shallow that at low tide you would run up with your dhingi. A trip over the waterways of the island is only recommended in the two hours before and after high tide.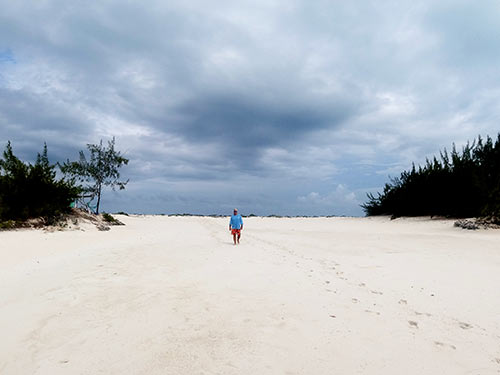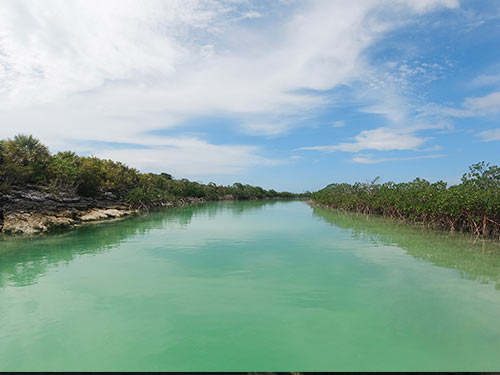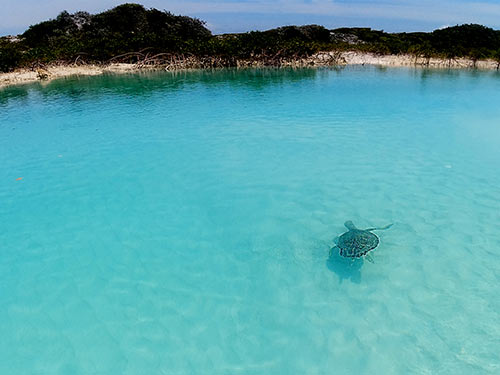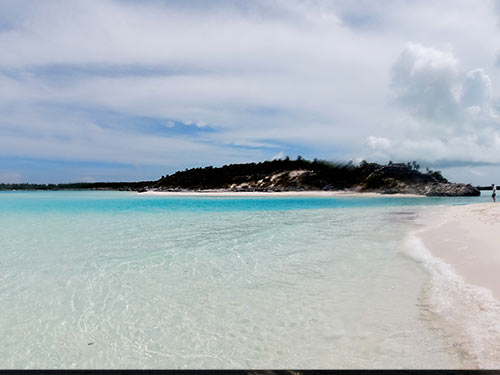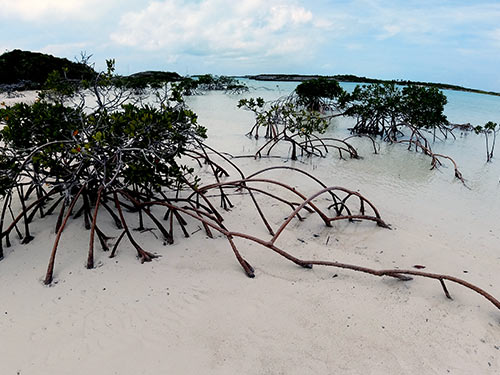 Where are the fish gone?
In spite of this vast amount of mangroves, we found almost no fish. Plenty of turtles, a few nurse sharks – but otherwise almost no fish. Very strange. The northern end of a waterway empties into the sea and the place is aptly named "Washin'Machine". A very nice estuary with several sandbars and plenty of current, depending on the tide. Perfect for a swim in the sea, where even the nurse sharks swimming by are not a nuisance.
The sea changes towards the northern end of the Exumas. The Exumas Sound offers less and less protection from swell, it becomes wavier. Ka can't make yoghurt any more because yoghurt can't stand a swaying vessel. The spontaneous jumps into the water become rarer, because masses of small jellyfish spoil the fun. The sea is still clear, but there are almost no fish to see except for sharks. And also the sharks become less. We don't find anything exciting for snorkeling or diving anymore.
Drug Island Normans Cay
Within sight of our anchorage is Normans Cay. This island has an exciting past. From 1978 to 1982 it belonged to the bosses of the Medellin cartel and was – not surprisingly – a drug transshipment point. The largest part of the island is occupied by a runway for airplanes and a small harbor. Subtle clues for the DEA. The only attraction is another sunken airplane and there is much else nothing.
Our last stop on the Exumas will be at Highborne Cay, but maybe not. There are a few people, a restaurant and a small marina. Yesterday we met two sailors who ordered two burgers with Coke for 94 USD. We hold then surely still 2-3 days through.
When we arrive in Nassau this weekend, we will definitely never eat on board. We ordered a new starter battery, which costs three times as much as usual. However, it has not arrived yet. It would be nice to have a working generator for our further trip to the Berrie Islands and Bimini. Just in case the weather still doesn't turn Bahamas-like. We'll be in touch again after our contact with civilization. / Holger Binz