Bahamas: Blue Hole, Sharks and turquoise
It is sometimes difficult for us to leave beautiful places and set out again and again. But there always remains the expectation of getting to know new and beautiful places. And almost always that is true, especially in the Bahamas.
On our last day in Clarence Town, we hopped on our folding bikes and cycled to the highlight of Long Island. A place that would draw crowds of tourists anywhere in the world. Now, however, Long Island is not a tourist destination and so we enjoy this natural sensation in solitude.
Freedivers at work
"Dean's Blue Hole" is literally a hole in the sea, 25-35 m wide and 202 m deep. The second deepest blue hole in the world. (The deepest is in the South China Sea). Deans Hole is located just under 10 km north of Clarence Town in a sheltered bay. On the side of one of the most beautiful beaches I have ever seen. The water runs shallow and clear from the sandy beach over many colour gradients down into deep blue. In the middle of the Blue Hole, a platform floats from which freedivers bravely descend into the depths. In a competition last year, a diver went down to 123 metres. Without a tank, of course – pure apnoea. An impressive achievement. That the fun is not without risk is proven by a gravestone right at the entrance to the water. Three people had fatal accidents in the summer of 2008.
After two hours of off-type exercise on the bike, we made it to another spontaneous yachtie beach party on our return, to which everyone brings their own stuff. By now, there were about 12 boats anchored in Clarence Town bay. And with virtually everyone wanting to take advantage of the fine weather the next day to continue the voyage, it was an enjoyable Hello and Goodbye. Most sailed south, mostly with the seasonal destination of Grenada, 12 degrees of latitude away. Five boats made their way north, as we did, on to the Bahamas.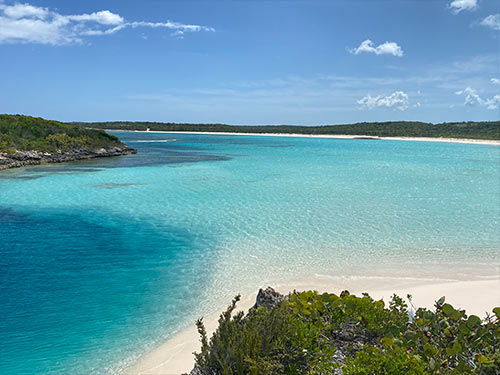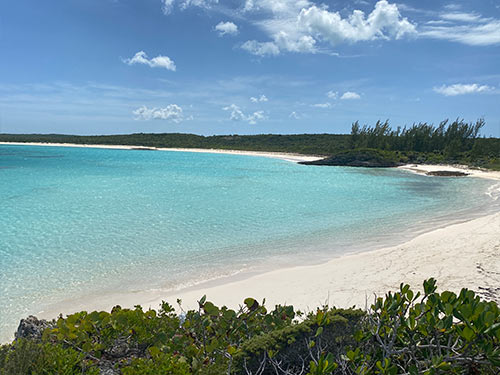 Blue Hole Beach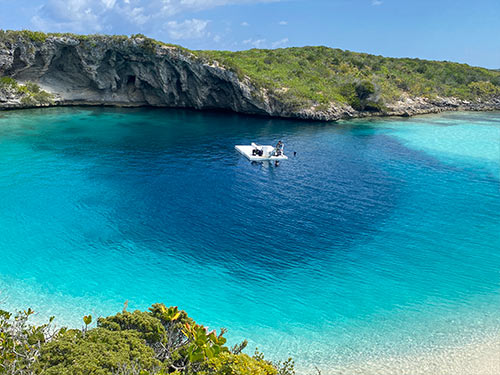 Deans Blue Hole deep blue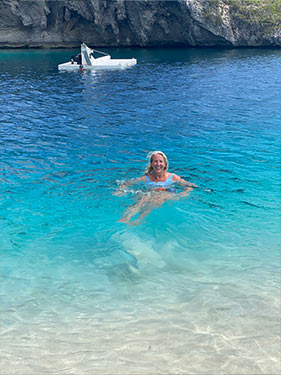 Freediver preparing
We still had one small mishap to sort out. The shackle of our starboard bridel line broke. This is the line that connects our hulls to the anchor chain. Fortunately, Ka noticed it early and we were able to fix it without damage, with bruises only. I immediately ordered a couple of replacement shackles with a breaking load of 12 tonnes. It's amazing what forces a vessel has to withstand against wind and waves.
Calabash Bay
Our third and last stop in Long Island was 45 nm east along the island towards the north. As almost always, we picked up anchor in the morning shortly after sunrise. A light wind with 10-15 kn from the east gave us a fishing day. And indeed, we caught a Mahi-Mahi for the first time in a long time. A delicious fish with firm, white meat.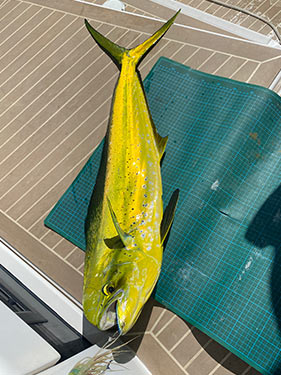 Mahi-Mahi
Shortly after noon we reached the entrance of Calabash Bay at low tide. Looking out over the sea, it is hard to believe that it is just a narrow channel leading into the bay with sufficient draught. With 40 cm of water under the keels, we dropped anchor in clear water that has a sensational colour even without polar goggles. We found perfect hold in the best sand. To be on the safe side, we swam a wide radius, as the wind was supposed to go completely round and round in the next few days.
Later, at dusk, we saw a small cruise ship arriving in the narrow entrance. The "Sea Lion" of the National Geographic. The captain apparently also wanted to enter the bay through the narrow channel. At dusk, there is no visibility in the water and so the small Cruiseship apparently ran aground and got stuck. The tide must have done its work during the night, because in the morning the Sea Lion had disappeared again. Hopefully without leaving any damage to the already suffering reefs.
In Calabash Bay a nurse shark adopted us, which apparently felt very comfortable around the Rivercafe. Most of the time he lay relaxed on the seabed and watched us watching him. So far we've seen sharks everywhere, but there's enough room for everyone here and if you stay relaxed, you'll get along fine.
Sailing in the Bahamas
After almost three weeks in the Bahamas, we notice that the winds are mostly weaker than in the Eastern Caribbean. But they often change directions. We had more sailing days with moderate 15 kn in a fortnight in the Bahamas than in the Caribbean in two years. In this photo you can see how we turned 360 degrees at anchor, with winds from all four cardinal directions.
Anchor dropped at the red cross
It is an indescribable pleasure to lie at the most turquoise anchorages. We see the seabed everywhere and at anchor, we jump into the water several times a day. However, we are also happy to catch a fish now and then. We do it with a lot of care and only for our needs – and also always with a bit of a guilty conscience. If you watch the documentary Seapiracy on Netflix, you'll know why.
The supply of food is complicated. In a fortnight we couldn't even buy eggs in Inagua Island and Long Island – but nothing else either. At our anchorage in Calabash Bay, lies the Santa Maria Resort, a nice, lonely hotel. Sailors are welcome for a sundowner, but the food is reserved for hotel guests. Obviously, resources are scarce and so you have to take what's there, even for a sundowner. In this respect, I cannot yet share the warnings that the Bahamas are extremely expensive. If you can't buy anything, it's not expensive. We are curious to see if we can manage with our supplies.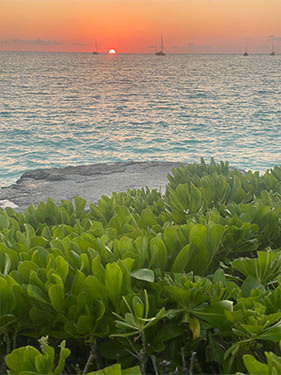 Moonset at 6 am, Sunset a 7 pm
Our next destination is finally the promised Exumas. Another 25 nm separate us from the island chain that is supposed to be the highlight of our season. We can hardly imagine that it could get any more beautiful. You will find out. / Holger Binz