Bahamas – so blue
Our anchorages in Great Inagua and Long Island gave us a first glimpse of our next two months in the Bahamas. Flat islands, indescribably clear water, few supplies and only few but friendly people. A good start. We slowly get used to a very different way of anchoring, as we rarely have more than 1 metre of water under the hulls. And then we are still a few minutes' drive from shore by dinghy. In Inagua we swam to shore and it became an afternoon filling activity.
So far, our anchorages have been completely lonely and we could jump into the water undressed in the morning without being disturbed. But the lonely anchorages will be different in the Exumas.
Morning refeshment
Planning the next trip
With the distances of the Virgin Islands and the Caribbean chain in mind, everything here is much further away. The trips therefore have to be planned in detail, because the shallow water, corals, tides and currents make anchoring at less than 1 metre depth more interesting than at 5 or 7 metres. We always plan our arrival in daylight and never against the sun, because otherwise you can't see where you drop the anchor. When planning a trip, we calculate with 6 kn/h, which makes 60 nm per day with 10 hours of good daylight. Anything more than that either needs the right winds (unlikely) or the night.
We therefore replanned our departure from Inagua several times. The next double island Acklins/Crooked is 85 nm away, just too far for a day trip. Then we thought about breaking the route at Hogsty Reef. This is only one of three atolls in the Atlantic. But we gave that up again. In the end, we decided to sail straight through to Long Island, the island after next, 135 nm overnight. The weather forecast predicted moderate winds of up to only 15 knots, in the first part from 90-100 degrees, later shifting to 150 degrees and easing off. And that's exactly what happened.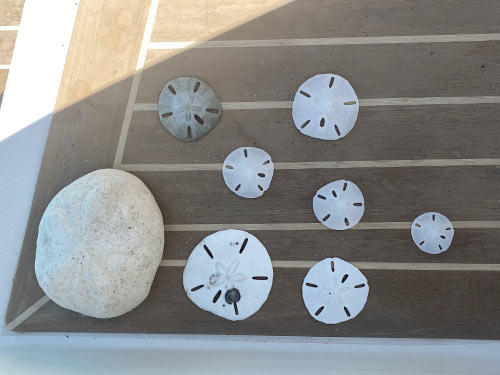 Shaquille is still on board, our Gekko boarded in St. Lucia. Sanddollar prey after 10 mins in the water
Small cause big effect
Our new disposition and the resulting departure at 11.00 am instead of 4.00 am, was the luck of our Swiss buddy boat Svala, who also wanted to start but for another destination on the same day. Manuela and Christian almost had their anchor on board when the shackle broke and the anchor rushed off again without a chain into the 7 m deep sea. Manuela called us on radio for help and I strapped the scuba tank to my back.
At the bottom of the sea lay the renegade part. Quickly a line was knotted and the anchor went up again. Losing an anchor in the Bahamas is nothing less than a disaster. There are only a few marinas for normal draught boats and the number of yacht chandleries for replacements is very limited. Is not sailing wisdom to say that one can't anchor without an anchor. Our own experience with the Coral, and now that of our buddies, added the purchase of a replacement anchor to our shopping list, even though this is once again a lot of extra weight on board. But it provides better sleep.
That we skipped Hogsty Reef was due to the experiences of the last three days, which would have ended badly for us as well as for Manuela and Christian without help. Two days ago we discovered that we could no longer start our generator.
The starter battery had apparently committed suicide due to a lack of motivation to live. We had used our generator for a manageable 130 hours in three years, neglecting the starter battery. A charter boat does 130 h in 10 days. You all know the usual chain reaction: first the washing machine breaks down, then the dryer. Defeatistically, it's no different on a vessel. But if something else breaks down, it shouldn't happen in Hogsty. We wanted to avoid getting stranded there in the middle of nowhere. Because so far out, rarely does anyone come by. We are not yet prepared for a Robinson Crusoe feeling. Also on the shopping list: a new starter battery and preferably a charge regulator.
The next overnight
Our trip from Inagua to South Point in Long Island went exactly as PredictWind predicted. It was an uneventful night. After sunrise we dropped our anchor 1.2 nm from the beach in 60 cm depth. We are slowly getting used to being able to touch the keels while standing on the seabed. And we learn again to pay attention to the tides, which are twice as strong in the Bahamas as in the Eastern Caribbean.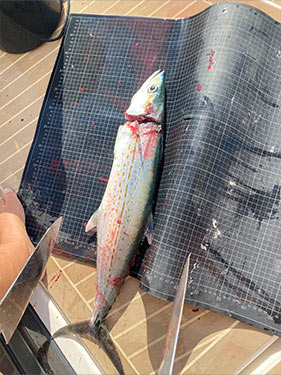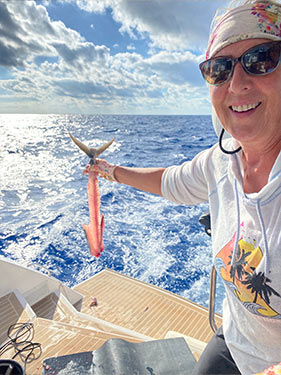 Catch of the day: a tasty Wahu (before/after). Sadly we caught a Barracuda, but due to Ciguatera we had to through him overboard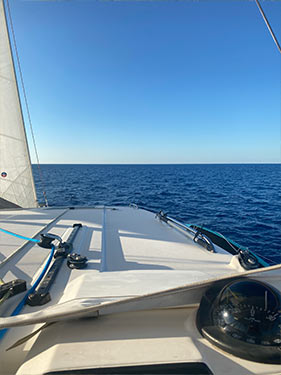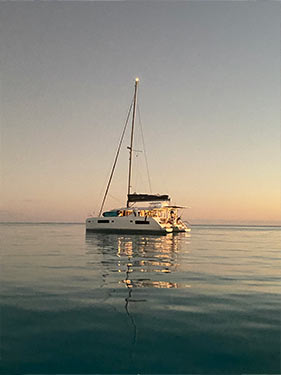 Ocean can be peaceful, can't get enough from that seastake
Long Island, our next destination and only one island away from the Exumas, is home to 3,000 of the 350,000 Bahamians. The Exumas are 50 nm north-north-west as the crow flies from here, but we have to go about 100 nm east around the island, as the area between the two islands on the west side is extremely shallow, even for a cat.
Right: Long Island, left Exumas. Yellow line shows our trip, red is much shorter but too shallow 
Unfortunately, we don't have any really good Bahamas cruising guides on board. There were none available in the Caribbean and our two are old and really bad. The photos and descriptions are more reminiscent of open-cast mining in Lusatia than of dream spots. Maybe we'll find something in Georgetown. But luckily we have many good tips from sailing friends and a treasure trove of recommendations from our friend Jeff.
Bahamian Lifestyle
On our way to the Exumas, we had to sail east around the 65 nm long Long Island. On the way, after 25 nm, was the bay of Clearance Town. Again a picturesque bay, but the name "Town" is a bold statement. The bay is surrounded by white beaches and the onrushing waves stay largely out, unlike the sharks. We anchored in a field with 2 South Africans, 6 Canadians and 1 Frenchman. As soon as we were moored, Brandon from South Africa paddled past us and invited us to a beach cocktail. In the afternoon, the crews of the anchored boats gathered on the beach under palm trees for drinks and conversation. The livestyle is exactly to our taste. Once again, it was great to hear each other's stories and share experiences. Everyone on their own way, north or south.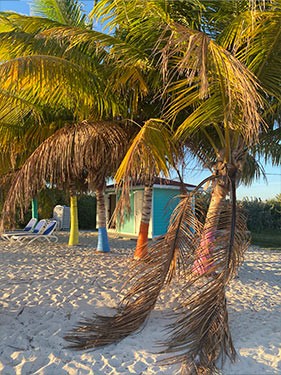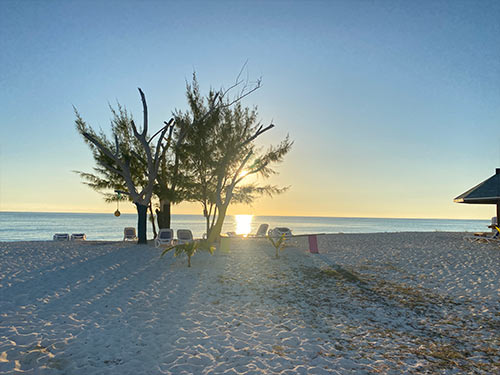 Beachlife in Long Island South Point
At the beginning of the week we'll be making the 50 nm journey to the south side of Long Island. Have a good time and see you next week / Holger Binz