Grenadines – oh what a wonderful world
A good weather forecast tempted us to set off and we made the 40 nm journey from Grenada to the next country. To the Grenadines, the southern islands of St. Vincent. With this weather forecast, the meteorologists either had a first-week trainee on the computer or were hell-bent. A forecast of 5 Bft to actually 7 (30 kn) – that is, to grow by 2 Bft – is quite an achievement. With 2 m, very short wave. And the sky was grey, like autumn in Luxembourg, but at 30 degrees.
The difference between 20 and 30 knots doesn't feel like 50 % more wind, but 3 times as strong. Nice for racers, unpleasant for cruisers. The Rivercafe, freshly cleaned in Grenada, reached Union Island breaded with a thick crust of salt.
Union Island
Clifton in Union Island was our port of entry, only without a port. Clifton is a medium-sized bay behind a reef, exclusively for anchoring and mooring balls. It is located on the east side of the island. This is very rare in the Caribbean, because the Atlantic pushes waves and winds from Africa unchecked onto land. For this reason, almost all marinas and most anchorages in the Caribbean are on the lee side of the islands away from the wind, i.e. in the west.
Since the pandemic, sailors in St. Vincent can no longer do customs and immigration in person. This is now done by an agent, for a fee, which cost us a total of €270, including PCR test and all fees. And quarantine on board, until the test result.
I suspect, however, that most of you would swap places with us immediately, because this was our quarantine place: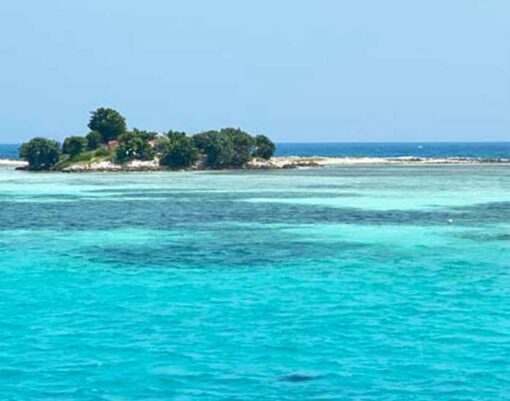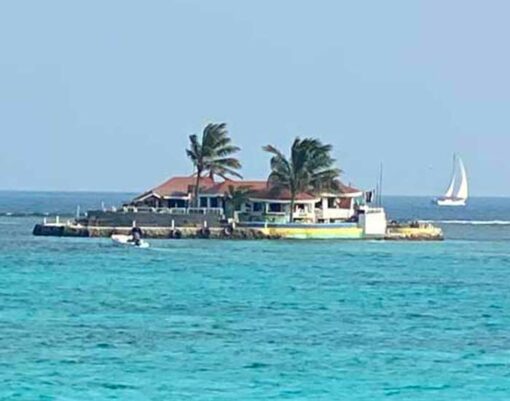 Left: the reef ahead our anchorage, Right: Happy Island.
Some impressions from Clifton:
And then came Mausi
We spent our quarantine a stone's throw away in front of a reef. Just opposite Happy Island, a self-built island with a cool bar. Palm Island and the contours of the Tobago Cays and Mayreau in front of us. We weren't allowed ashore, but who would want to, if one can swim in this crystal clear water, 29 degrees Celsius warm. There we lay, swinging in front of a photo wallpaper. Even the wind dropped from 7 Bft to 4-5 Bft. On the second evening, the likeable "Mausi", who already helped us moor the boat, provided us with a fresh and fabulously delicious lobster menu.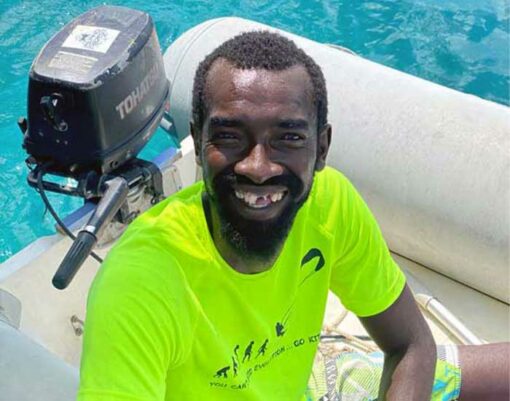 Mausi
"Mausi" is a trained chef and he can be booked for sailing trips as a cook. A super guy. He brought everything freshly cooked and warm to us on board.
The lobster was so fresh that you could hardly separate the meat from the shell. The tongs were so soft that you didn't need lobster scissors. All that was left was to eat it with your hands, like a chicken. After that taste, I can't imagine ordering lobster in Europe again. Well, we've certainly had worse quarantine days.
The results of our 22nd PCR test came in after two days of tailgating on Friday afternoon at 3.15pm. Too late for clearance, actually. But an "overtime fee" made it possible that we still had the stamps in our passports on Friday and were released into freedom after two days of quarantine. We had a look around Clifton and visited the Happy Bar, because it was too late to make our way through the narrow and difficult waterway along the reefs to the Tobago Cays. From 18.00 pm onwards it is pitch dark.
Tobago Cays
On Saturday morning at 8.30 am we set off on the only 5 nm short way to the Tabago Cays.
Now it's getting difficult, because our friends Don and Pit have already "scolded" us for our reports and photos of more unspectacular places. Guys, especially for you: don't read any further.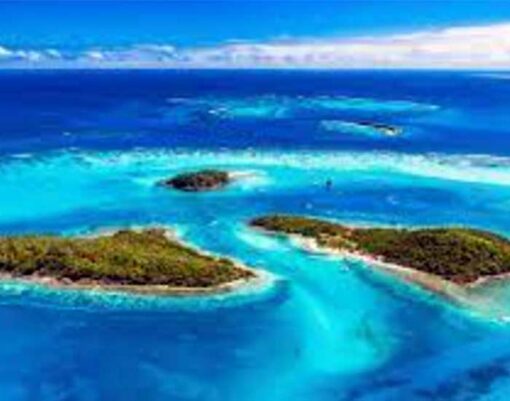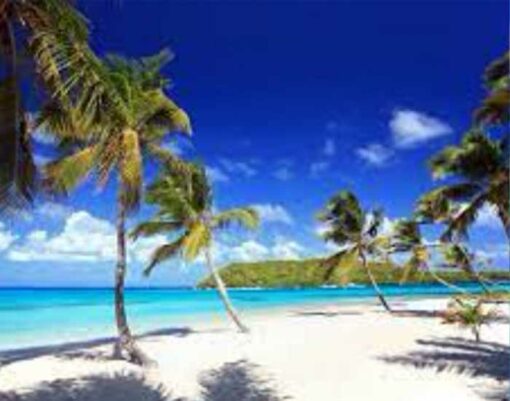 Left: Islands "Petit Rameau" left, "Petit Bateau" right. Right: Beach of "Petit Bateau"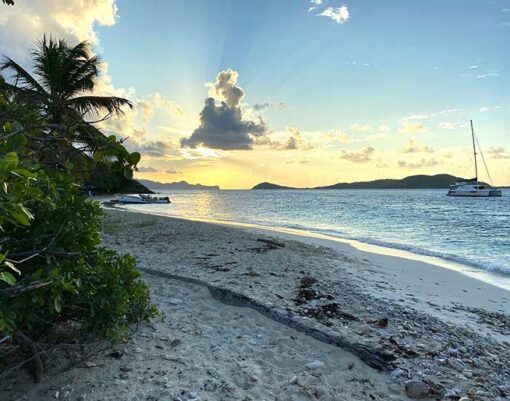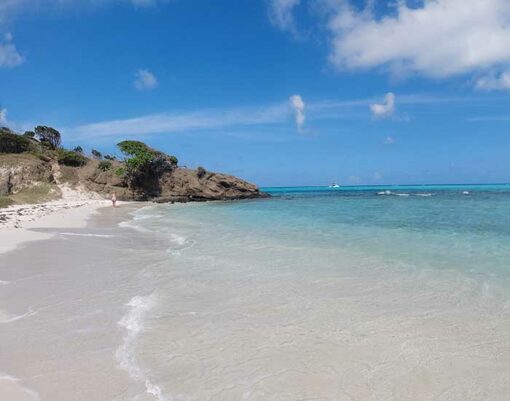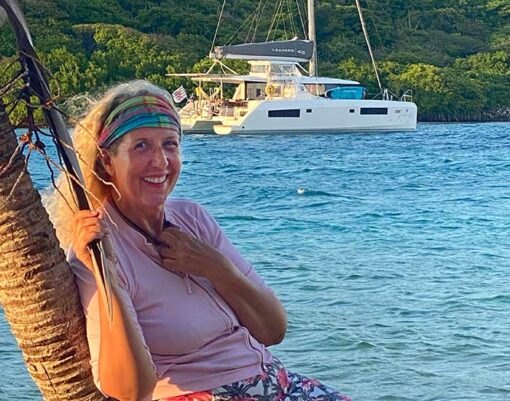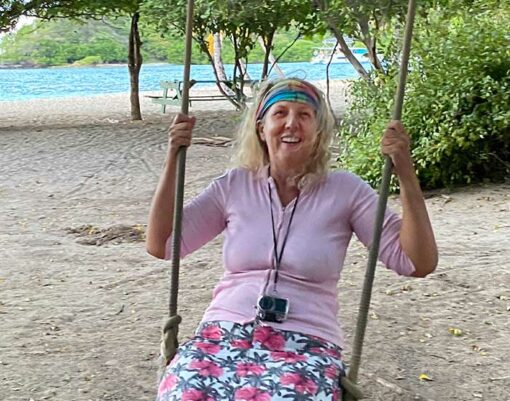 The Tobago Cays have only been a nature reserve for about 10 years and you pay a modest Nature Reserve fee of 20 ECD (about €6.50) for two per day. If you are particularly keen on nature conservation and want to spare the seabed from anchor and chain, you have to pay another 45 ECD or 15 € for excellently maintained mooring balls. Just under €22 per day in paradise, that's a fair deal.
Since the Tobago Cays became a nature reserve and fishing is prohibited, a magnificent underwater world has regenerated. I can't remember seeing such a splendour of fish. It is teeming with various fish, small (harmless) sharks and countless, trusting turtles. And all this in turquoise water. The coastal designer gets a smooth 100/100 points for the overall work.
We spent most of our time in the 29 degree Celsius warm sea. In the evening we enjoyed grilled fish and lobster, freshly grilled on the beach of the island "Petit Bateau". Highly recommended: eat at Romeo's (the nice guy in our cover picture), already recommended by our friends Astrid&Roland and Pierrick&Magalie.
In times without epidemics, there are sometimes 200 ships in the Tobago Cays. We were very lucky with the weather, because the Tobago Cays are known for strong winds. We had 12-16 knots and only one night over 20 knots. We couldn't have had better conditions during our visit to paradise.
I'll spare more words, just have a look for yourself.
Paradises have the one disadvantage that you have to leave them at some point. We will report on our further journey through St. Vincent and the Grenadines next week / Holger Binz
Not to forget: we have a new crew member: Harry. However, most of the time we don't know where he's hanging out.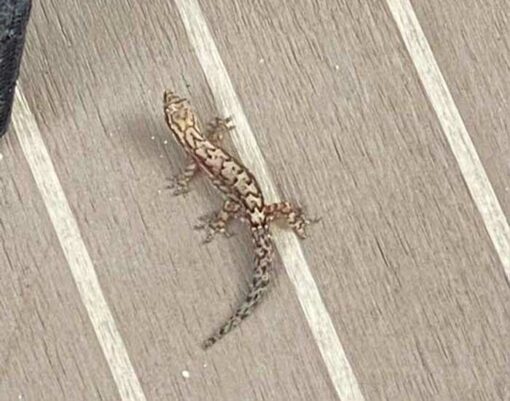 Weather in the Grenadines:
Sunrise: 5:59 h, sunset 17.39 h. Temperatures day 28, felt 31, night: 26 degrees C. Mostly sunny, short rain showers now and then, wind 4-5 Bft.
P.S. My Telekom SIM card died, so I'm offline by phone and signal until December – so don't be surprised if I don't answer