About drama and blue jelly
Our unexpected days in Samana were a joy. In the marina we felt like tourists on a Caribbean vacation. I already mentioned the reception, but there was also open air cinema and waterfront club nights. Absolutely exceptional.
We got to know the Dominicans – like the Dominicans in the not-to-be-missed island of Dominica – as very friendly and helpful people. One day we were travelling in the most miserable rental car ever. We struggled at foot speed over a mountain and at the top the car boiled over. First one helper was on the spot, then a second and third. And they stopped a passing car mechanic who was on his way home with a head injury. If he felt the way he looked, he was in a bad way. Nevertheless, he organised coolant from a passing trucker, who was immediately stopped by the gang, which now numbered about 10 helpers. Just because people wanted to help. This is how we experienced the DR. We were able to finish the trip and get some surprisingly good and affordable provisions. Impressive people.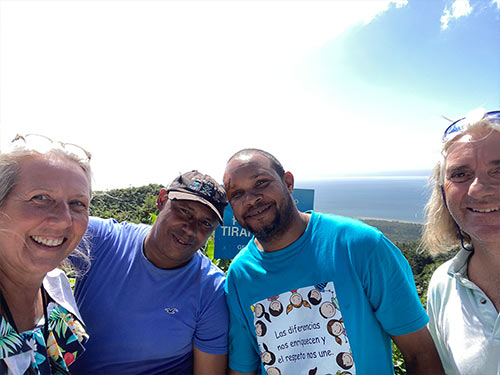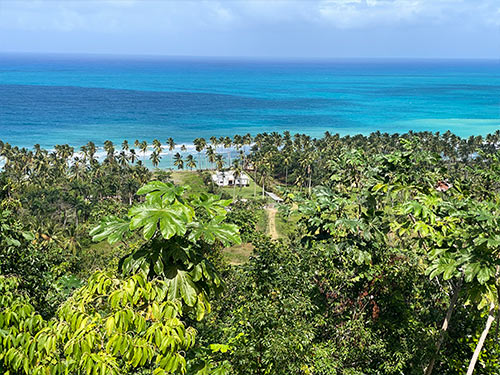 Injured but he wanted to help, DR view from a hill
The Puerto Bahia Marina is a refuge for sailors. It was mostly Americans, heading south. They were all waiting for good weather for the 160 nm route through the Mona Passage. They all had at least a 2-3 crossing days from the Bahamas and were recharging batteries and souls. Knowing that a tough part still lay ahead of them. The other group, like us, were waiting for the right window to the north. They were the minority and more European.
We are very glad that we went against our original plans to the DR and Samana and that we got to know a little bit of a very likeable country in those few days. A popular saying of American sailors: Thanks for having us.
Two days and nights offshore
Then came the day when our weather window opened, for about 50 hours offshore. First we had to sail along the entire island, including Haiti. Both countries together have an east-west extension of almost 650 km – that's more than the distance from Hamburg to Munich, north to south of Germany. We had already sailed 70 nm to Samana, we still had 320 nm (about 600 km) to the first island of the Bahamas, Grand Inagua. We kept a distance of 10-45 nm from the coast to avoid land winds and fishing nets. We sailed downwind in water many thousands of metres deep.
With our swell, it was like sitting on a horse for 50 hours, riding a rodeo in between. We had our rodeo at the beginning, with 4 m waves and more. That was called a good weather window. To cheer us up, the whales said a spectacular goodbye. We saw one fin 5 times in the same place. This is indeed a whale gesture of greeting or farewell. I wonder if it was meant for us. No matter, it was moving.
The first day and night were not pleasant. Wind and waves from behind 150 degrees. But still better than sailing this route in the opposite direction against the wave. No wonder this route is called the thorny way. All Americans who walk the path than deserve nice days in the Caribbean.
On our way, our last upgrade, our Star Link system paid off big time. Although we had set it up incorrectly, we were getting continuous weather data and it delivered for day and night 2 what it promised. The swell dropped to 1.5m and it became more comfortable. Rodeo finished. We took turns on watch every 3 hours and so each of us got some sleep. More than once we struggled to keep our eyes open in the black night. From time to time we talked on the radio with Manuela and Christian on our Swiss buddy boat. You don't see each other, but it's nice to know that there are friends out there too.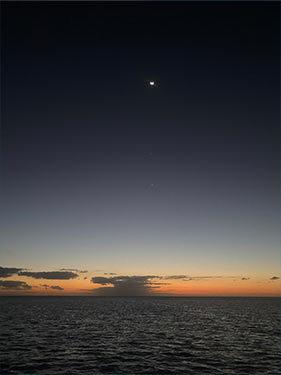 Offwatch on a temporary daybed in our lounge, 3 m away from the helm
It also helped to keep the sleep away that we had to fight for every degree with our sails. Our genoa is set to refuse to work at 143 degrees and above downwind. And certainly no one can sleep with the noise of a killing sail. We wanted to avoid that and give each other some undisturbed rest.
Bahamas at last
Like a visit to the dentist even the most annoying stretch passes. In the sunrise lay Inagua Island, our first Bahamas island. We dropped our anchor off Mathews Town into turquoise blue Jell-O. In 5 metres depth we could see the grains of sand.
With our buddy boat we cleared in with extremely friendly Bahamian officials. We had already registered online (Click2Clear) and paid 300 USD. Two further 40 USD were added for customs and immigration. Thus, entering the Bahamas costs 380 USD for 90 days. After the night's lack of sleep, the clearance felt like it took forever. It must have been, because when I came back on board, Ka already had a complete load of laundry hanging on the railing.
Five other vessels were moored off Mathews Town, the only settlement on the island. Inagua is the second largest island in the Bahamas. It is home to 900 people and 80,000 flamingos. Famous for the cultivated "Morton" Salt, which we know some of our acquaintances make a big deal about. We are currently anchoring next to mountains of the white stuff. Sailors told us not to be disappointed. Inagua is not really Bahamas yet. If that's true, we'll probably go nuts in the Exumas. The sea was so indescribably clear and turquoise that we couldn't remember seeing anything like it in the Caribbean.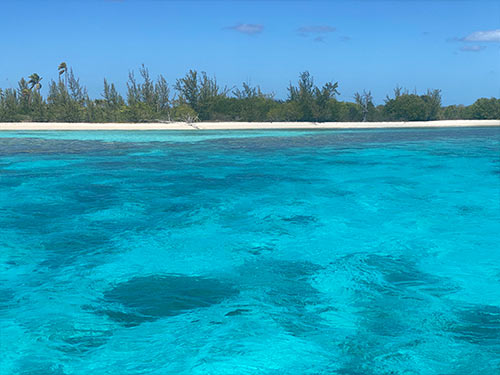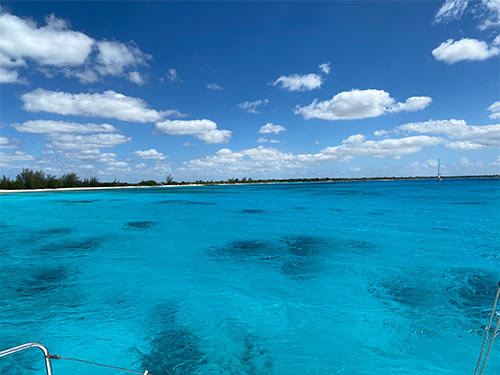 The coral issue
On the second day we moved 8 nm further north to Man of War Bay. There are many bays with this name in the Bahamas. However, it has nothing to do with warlike men, but with a translation mistake. Man O War is a word for jellyfish. But there are none of those so far. Instead, on the first snorkelling trip we saw a shark fleeing from us, plenty of fish and corals. And then we had an unpleasant encounter with one.
In the Bahamas, the use of Navionics charts is discouraged. These are the digital charts we use. Aqua Map was recommended to us. Using this map, we looked for an anchorage and the drama took its course. We chose our spot and dropped the anchor on a sandy spot. As always, Ka dived down to check the hold. The anchor had slipped and pulled tight into a coral. Really tight due to the strong winds. Our attempts to pick it up again failed and we tore off another roller over which the anchor chain runs. We were really stuck. On the positive side, we had a good holding.
But now we surely wanted to leave again at some point and for that we needed our anchor on board. Plan B was for me to put on the scuba tank and go down with a hammer. With the disadvantage that Ka at the helm would have had to steer the Rivercafe blindly over me underwater.
Plan A was to get a diver. Now we were pretty much out of the way and no civilisation accessible. Through Starlink we can only use WhatsApp, no normal phone. Luckily our buddy boat Svala was still in Mathews Town. We could reach Christian via radio and he asked the likable harbour master George for a diver. Nope, no diver on the island. But he offered to ask around. Shortly before noon I got the contact of Gurard, the local diesel dealer and apnoea diver. The young guy came helpfully to the bay and got into our dinghy on the beach. No scuba tank, that left Ka and me speechless. No problem, for Gurard. We steered the Rivercafe over the anchor and with some effort, together we got our best bit free and back on board. The next attempt at anchoring in sand far and wide was more successful.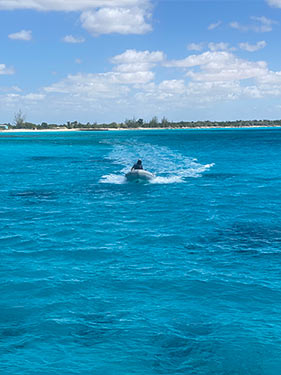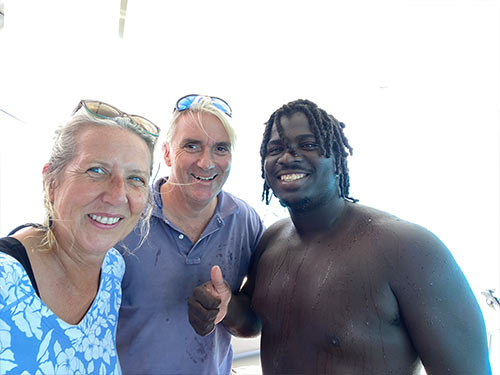 Gurard the apnea diver
So now we are anchored in turquoise Jell-O, far away from civilisation and getting used to a spectacular sea. For the next few weeks you will only read about our travels in the Bahamas, the realm of 700 islands. /Holger Binz