Never again Point à Pitre
Guadeloupe and the southern associated islands have always been sticky for us. Sometimes we were stuck here because material was not delivered or not ordered, another time because of Covid. And now we are moored in "Les Saintes" because we are not allowed to enter the marina of Bas-de-Fort as agreed months in advance. More about that later.
On the small southern islands of "Les Saintes" there is a lot of activity. From time to time small cruise ships or impressive 5-masters anchor in the bay. Sailors occupy every mooring ball available, because anchoring is largely prohibited. Nevertheless, everything remains relaxed, quiet and unexcited. Unless a charter sailor wants to throw his anchor into the well-known wreck in the anchor prohibition zone. Or charter sailors who do not control their vessel, almost ram us or other boats by a hair's breadth.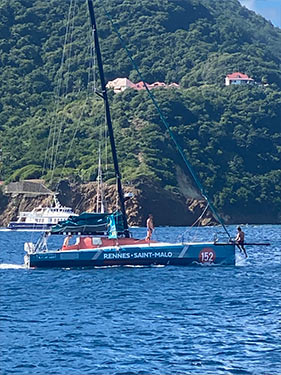 Route du Rhum 40s, Royal Clipper, a normal morning sky
The people of the largest island of Les Saintes, Terre-de-Haut, live in a village community. Everyone knows everyone else, no wonder with 1,800 inhabitants. There is Helène, probably the oldest woman in the village. She lives in a tiny house right next to the dinghy dock and, as far as we can observe, she is never really alone. Sometimes she stands with neighbors at the front door, sometimes she sits with her nephew on the balcony. At the bakery, everyone politely lets her go first.
Most of them make a living from tourism. Electric bikes and golf carts are rented, there are some delicious restaurants, nice bars and, of course, stores with T-shirts and flip floppies.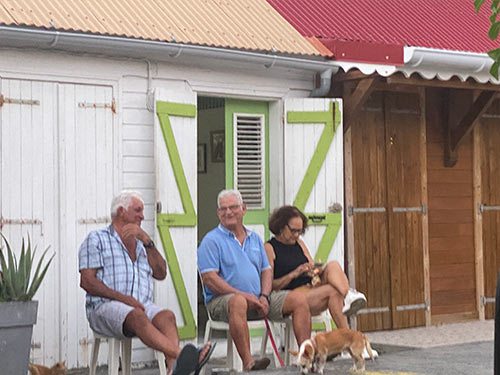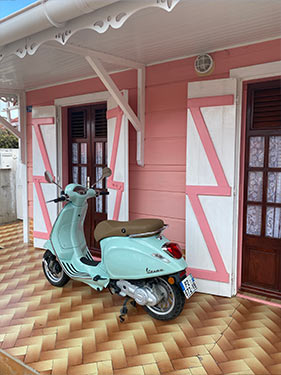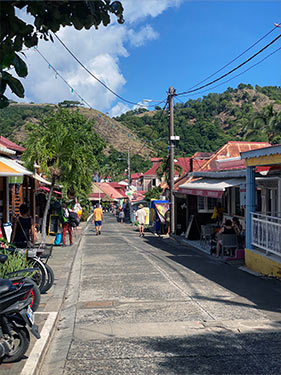 Village impressions
At Alexandra's (Citron), the cocktails taste great and her accras are probably the best we ever had. At "Pied dans L'eau" it's the tappas that please the palate and at "Cafe de la Marine" the catch of the day is worth it. After a few weeks you have pretty much everything once through. We ate badly only once: at a food truck stand on the main street.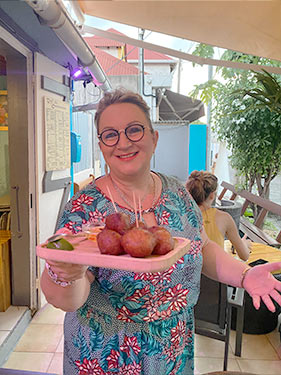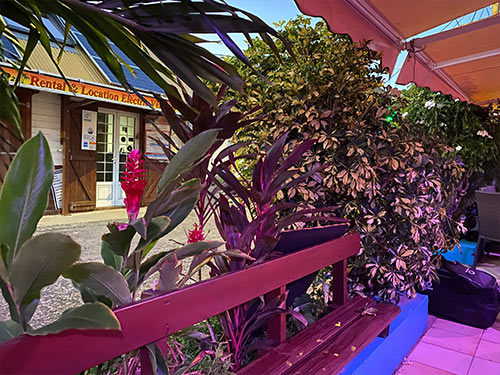 Alessandra an her sensational Accras
Christmas atmosphere, on the other hand, is non-existent. No Christmas decorations, not even a Christmas tree (until the 3rd Advent). And unfortunately, there is "Chante Nwel" (Noel in Creole), which is supposed to be Christmas carols. Well-intentioned, always trying, but actually a horrible singing. Christ Child or Santa Claus are surely afraid of this island and give it a wide berth. Who likes Christmas spirit, should come at another time.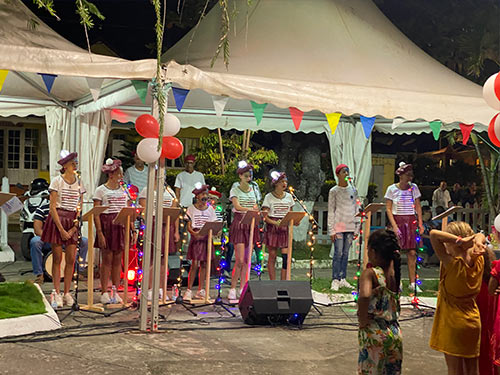 Chante Nwel
Never again Marina Guadeloupe Bas-du-Fort
Why we are again longer in Les Saintes as planned has an unpleasant reason. A short mail threw all our plans over the heap. This mail came from the Marina Guadeloupe, Bas-du-Fort – from the dockmaster. Five months ago I had booked a berth for two weeks. The berth was confirmed and trusting in the reliability we booked flights because Ka was going to Europe for a Christmas visit.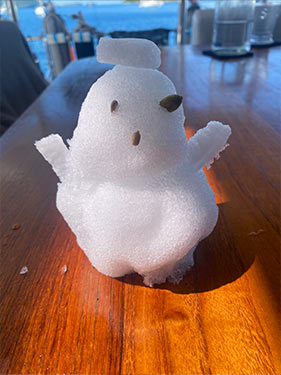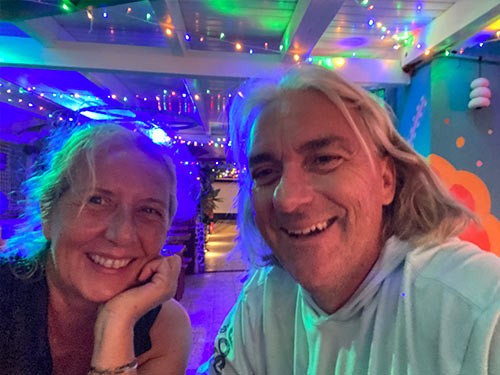 Caribbean snowman and us
I wanted to use the time to do some more works on board that couldn't be done at anchor. I booked plenty of appointments with contractors and had a list for 10 days of work ashore. On the way, two bilge pumps failed, but I had booked Guadeloupe and that's where the very best electrician in the Caribbean lives, Stéphane. I rented a car to work off my extensive list around the island. And before the trip north, we wanted to provision extensively. Everything was well planned.
Then came this mail from the most incompetent marina in the world. A movie about Florence Arthaud would be shot, they told me existed. This may be a French sailing heroine, but the enthusiasm did not jump over to us. It had all come at rather short notice, they lied to me brazenly. Planning 14 shooting days spontaneously is as impossible as flying to the moon spontaneously.
The amateurs of the marina didn't care that we had booked flights, had a technical problem on board and many more good reasons for the necessity of a berth. They did not offer the slightest alternative or support. I could look for a mooring ball in the dirty, unsecured bay in front of the marina. The only thing is that no craftsman comes to a mooring ball and I would certainly not leave the Rivercafe in Point à Pitre, one of the unsafe places in the Caribbean.
There are only two other small marinas in Guadeloupe and neither had a solution on such short notice. If I hadn't happened to email the Bas-du-Fort 4 days before we arrived, I'm sure we wouldn't have known about the cancellation before arrival. I was furious. If these clowns had informed us months ago when the film production was arranged, we could have rescheduled everything. The works and provisioning arranged in Martinique and Ka could have flown from Antigua.
I contacted all the contractors and cancelled what had been booked and ordered. The reaction of the craftsmen and other sailors was unequivocal: the marina people were just "very economical with the truth". "Unprofessional", "unreliable" and a few more swear words after that. I was not aware of the bad reputation that the marina Bas-du-Fort enjoys. Though well deserved.
So plan B. I stayed at the mooring ball in Les Saintes, at least we were lucky having one. Good thing we hadn't left in the first place. Of course, I shared this story with other sailors. Jean-Luc had also reserved a berth in the marina and confidently booked flights to France. He wanted to be away for a month. Distraught by our experience, he asked in Bas-du-Fort and learned that his spot was gone too.
For Ka, the round trip to the airport was arduous. She had to take the ferry to the mainland and then a cab to the airport. On the way back, she has to spend another night in a hotel because the plane lands too late to catch the last ferry after a one-hour drive to the ferry port.
Now at least we know which Caribbean marina is the most incompetent and antisocial. Bas-du-Forst couldn't care less about causing serious problems for their customers or future ex-customers. Well, we will certainly never ask for a reservation again. We will simply never sail there again, after all there are many reliable places. Really a pity because Guadeloupe Island is worth to be discovered.
As soon as Ka is back, we'll set sail for Antigua, our Christmas destination. /Holger Binz