Underwater world
We have been living aboard the Rivercafe for half a year now. 9 months ago we left Luxembourg and our old life. And this week, we have learned that our kids will not be coming to Sint Maarten for the Easter vacations. Too bad. For us we had found a way to sail into Sint Maarten. But Mama Merkel, by her usual inaction, screwed up the entry and the much needed rest for the kids.
And we are planning again. As a precaution and to be standing by we sailed to Guadeloupe's west coast, to jump off for the islands in the north if necessary. The British Virgin Islands are still closed, in Antigua the curfew has been extended and St. Martin alone is not interesting enough for a trip. Our ARC+ buddies have almost all moved to Dominica or Antigua, but the prospects don't appeal to us. So no jumping off for now.
The west side of Guadeloupe has almost little to no infrastructure for sailors, but a lot to offer. The unspectacular capital Basse-Terre in the south and a few nice villages further north, lie in the lee of the high and fabulously overgrown mountains.
For sailors, this is both a blessing and a curse, because despite the wind shadow, it is not uncommon to have downdrafts. And it is still very windy here in Guadeloupe. There is almost no day without 6 Bft in the weather chart. With the wave, it's always a good feeling when you see the anchor well dug in on the seabed during a check dive. But in the night, with the strongest gusts, doubts often arise as to whether the ship is safely moored. However, a sailor can anchor excessively in the west of the island and spend the night without paying any fees. Everything is quite remote.
First we dropped our anchor after 20 nm to the north, in Anse Caraibe, next to Pointe Noire. Actually a windy and wavy, unprotected anchorage. No wonder, we were alone. But this is the home of apnoea coach Antoine, former captain of the French national freediver team. Our friends Astrid and Roland had recommended this luminary of freediving to us. The course was on top of Ka`s wish list.
Antoine and his helper Antoine enlightened us that we have been breathing wrong for more than 50 years. Fortunately, we made it to that day and place. In fact, after explaining how to do it better, we were able to stay underwater twice as long. With a few more exercises: Trend upwards. A cool experience, not only for underwater exploration, but also for everyday life. The unity of body and mind. I thought it was pretty funny to see the maitre preparing himself breathing for the dive. Small children would have hidden behind the next bush.
After the course, there was no reason to let ourselves be rocked and rolled any longer (by the sea) and we headed a few miles back south to the next destination of our desire: the Jaques Cousteau Nature Reserve at Pigeon Island. Across the bay is Malendure anchorage with good holding for the anchor, and the Cousteau Islands are only half a mile and a few minutes away by dinghy. A nice place for snorkeling and diving. Clear water, lush fish population and art on the seabed. A good place to stay for a few days. Just come from snorkeling and just near our boat, we saw three sea turtles grazing. A wonderful sight.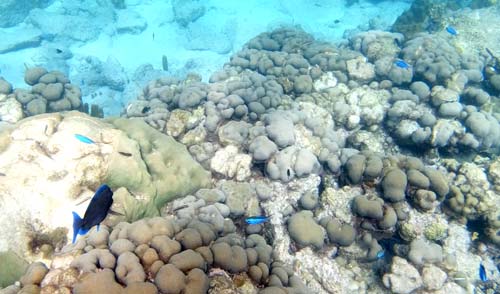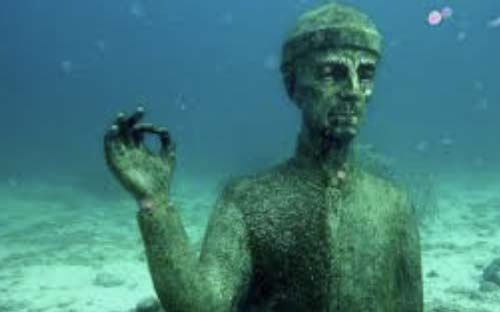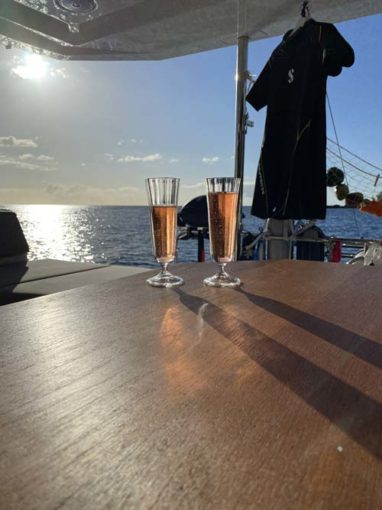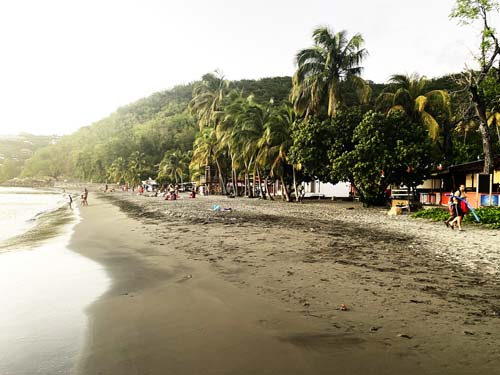 1. Fish, fish, fish 2. Jacques Cousteau underwater 3. rejuvenation Luxembourg Saturday tradion 4. Malendure beach
Delicious Malendure
The icing on the Malendure cake is the restaurant "Le Rocher de Malendure". It is located on the rocks to the right of the Malendure beach and you feel like you are in a tree house with a spectacular view of the sea. The cuisine is just great. Lobster was unfortunately out, but the extremely charming Jamilla recommended us to have "Ouassous", Caribbean giant scampi with delicious Caribbean side dishes. If you ever anchor in Malendure or visit Guadeloupe: you should definitely treat yourself to an evening in the tree house.
We will now spend a few more days water sports and stay in the nature reserve. During that time we will then work out our plan to improve the Rivercafe and decide whether to have the changes made in Guadeloupe over the next few weeks or in Grenada during Hurricane Season.
Upgrades onboard
After 6 months on board, most of the bugs will have been worked out. Well, not quite. Both starter batteries need to be replaced. But that's small stuff. Now we can start improving our technical equipment according to our needs. When you buy a ship, you can do quite a lot wrong. A few things we would decide differently today.
But now we know pretty much what we should change. First and foremost, this concerns the energy supply. Our initial enthusiasm of self-sufficiency has cooled down a bit. Because we have some equipment that only run on the generator. And swapping diesel for fresh water or clean clothes is pretty old fashioned. So we want to at least double our solar power, more like triple it.
Oh, I almost forgot. We now have a pet boat animal. Harry. A little gecko. We have no idea how this tiny guy got on board, but we like him. Only we can't find him at the moment. After 6 months on board, we also slowly start to revive our old traditions from Luxembourg, e.g. the "Coupe" (that means a glas of sparkling) on Saturday afternoon. A small consolation for our friends in Luxembourg, but we have not and will not forget you. /Holger Binz