New York and sailing
Last time I wrote that we urgently need to make up our urban deficit before we get to Europe. A few days in New York were just what we needed. Not really to do with sailing, but a lot to do with our journey.
Since September 2021 we have been on board without a break. Almost 10 months only in shorts and practically barefoot. For the first time in almost a year, we got into long trousers and most importantly… proper shoes. Oh, how the clothes of civilisation are torturous. Our feet must have grown, because the fancy footwear was pinching every toe and heel. Especially after hours of walking on hard concrete floors. Our bodies have forgotten to deal with that challenge. Every day we waddled like disabled ducks into our hotel to fall groaning onto our beds and rest until the next exit.
Luckily for us, the temperatures in New York were Caribbean warm. Shoes were still necessary to our agony. But what could be better than walking through New York? Seeing a lot and replenishing our clothing stocks, which had been depleted by the Caribbean weather?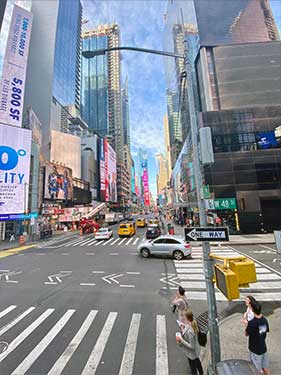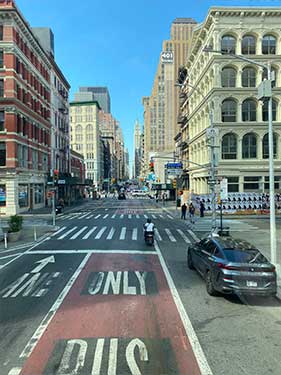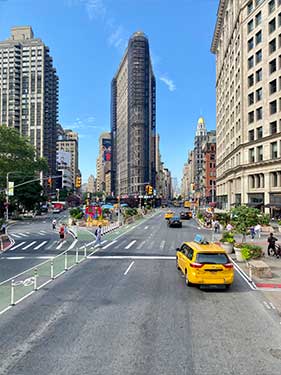 Manhattan Love Story
New York – and especially Manhattan – is one of our favourite cities and there are few places we have visited more often. It was a bit like coming home. We've visited NY in good and bad times, including 4 weeks after 9/11. Our last visit was long enough ago to see that things have changed.
It can't be long before New York is renamed back to "New Amsterdam" – because that's what it used to be called. And that's because there's a lot more pot smoking than in Amsterdam. Cannabis is legalised and there's hardly a place that doesn't smell like dope.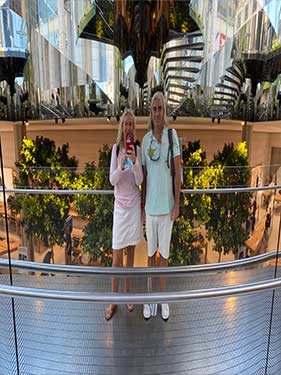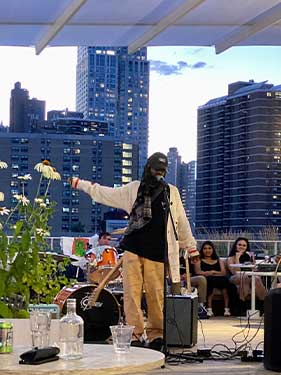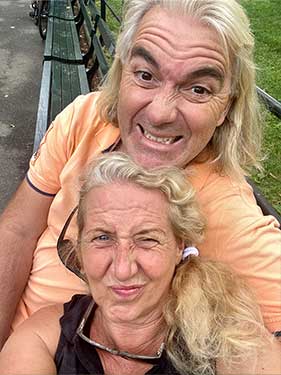 Art, us und concerts
It seems to me that Europeans have infiltrated the city. The traditional breakfast/diner shops with their iconic red upholstery are being replaced by French bakeries and food trucks. The baguettes and croissants are actually as good as in France. The "Table du Pain" is called "Pain Quotidien". And, as is the custom in the US, can be found in the city a whopping 30 times. The burger restaurants/sports bars that used to dominate dully are giving way to more refined cuisine. A city is changing and the quality is (imho) getting better.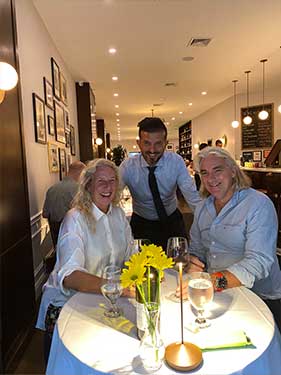 Omar from the Osteria "Delbianco"
New York, however, is still a capital of waste. Every food item is packaged and produces rubbish. At least there are hardly any plastic boxes left, but cardboard also has to be disposed. Even in Moma, all products are "made in China". There is still a lot to do for the self-proclaimed "greatest nation".
Apples covered in plastic
Despite our permanent foot pain, we enjoyed every minute. We saw art, rode on skyscrapers, ate, shopped, attended a concert in a skylounge/at Pier 17. And we met friends from Singapore and the US who also happened to be in town. The time was filled, the time was fantastic, as always too short. And as so often, the question remained, why we are not in this sensational city more often.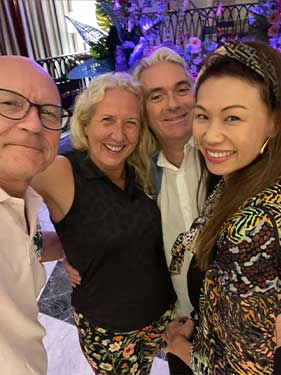 Meeting our wonderful friends Frank & Angie, Melissa & Jeff
Sailing in Manhattan
Oh yes, and there's also sailing: there are marinas in Manhattan, Brooklyn and New Jersey. Even the one in Brooklyn is more expensive than a nice hotel for two. We enjoyed the view of plenty of sailors cruising on the East and Hudson Rivers while visiting the observatory of the new "One World Trade Center" skyscraper. Pretty cool, but I guess you really have to live here to still feel like sailing with all the incredible things the city has to offer.
tiny white dots are sailors, Touri sailing, Mooring in Manhattan
No rum today
Unfortunately, customs ruined our brilliant souvenir plans. We had bought plenty of rum in Martinique to please our friends. The 7 litres turned into only 2 litres, which we were allowed to import. So sorry in advance that not all of you will be able to enjoy real Caribbean rum.
We are about to board the plane to Europe. We'll be writing a lot less during that time, so we'll be taking a bit of a summer break. But then we'll continue with Alaska and probably some more parts of the USA. Hopefully it won't be boring and we'll be happy if you continue to enjoy our reports in the new season. / Holger Binz
NY Gourmet Tips:
Eating at "Koi", Bryant Park is very tasty and very "sushi".
Eating at Osteria DELBIANCO (Uptown), terrific Italian food
The Whiskey Sour in the hotel bar of the Interconti is Ka`s new favourite.
The breakfast at the "Pain Quotidien" is very tasty.