Riots in Paradise
I think this will be the most complicated article I've written on our blog so far. And certainly the least funny. Today it's not about beaches, jungles or turtles. It's about Trouble in Paradise: riots in Guadeloupe. Violent riots. Roadblocks with burning cars and tyres paralyse life. Houses were set on fire, shops looted. There were injuries and also deaths. France sent in police and special forces.
The situation
It has only been a few weeks since the C19 exit and other restrictions were lifted in Guadeloupe. The incidence is still around 50, a dream for many countries. And this despite a low vaccination rate of 40%. Ready for happy days to come.
But again, the next nightly curfew from 18.00 h is imposed. The slight economic recovery was immediately stalled and vital tourism ruined.
The nominal trigger is the new Covid regulations in France. Unvaccinated people were suspended in selective professions. 1,400 unvaccinated NoVax in public service. Reason for the unions to call for resistance, a general strike.
Of course, people here are tired and frustrated because of the C19 crisis. Many accuse the government of dishonesty and failure. Just like in many other countries too.
Background
The people of Guadeloupe have established revolt almost as a tradition. The last one was 12 years ago and the general strike lasted 40 days. Maybe not coincidentally, because that's how long wages are paid. It's a paid revolution, so to speak – if you have a job. So it wouldn't be surprising if it lasted 40 days again this time.
The French government's Corona programme was the trigger. But the crisis has several amplifiers. Trust in the government in Paris is very low. There are reasons for this, because the central government has already an unheroic track record here. For example, a carcinogenic pesticide was banned in Guadeloupe (and Martinique) years after the EU ban. This resulted in a high number of preventable cancer cases. No wonder many people here feel like second-class Frenchmen. And graffiti like "ici, c`est pas la France" appear as no surprise.
The old guilt of slavery is still triggered. Undoubtedly a sordid and inhumane chapter of history. Even today, locals react aversively to instructions from Paris, with reference to the slavery of the century before last. The fact that a white career politician has to be minister for the French overseas regions does not seem to me to have been well considered.
The fact is that the locals don't want to be dictated to from Paris, 6,700 km away.
Another reason for the hue and cry is the perceived high cost of living in Guadeloupe. There have been protests against this for a long time. And to top it off, there's anger about the high unemployment.
With this fatal mix, the profiteers have obviously now taken control and incited the frustrated and uneducated to violence.
Personal opinion
Like every conflict, this one has several sides. Even in Guadeloupe, not everything is wonderful. But many things are better than on other islands. I don't know of any Caribbean island with a better infrastructure, thanks to Parisian funding.
Contrary to popular belief, the cost of living is much lower than its neighbours. And of a choice and quality without equal. A visit to the neighbouring islands would quickly disprove this false assumption. It is not for nothing that sailors come to this island to provision.
With the unemployment rate at 22%, many believe the reason is largely a motivation problem. I cannot assess this.But here you have the French social network that no other island has. On every island, people have approached us and asked for jobs. Not here. Even the fruit sellers come the many hours' journey from the neighbouring island of Dominica to sell their goods. No one from Guadeloupe.
All too often, Paris still behaves like an old colonial master. Clumsy, not very empathetic and arrogant. Not helpful to deal with.
With seem to have sought and found conflict partners. Paris rejects dialogue because the unions do not condemn the violence. The unions reject talks because they do not feel respected. It seems to me that this is where Tom and Jerry have met. Paris is unpopular, but the means are then also gladly taken.
And then there was Covid. Like everywhere else in the world, the conflict started with bigmouths and dumb talker who want to dissuade people from vaccinating with stupid stories. Not the virus, the government became the enemy.
But now criminals have made a mockery of the protest with robbery, fires, highway robbery. What does looting and violence have to do with political protest? The frustrated are once again being used and don't realise it. There are also plenty of peaceful demonstrations, but they are losing strength because of the violence.
France wants the vaccinations, so they are rejected. Only the virus has nothing to do with Paris. This opposition is counterproductive, even if the government is doing a bad job. It's about individuals, neighbours, family – personal livelihoods. Non-vaccination to punish the government, doesn't seem very smart to me, even if you don't trust your administration. I won't even waste words on ridiculous conspiracy mumbo-jumbo. This stupid virus is damn real and is a burden on all our livelihoods and well-being. Unfortunately, this cannot be demonstrated away.
I can't understand why people don't get vaccinated and then wonder why their jobs are in jeopardy. When it comes to freedom of choice, people often ignore the fact that others are also free to make their own decisions. And its no acceptable to limit their freedom neither.
I will not be driven by an unvaccinated taxi driver or shop with unvaccinated sales staff. That is my right of free choice too. It seems to me that many NoVax have not understood the principle of democracy and solidarity.
And why do unvaccinated people take advantage of the health system when they fall ill? Isn't that illogical? How about this solution: no compulsory vaccination and at the same time no compulsory treatment. Sure: ethics. But we also believe in evolution. If everyone is to decide for themselves, then with all the consequences.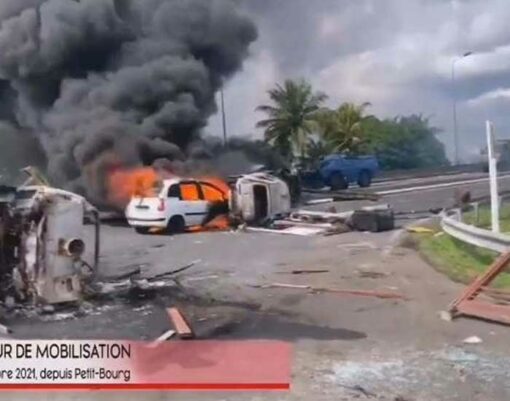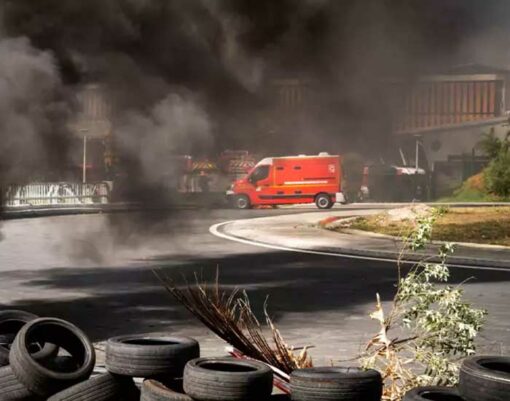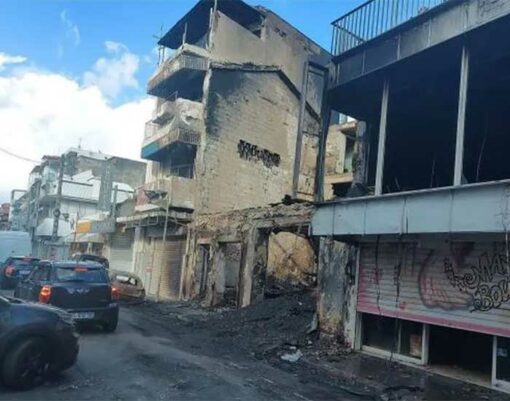 Source: media photos: FrenchDailyNews, La Presse, Ouest-France
The situation for us
At the moment we are in the marina of Point à Pitre and feel safe. We were able to rent a car and do our things during the daytime without hindrance. The shops are open and in some parts of the island you don't notice anything. Other regions are strongly warned against. The real rioting starts at night, despite the curfew.
As soon as the work on the Rivercafe is finished, we will leave the main island. There is no tension on the islands around Guadeloupe.
I hope the people in Guadeloupe and the rest of the world come to their senses soon and stop behaving like aggressive stone age people despite having different opinions. The world is just too beautiful and life is too short for such nonsense. And we all live in the same world. / Holger Binz
Weather report:
We'll skip it this week.