The entertaining world of yachting
I guess we all agree that there is no such thing as one world of yachting. There are at least three different ones. There are simple yachties like us, who sail through the world as owners with their modest vessels. There are also differences, but the mindset is comparable, no matter if you are sailing on a 32ft crawling hull or a 90ft carbon catamaran. Respect and help are part of everyday life.
Then there's the charter sailors, who don't really count as part-time visitors to the yachting world. Who are also preferred to be avoided by most yachties because you never know if they can handle the boats they borrowed properly.
And then there is the third world of yachts and mega yachts. Kind of like the funny world of animals. The other day in Marigot Bay St. Lucia. Our friend Troy allowed us the privilege of mooring the Rivercafe at the dock actually designated for large motor yachts. On the other side of the dock, we had dock neighbors that outweighed us by several times in length and height. (Mast excluded).
I divide the people on such guys on board into three groups. The professionals – the real sailors – are the captain and the officers, i.e. the people who run and control the vessel. They usually see eye-to-eye even with ordinary sailors. The second group: the guests, either the actual owners (usually reserved, privacy-seeking, pleasant dock neighbors) or more often, paying guests (often very overbearing, unpleasant neighbors, posers). A large part of the mega yachts run as charter boats and can be rented by the week.
And then there's the third group, the simple crew. These are often the most distinguished, similar to waiters or concierges who pretend to be more distinguished than their guests.
Now to our entertainment program in Marigot Bay. There came a 47 m yacht, I won't mention any names. Already during mooring, the crew signaled to us non-verbally and with consistent ignorance that we were now clearly not adequate dock neighbors on the Rivercafe. Such a ship with a mast, uuaahh. And so tiny. The crewmembers of this 47 m yacht were between 25-30 years, looked good, chicly dressed and seemed with their plugged in radios and strained looks also really important.
While we were enjoying a coffee on board, the usual metamorphosis took place. Mme and M. Noseup mutated into cleaning men and women. Minutes after mooring, the girls and mostly guys climbed over deck with scrubbers and rags. Gone was the aura of elite supermen and I saw many an embarrassed look of a convicted charlatan. They were simply doing what such helpers on yachts always do. Cleaning and being invisible, so that they do not stand in the light of the owners or paying guests.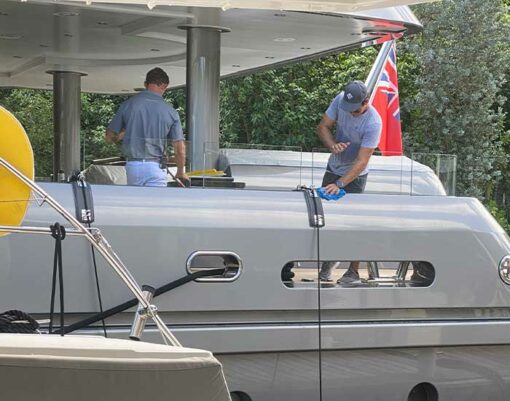 Cleaning jobs on yachts
It's funny to see young adults cleaning windows, scrubbing and straightening pillows. If their parents knew that their children suddenly had housework as their purpose in life, they would surely be speechless. And all that just for that little moment when they're laying out? The thrill of being ostensibly special for a few minutes? For completeness, it should be mentioned that the guests on this particular vessel were even more arrogant and unpleasant. I wonder if it was because remitting the six-figure weekly rental fee triggers bouts of arrogance? Chartering a vessel like ours is just under €20,000 per week in December. Sure €250,000 per week is something else, but do you have to get stupid about it? Blanked out the thought that it always goes bigger and more expensive ones.
The next day. When the 47 m ship had left, the scout tender of a 60 m yacht arrived. This dinghy alone was worth more than some ships sailing across the Atlantic right now. And bigger than our first sailboat. But the man on board belonged to the first group, the proper sailors. We chatted with the friendly Australian, with a lot of affection and passion for sailing vessels. And then he used a drone to check the depth of the fairway in order to guide his mother ship into the harbor undamaged.
So there the Rivercafe lay, right in the shadow of a ship 6 times longer, dwarfed to miniature size. It was a pity that the narrow-minded 47 m crew from yesterday could not experience that their ship would have been really small in comparison. This real mega yacht was used by her owners, who greeted the crew of their tiny dock neighbor (i.e. us) politely and with respect. The crew was also friendly and eager not to blow so much exhaust from their generators at us down there. There were also no shy looks as we watched them doing the (obligatory) cleaning. Leading by example, well done.
And this megayacht is far from the top of the field, either. She had no heliport and no on-board helicopter. Even this yacht will meet other ships three times its size somewhere. But I'm sure these owners won't care as much as we do.
In any case, the megayacht season has started again. And that's a good sign for the hopefully dawning post-pandemic season. These yachts are making sales in the beleaguered islands. They pay mooring fees, provision or buy from the locals.
And otherwise with us?
We had some nice days in our Marigot Bay in St. Lucia. And some nice encounters. We were able to do and get many things that were not available in Grenada. It was so nice that we decided to book the Rivercafe for the next Hurricane Season here, in the Hurricane Hole, in our favourite Marigot Bay.
We are now on our way to Guadeloupe, passing Martinique and Dominica. Next time you will read from us from the French islands. /Holger Binz
Weather Report:
Sunrise 6:04h, sunset 17:33, temperature day: 30, night: 25, wind 4-7 Bft. It is sunny with daily 2-3 deluge showers. It feels cooler than Grenada.