One island a day keeps the doctor away
After Stéphane, despite a herniated intervertebral disc, had successfully completed our installations, we finally left the Marina Bas-du-Fort last Thursday. When we complained that we had now really spent too much time in Guadeloupe, the locals looked at us confused and asked why we were so keen to leave. They love their island and of course it's a great one. But it's not the only island in the Caribbean. And quite honestly, we are longing to speak English again.
Functional test
To be sure that our new electricity installations work, we wanted to stay at anchor nearby for a few more days. So we sailed the 22 nm to the islands of Les Saintes. Again. Kind of like our home in the French West Indies. Good news: everything is working fine. And since Guadeloupe we can cook with butane gas too and we have also installed an induction plate for electric cooking. We are not starving, but would love to visit a restaurant again.
In Les Saintes we also wanted to say goodbye to friends who are sailing to the ABC Islands for the hurricane season. For sailors, a date looks like this: "sometime at the end of the week in the anchorage of Bourg", +- 1-2 days.
In Guadeloupe, lockdown was still ordered until we left. The prefect of Guadeloupe, Philippe Gustin, is a white administrative bureaucrat from the motherland, or "metropole" as it is called here. He continued his motivation-killing salami tactics for C19 relief in Guadeloupe and once again postponed the opening of bars and restos and the curfew by a week at extremely short notice. No wonder the Guadeloupeans are frustrated because they can't rely on anything.
In the meantime, it has become a bit late in the season, because on 1 June the official hurricane season began. You can feel it in the empty anchorages and marinas and in the spreading calm. While in Europe life usually blossoms in June, here everything comes to rest. However, the difference to the last months with lockdown can also only be seen in the number of ships. Not an easy time for the people here, who glide into the off-season right after the lockdown
.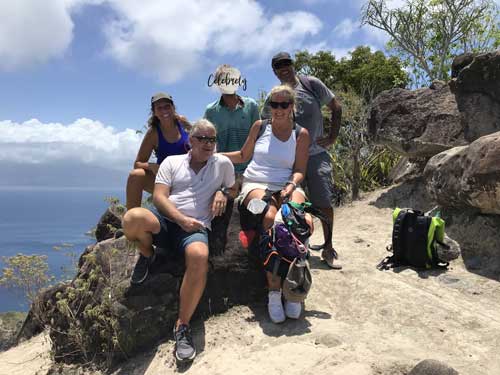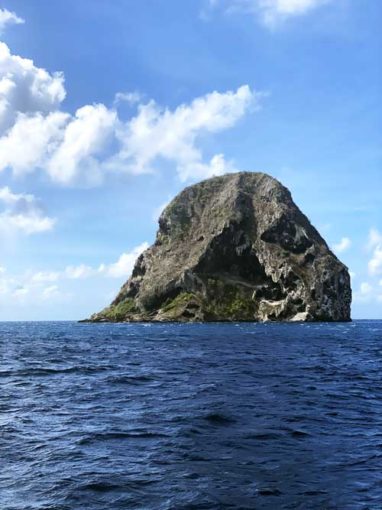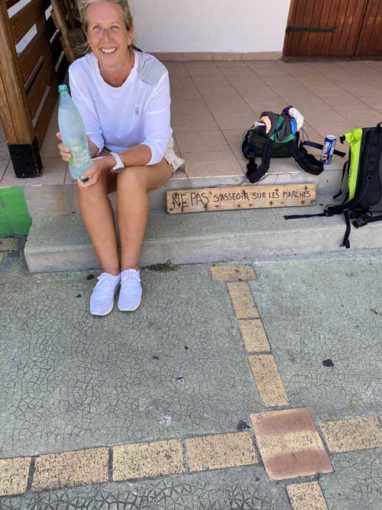 Goodbye Guadeloupe, stop over Dominica
On June 1st  we checked out in Les Saintes of Guadeloupe after long months. Our plan: to sail to St. Vincent and the Grenadines (SVG) without night trips and only with day trips. A distance of 180 nm. First leg: Les Saintes – Dominica, 25 nm. A warm up, because Dominica's only permitted anchorage, Prince Rupert Bay (super nice) is located in the north of the island. Within sight of Les Saintes. In 6-7 bft, with a reef in main and genoa, we coasted to our destination at an average of 8 knots in just three hours. The Coast Guard allowed us to anchor for one night with a yellow flag. Next to a Sea Shepard vessel. Without clearing in, but also without leaving the ship.
Martinique calling
Right at sunrise at 5.30 a.m. we hoisted the sails. Next island of Martinique, St. Pierre, in the north of the island, 56 nm away. What a ride. Especially the passage was a real challenge.
The "passage" in brief: coming from the east from the open Atlantic, wind and waves push through the mostly mountainous islands. This zone accelerates the wind speed, usually up to 10 knots on top. In addition, the current is forced through the eye of a needle of 20-25 nm after the Atlantic expanse. Its Rock`n Roll – under normal conditions.
In shitty weather its no fun at all. Our day was a fun and much windier then predicted. It stormed, waved and rained until we had all sails in the second reef. The sky and sea were leaden grey and scary to look at. Despite the reefs, we were still running up to 9 knots of speed, with winds of 7-8 Bft. We had never had so many sailing manoeuvres in one day. Quite exhausted, we anchored for the night in St. Pierre without any further stress. Unfortunately, after such a day you can't even drink a bottle of wine, because we have to go on the next day. Sailing is no fun like that.
The next morning, again at 5.30 am, hoping for better weather, we set the mainsail. Reefed immediately. The forecast was for a maximum of 25 knots of wind. In the bay of Fort-de-France it was already getting heavier than that and when we came to the southern end of Guadeloupe, we changed our plan. Instead of sailing into the passage to St Lucia, we turned off to St Anne, the most popular anchorage in Martinique, and postponed the passage until the next day. An overnight stop under a yellow flag.
After 30 nm we dropped anchor and immediately caught a line floating around in the propeller and the starboard engine failed. Our anchor was up and we slowly drifted towards another ship. Like an apparition, two dinghies appeared to help us. Mike and Fred cut the stray lines from the propeller and all went well.
Praise be to the camaraderie and helpfulness of the sailors. We returned the favour with a glass of wine. What an unnecessary stress. St. Anne in Martinique is something like a floating village. Some sailors have been moored there all season. There's even a morning radio round-up with the news of the day.
In Martinique, everything has been much more relaxed with the lockdown. For weeks, the curfew has been set at a tolerable 11 pm, bars and restos were open. As an appreciation, the number of sailors spending money was many times higher than in Guadeloupe.
Zen in St. Lucia
Friday was set for the next passage to St. Lucia, into Marigot Bay. 30 nm, 22 of them in the open passage. Forecast: max 25 kn wind. Almost exactly, we were happy with 27 knots. At 6.00 a.m. we hoisted the sails for the first crossing in the almost predicted weather. Up to 9 kn speed pushed us quickly across. And here we are. The weather forecasts announce 8 Bft and a lot of rain and squalls for the next passage to St. Vincent. We don't feel like it.
As we have checked in in St. Lucia, unfortunately, we now have to go through a complete C19 protocol again, with PCR test – the nth. We need it for St. Vincent because our arrival will be delayed. And a PCR test in St. Lucia takes 3 days and 220 USD for two but can be done in Marigot Bay. So we can't go on until Thursday, until everything is administered. But then the weather is supposed to get better for the  next passage – the forth.
Until then, we'll be moored in the super-beautiful, wooded bay of Marigot Bay. Oh, super beautiful, it's spectacular. We are right next to a fantastic 5-star hotel and can use all the facilities from the pool to the spa.
And last night, for the first time in three months, we were able to enjoy the luxury of a restaurant and a delicious meal. The next few days will be more Zen than stressful. / Holger Binz