Mallorca – Majorca
We have arrived in Majorca – or Mallorca as it is called correctly in Spanish. If we only had European readers, it would certainly not be necessary to write more about one of the most visited and sailed sailing areas in the Mediterranean. However, many non-Europeans also read our little blog and to them I can only say: its definitely worth to come over. It's fantastic and the perfect contrast to the Caribbean/Bahamas. The sailing itself is not a great, but the islands of the Balearics are worth planning a few weeks for. But best not in August.
With Formentera, Ibiza (Eivissa), Mallorca and Menorca, there are four fantastic islands with interesting destinations. But plenty of others know about the beauty and attractiveness. 25 million tourists visit Mallorca every year. Over 600 charter boats are available – only in Mallorca. The Balearics are something like the Virgin Islands for charterers. Another 1,200 private vessels are registered, and then there are the visitors on their own keel. This is the high season in August and that's exactly when we are there.
We had no choice of date as we were expecting family holiday visitors. We moored up at a mooring buoy in Port Andratx, booked well in advance, and were looking forward to being roughed up by our grandchildren for a week.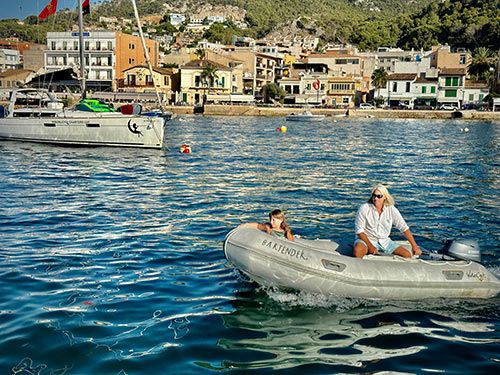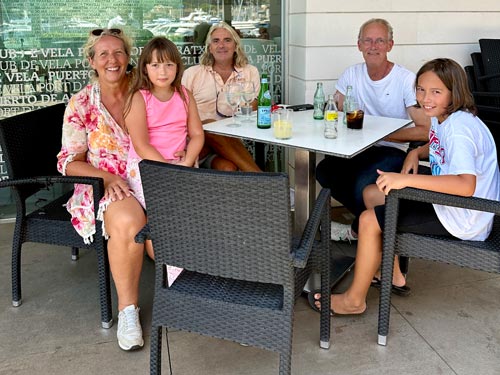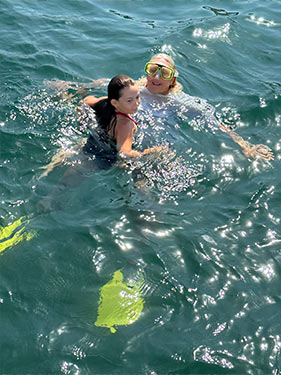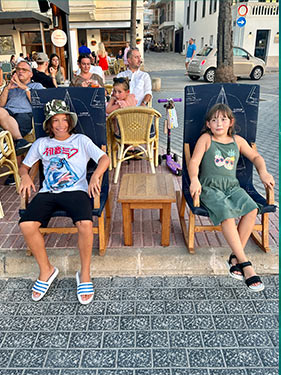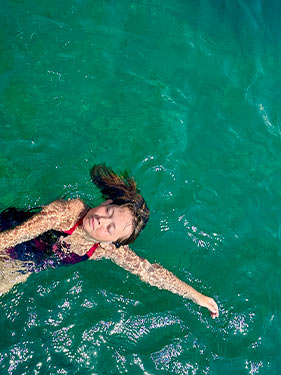 Life with grand kids
Plenty of beautiful towns
There are very beautiful larger towns such as Ibizia Town (Eivissa) and Palma de Mallorca or smaller ones such as Andratx, Soller or Ciutuadella. Nothing in the Caribbean can match their charm, architecture and attractiveness. And in addition, there's a sheer countless number of beautiful bays and many nature reserves.
Andratx (pronounced Andrasch) is a beautiful little town, well protected from wind and swell, with an enormous range of bars, restaurants and shops. Around the bay are some of the most expensive properties on the island. By Mallorcan standards, there are few hotels and very little party tourism.
If you land in Mallorca, you should definitely visit Soller and Port Soller. A rickety railway connects the harbour village with the town – both, of course, unbearably crowded in August. The capital Palma de Mallorca is a real pearl – but also unfortunately extremely crowded. In my humble opinion, Palma is one of the most beautiful cities in the Mediterranean at any other time.
In the bay of Palma itself there are 3,700 berths for vessels in various marinas. There was no space for a catamaran in any of the five marinas I asked about weeks before our visit. If there had been, the price per day would have been as high as a night in a fancy hotel. There are also the municipal ports of PortsIB, but they don't take catamarans at all.
If you want to leave your boat for several hours, the only realistic options are a berth in a marina or a mooring ball. Both are hard to come by in August. The anchorages are so extremely crowded that the boats are very close together and there are always collisions. In narrower bays, it is not a good idea to leave your boat alone at anchor for a whole day. The next boat is bound to come and anchor without restraint within spitting distance. And the fact that catamarans turn differently at anchor than monohulls or motorboats has apparently not yet got around everywhere.
Andratx (or Andraitx) as a base
We left the Rivercafe in Andratx at a mooring buoy and did our excursions by car over land. It was a wonderful time with our grandchildren and in the end we met our sailing friends Massetta and Barry, whose company we last enjoyed two years ago in Canuan in St. Vincent and the Grenadines.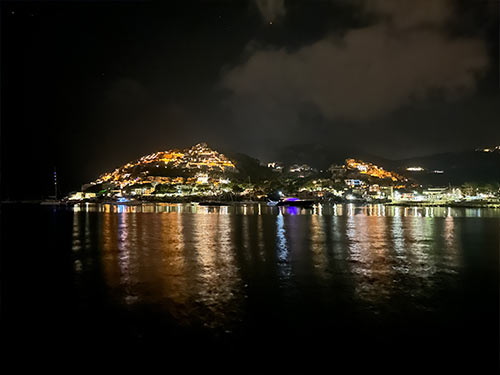 Andratx by night, same hill at daylight 
Exhausted – but delighted – by the children's visit, we continued our sailing trip around Mallorca. Portal Vells, west in the bay of Palma, has always been one of our favourite bays. But with winds from the east and south, it is unprotected – and surprise: brutally crowded. So we dropped anchor in Santa Ponsa instead. This is a typical Mallorcan resort, but a well-protected anchorage with water much clearer than in Andratx. Around 70 boats were anchored in the bay and there was still some space.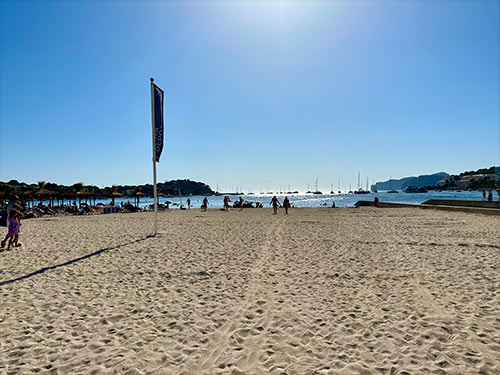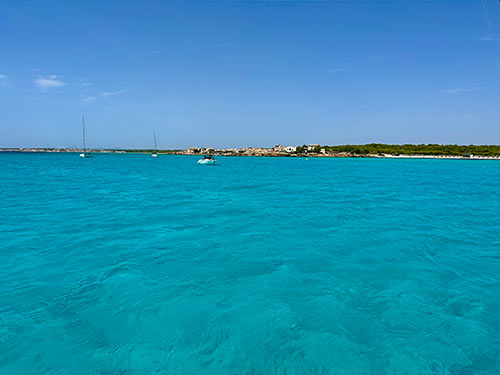 Santa Ponsa Beach, Es Trenc
Es Trenc – Rapita
We avoided the bay of Palma and sailed straight through 30 nm to Rapita, on the south-east side of the island. Es Trenc is one of the most beautiful beaches on the island – if no sargassum brown algae is driven. We anchored on a sandy bottom and I hardly dare say it: the water was almost Bahamian. The seabed is sandy with very good holding at 2-3 metres depth with plenty of room for many boats. However, there are virtually no fish in the clear water. It is beautiful, but not very sheltered and, despite moderate winds, very wavy. The Navily prediction was by for too positive, we had quite quite unpleasant conditions. Unfortunately, this also prevented us from trying the delicious fish dishes in the Club Nautico restaurant. We would not have arrived dry with our dinghy. The nights felt as if we were sleeping in a washing machine. On a catamaran. My sympathy for the mono sailors around. So beautiful beach and water, we were glad to be on our way again.
Our last stop on Mallorca's south side was on the island of Cabrera. The "Goat Island" is a 15km2 nature reserve located 12 nm from Es Trenc. Anchoring is prohibited and you have to request permission for the nature reserve online in advance and book one of the mooring buoys laid out online 20 days in advance. For €37 per night. We were lucky and got one. Next time we'll report on what the goats are up to. / Holger Binz