Three weeks with five people on board
A few days before the return trip to Germany, Henri and Hannah sat at the stern of the Rivercafe and made plans how they could manage to stay on board with us. They were prepared for Ka's objection that their parents would surely miss them. Mom and Dad could come and visit them on board, was the response. The plan remained unfinished. After almost three weeks, the three of them flew back to their everyday lives in Germany.
And we were happy that we could show them a little bit of our everyday life.
Jil, Henri and Hannah landed in Saint Martin. After a few days of acclimatization we sailed along Sint Maartin's west side to Saint Barth. There we spent 5 nights at anchor, in strong winds. When the wind and wave died down a bit, we sailed back across the French west of Saint Martin to the north side. 4 bays, 3 towns and lots of Caribbean water.
We have experienced a lot in those days. Including the Easter days during which we couldn't sail because of strong winds, when we only came ashore wet in the dinghy. When we anchored somewhere, it took only seconds after stopping the engine to hear a "can we get in the water?". Henri is already swimming splendidly and practiced snorkeling and diving with great dedication, bottom contact at 3 m depth is the confirmed best.
After a few days Henri also jumped into the water with Ka to check the holding of our anchor. Hannah tackled it with just as much enthusiasm, although the little lady can't swim at all yet, thanks to C19. But we got her a life jacket and she made the water around the vessel her second home. Tiredness or too strong currents were no reason to leave the water, then just a rope had to be knotted to the vest. We were super happy that all three enjoyed the water and every fish that swam by was described in detail afterwards. With Hannah, the initial uncertainty before the sea creatures disappeared very quickly, everything was just exciting. "Golden" fish and starfish are spectacular, though and worth to be reported (extensively).
Children on board were as new to us as the visit was to them. It was important to us that our guests did not get nervous or even panic because of too difficult conditions. We waited if the winds and the waves were too strong, avoided wavy anchorages and everything that could give the feeling of danger. Seemed to have worked out quite well for us, as the introduction proofs. Even the passages between the islands, where 1.5 m waves could not be avoided, were mastered by all three nicely. Sea state makes tired and so we sailed mostly a sleeping crew between St. Martin, St. Barth and Sint Maarten back and forth. Even the unfamiliar announcements, like wearing a life jacket, always holding on with one hand, or listening to the first call, our ship's children quickly got used to.
Every now and then one of the kids in a life jacket climbed up to us at the helm and of course both of them were allowed to steer the Rivercafe, with dignified silence and great concentration. If we and the kids lived by the sea, both would surely be signed up for an Opti course already.
I made some cheap grandpa bonus points when I allowed Henri to steer the dinghy. We made our way to a quiet spot beforehand and practiced. After some initial over-respect, Henri enjoyed every ride where he got to steer the dinghy and us as passengers.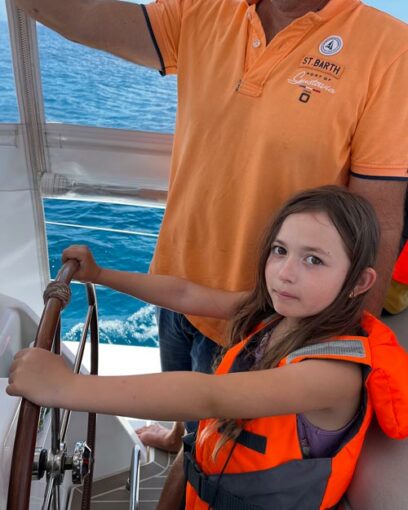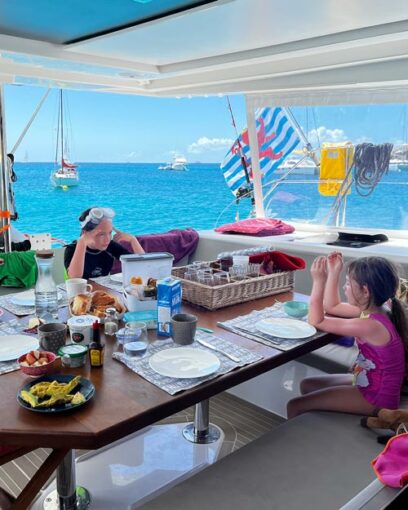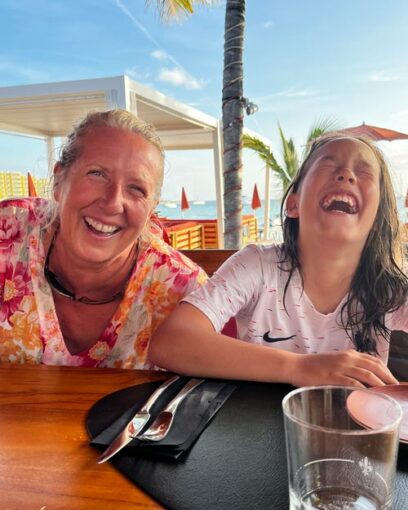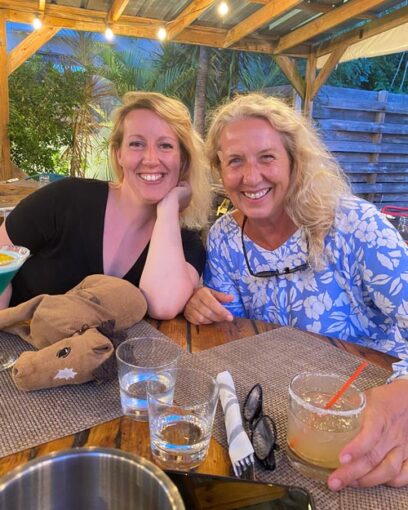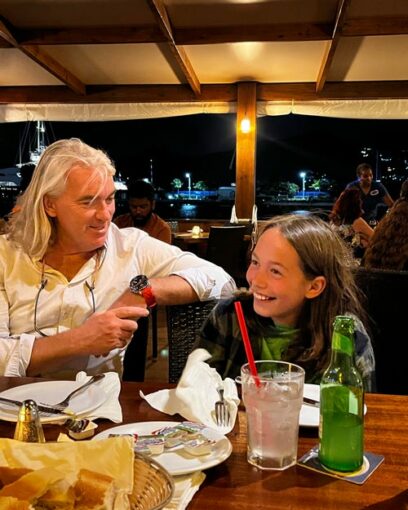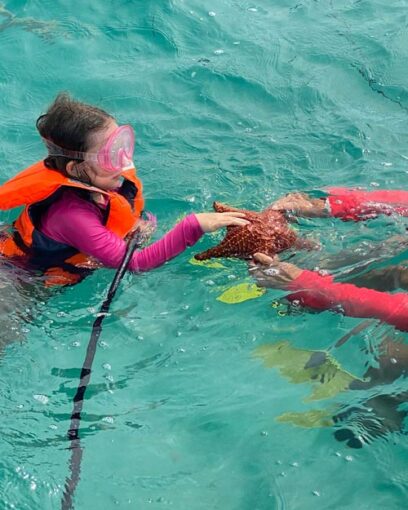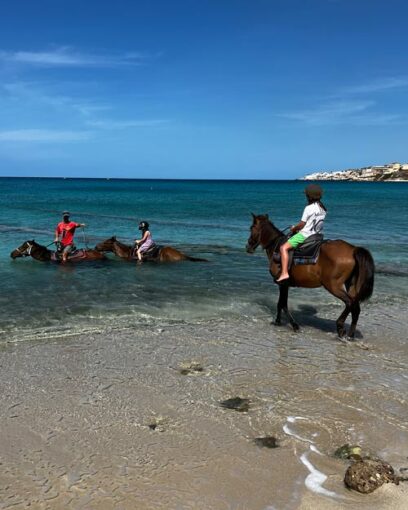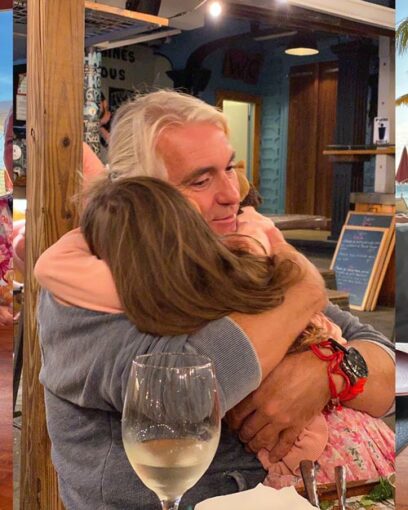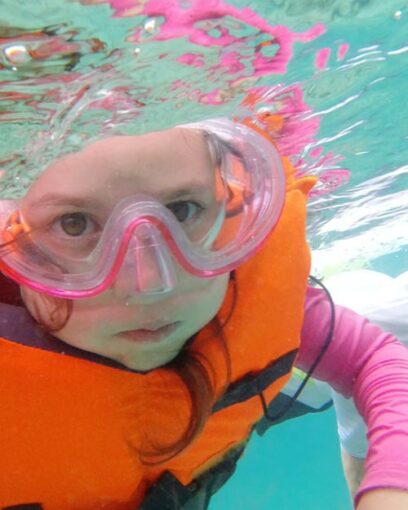 Fishing is of course also part of the sailor's life. There is a lot of Sargassum grass floating between the islands at the moment, which is brown bushy stuff that is attracted to any fishing lure. And that made fishing impossible. But on our last leg from Marigot to Simpson Bay, of all places, we did get a bite. A tuna was hooked. When I got it on board, I actually wanted to throw it right back in because it was too small from my point of view. A matter of scale. The kids had never seen a fish that big. So we cut the fellow up and prepared it. Especially Henri, who is usually so picky about food, gobbled up his first super fresh tuna with gusto.
For the last three days we called at Simpson Bay Marina again to get Jil and the kids used to land life again with less swell in their legs. Finally, we treated Hannah and Henri to a promised horseback riding excursion and with that, three weeks on the Rivercafe came to an end.
We no longer had to worry about overwhelming the three of them with our lifestyle. The weather could have been a bit more Caribbean, but then it probably would have been too perfect.
Once the kids were on the plane, we started a washing and cleaning orgy. We took advantage of St. Martin's wonderful food offer to restock our groceries in an adult-size way. And to sleep in. Almost unusual to wake up without being jolted by someone in swim trunks at 5:30 am and hear, "when can I get in the water?"
A last farewell dinner with our friend Emre, who is sailing back to Europe soon, a last drink with new friends and then we were already gone from Sint Martin.
We now have three weeks to sail the 160 nm way to Guadeloupe. There we will be visited again by friends who will accompany us to Martinique. On the way we will call at St. Barth, St. Kitts & Nevis and briefly Montserrat – as far as the C19 protocols allow. The weather seems to show its cream side. Keep your fingers crossed for us. More next week.
From next week it will be less personal again, then we will write about our places and travel again. / Holger Binz