From one virgin to the next
Completely delighted by the fantastic Leopard Guarantee Service at the Mooring Base in Tortola, we set off for the United States Virgin Islands. They are virgins too, but – as the name correctly suggests – a different country.: USA. We did the paperwork and instead of a PCR, only an antigen test was necessary. However, we had to pay remarkable 90 USD p.p. for this test.
It is probably the shortest distance between two countries on our journey. 500 m is the shortest distance between BVI and USVI. But it's a change of country that puts off many non-US sailors. Funny, because conversely, wild rumours circulate among US sailors about the difficulty of entering the BVI. Both are nonsense – if you are properly prepared.
What meets the expectations, however, is the bad reputation of BVI Customs/Immigration. They are even more unfriendly than Parisian waiters. On top of that, there are wondrous fees. 70 USD for entry, 45 USD for exit.
Requirements for US entry
There is one serious hurdle for entering the USA by vessel: a B1/B2 visa. ESTA does not work for sailors. The visa is valid for 10 years, but it is expensive, a lot of effort and there are hardly any appointments in US embassies available. At the moment it might be difficult to get one. In the Eastern Caribbean, there are only two US embassies that issue visas: Barbados and Bahamas. Europeans would be better off organising it in Europe. There is, however, a backdoor way to enter the US from the BVI. It's not cheap either, but it's time-consuming too.
We are lucky owner of a valid visa. We sent our negative C-test and proof of vaccination in advance, registered online and quickly received our "approval" to enter the USA. After the ok, we left Road Town (BVI) after the Superbowl to check out of the BVI in West End. And to dine at the restaurant of the famous "Pussers Rum" for Valentine's Day. Ok for a midday snack, but not recommended for a Valentine's dinner.
Early in the morning we left Sopers Hole in West End. We entered US waters so quickly that I could barely get the BVI courtesy flag down in enough of a hurry to raise the yellow quarantine flag. Shortly after, we were moored in St. John off the capital Cruz Bay and dinghied to immigration. US immigration has a similar reputation to that of the BVI, but on our entry we experienced the friendliest and most helpful officers and the most straightforward entry ever. No fees. We truly felt "Welcome in the USA".
US Virgin Islands
The USVI have more than twice the area and with 100,000 also three times as many inhabitants as the BVI. Until 1917, the islands were the "Danish West Indies". I don't know if the Danes are still kicking themselves for selling the islands to the US in 1917. As close as they are, the USVI and the BVI are very different. It's amazing, but the UVSI seem to me to be more uncommercialised than the BVI.
The three main islands of St. Thomas, St. John and St. Croix offer different things. St. John – our first destination – is home to just under 5,000 people. The island, with its many mountains, hills and lush greenery, clearly belongs to nature. Cruz Bay is the name of the capital, a nice little place. At the moment, only Americans and sailors – mostly Americans, too – pass through there, because the ferries from the BVI to St. John have been discontinued.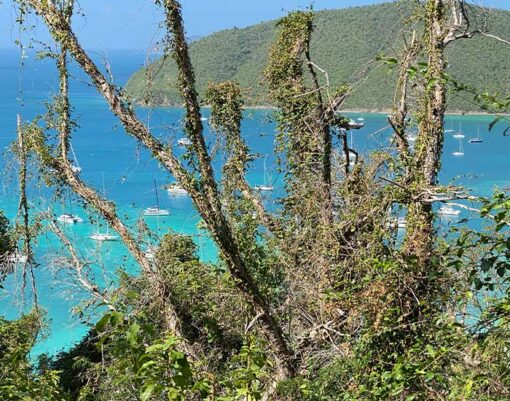 St. John
70 % of St. John is a nature reserve. And this on the initiative of Laurance Rockefeller, who bought a lot of the island in the 1950s and dedicated it as a nature reserve. Many thanks posthumously Mr Rockefeller, a wonderful decision.
And to prevent sailors from damaging the sea bed, anchoring is not allowed. For 26 USD you get well-maintained mooring buoys from the nature park, stress-free nights guaranteed.
Irma caused dramatic damage here as well. Some hotels on picturesque beaches were not rebuilt after the destruction and nature is reclaiming its habitat. Our impression is that the underwater world is recovering only slowly. In the BVI and here we witnessed that hurricanes can also wreak havoc on the underwater world. It is still a long way back to the beauty of 2017.
Maho Bay
For the next 4 days, strong winds and swells were announced again. We moved to Maho Bay, a well protected bay with a Turtle Breeding Beach, in the east of St. John. With very little swell, we were able to endure the strong easterly wind. Swimming, enjoying the turquoise water and counting plenty of turtles and rays. This bay is magical. I have rarely slept so well and felt such peace.
Maho Bay is surrounded by mountains and forest. Everything is green. Right after we moored, Chris, a volunteer of the nature park, came alongside. He explained a lot about the nature park and their work. A very friendly welcome, which also gives a good feeling that nature conservation is very important here. Unlike in the BVI, no one comes to collect money. There is a cash box floating on a pontoon in the bay where the sailors are supposed to deposit their mooring fee. So much human trust is honourable.
Thursday we set off on a hike with friends from two other boats. Up and down steep mountains in the forest, to a place where the Taino indigenous people left drawings on rocks. It turned out to be a long walk of almost 5 hours. While you're reading this, I'm sure we're still nursing our aching legs and feet.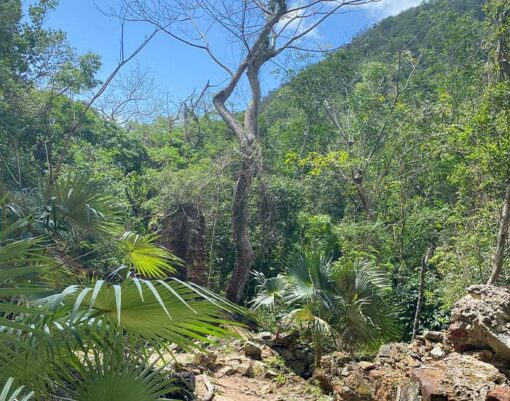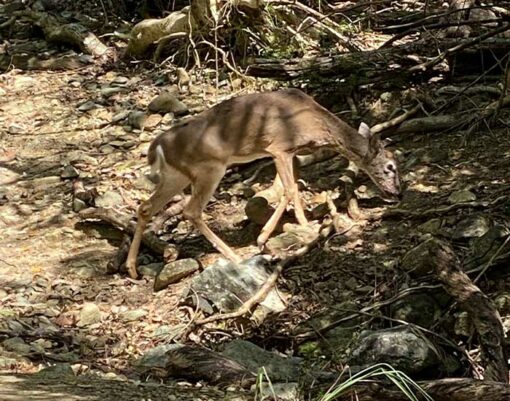 Next we will probably pay a short visit to St. Thomas. How we continue will be decided by the weather, as is usually the case. / Holger Binz
Weather report:
Sunrise 6:45 h, sunset 18:21 h, temperatures day 28 degrees C, night 23 degrees C, first half of the week a lot of rain, wind: 5-7 Bft,