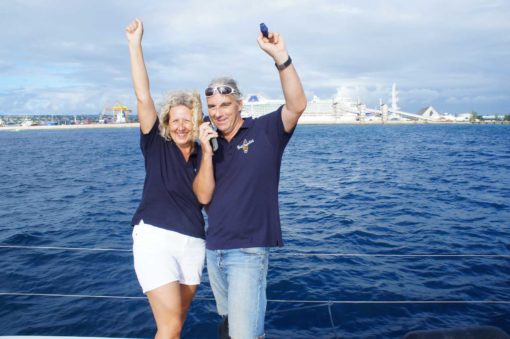 What a beautiful world

After a few relaxing days anchorage in Barbados – without any slope – the time had come to lower the rum level and continue sailing. Our ship was again clear, we had our US Visa (great business idea of ​​the US by the way) and were well rested. Together with the ship of British / South African friends, we set sail for an overnight trip to St. Lucia. On time with the darkness, the horror came back with something new: an unannounced thunderstorm, strong wind and rodeo wave. It flashed in all directions, hundreds, thousands of flashes.
Everything is very ghostly and unpleasant. At 2.00 a.m. a cruise ship passed asking by radio if everything was ok. Nice people and a short dream of a delicious steak and a soft bed. How nice it would be to wake up tomorrow morning on the cruise ship and to be served a delicious breakfast on the balcony of the cabin approaching St. Lucia. It was a horrible night made to give up sailing. Someone who was out that night too said it was the worst night of his life. To make it short: it got better. Much better. Advent in St. Lucia, Dominica, the most fantastic Christmas in Martinique, New Year's Eve in Guadeloupe and its islands, Antigua, Barbuda, Nevis, St. Kitts – it got better and better. Freshly caught tunas, delicious lobsters and animals of all kinds, shore excursions, meeting friends, hiking, swimming and snorkelling – at least 3 times a day. We sailed where we wanted, that was freedom at 30 degrees. After the recent repairs and upgrades on the ship in St. Marten, we changed the plan to sail for the Americas Cup on the Bermuda's and spent instead the last months before the Hurricane Season in the Virgin Islands, the British, American and Spanish islands. Virgin Gorda, Jost van Dyke, Norman Island, St. John, Cullebra, St. Croix …. It was mind blowing. When anchoring in lonely places you live in another world. You have time to think, to swim and to experience complete peace. It is not a must, but very enriching. The Caribbean sailing year is unfortunately short due to the Hurricane Season and at the end of May the ship had to leave the Paradise, going back to Europe. We would have liked to extend, like so many other sailors on our way but we had no choice. It was the commitments; we had planned only for a year.
On our first arrival in Barbados, we would have sold our ship immediately on the first offer and would have returned to our house and garden. Glass of wine and sponge over it, sailing is crap. The Atlantic has brought us both beyond our borders. The harsh weather, the constant technical problems and broken bones – we could not even raise the fishing rod. But thankfully no one has made us an offer. We got through it and grew. It was just terrific. And we were rewarded with the best time of our lives. So we returned to Europe, into life with job and long pants. About rehabilitation, it`s another story. / HB