About cities and people
In 1867, the USA purchased Alaska from Russia for $7 million, making it the 49th state of the United States. Framed by Canada. We visited Canada twice on this trip, once almost unnoticed. The border stations of both countries can sometimes be 17 km apart, if the steep mountains leave no room for unavoidable border huts.
It feels so good to come to a country that was not "discovered" by Columbus. Of course, people have always lived in Alaska, especially the native Haida and Tlingit Indians in the southwest. Their culture and art is omnipresent. Ka was completely thrilled by the design of the Native art and the totems that can be seen on every corner. And fortunately, the Natives also run many institutions themselves, e.g. Icy Straight Point. We couldn't find any traces of old Russian settlements.
Alaska is the largest US state, but with the lowest population density. 735,000 people stare into the almost daily grey. In some places there are more bears than people. (Actually it is said that about 100.000 brown bears are living in Alaska). For the short summer, many seasonal workers come, looking forward to the end of the season in October, to see sun again somewhere else.
Only for the tough
It takes a special kind of mindset to survive here. It is almost always grey, it rains a lot and the days in the very long winter have only up to 4 hours of daylight for months. In the far north it even stays completely dark for months. So exuberant joie de vivre is hard to find here, but very friendly people are. However, nothing feels like the year 2022. The pubs are still called saloons and jeeps and SUVs actually have in fact a reason here. There are special jetties for seaplanes on the outskirts of town. A warming fire is more important than a good internet connection. (that's why I'm only writing now 🙂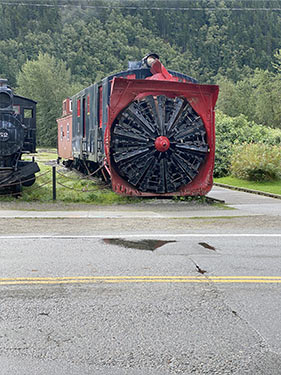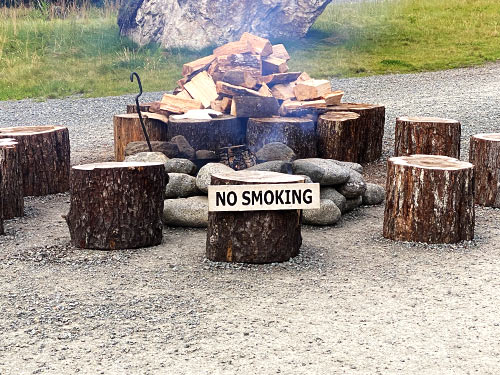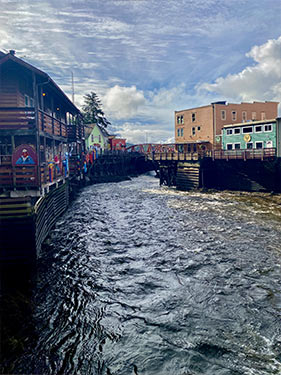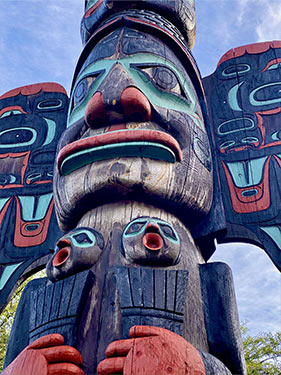 Snow train, non-smoker fire, Salmon river in Ketchikan, Totem
The rich nature determines life. Sometimes there is a sign on the forest road that you should expect bears. Be ready. This is everyday life in Alaska. When hiking in the woods or going fishing, you take a weapon with you – or at least pepper spray. To keep the bears and wolves at a safer distance. When bears are not hungry, they want to play. Neither ends well for humans. People own guns because nature can be dangerous. Not mainly to insist on an antiquated right to bear arms. However, the lines are blurred in more conservative Republican Alaska. You can already see some "MAGA" and "Brendon" stickers.
In any case, one must not forget that with the ultra-right Sarah Palin, a governor was elected here who would have excellent chances of winning in a contest of the most stupidest person at any time. In the recent congressional by-election, however, climate change denier Palin lost to Democrat and first indigenous senator Mary Peltona. It certainly takes more time to really understand the people of Alaska.

White Pass
Gold Rush
In the small towns, you get the feeling that Jack London is just around the corner telling his stories of the gold rush. Today, 1,000 people live in Skagway. Only a small part left compared to those living here 120 years ago, when Skagway was the centre of the gold-digging fortune seekers. 100,000 people arrived here to equip themselves and continue hundreds of miles through rugged mountains to the Klondike River. 40,000 made it to Yukon, and in doing so they had to carry 1,000 KG of weight, otherwise the Canadian Mounties would have denied them entry to Canada. It took 30-40 hikes through the brutal mountains to get all this stuff to its final destination. In rain, snow and cold – unimaginable. Then, at the turn of the century, a railway line was built through the inaccessible mountains in 3-4 years to make the way to the Klondike River and Yukon easier. Today, the railway line is only used for tourists. We rode along and could understand how hard those times must have really been. And how desperate people were back then to endure these inhuman hardships. Only 1% of the prospectors found gold nuggets and even fewer were able to fulfil their dream of becoming rich.
Towns and villages
If you visit Skagway today, you can still see houses that could be from the old days. In front of the saloons there are now car parks instead of horse beams. The main road is paved, but it takes little imagination to picture the roads muddy and smoky. With gold miners settling their disputes with colts. Jack London, by the way, was actually in Skagway and also made his way to Yukon.
The small towns in Alaska are mostly on the waterfront and are actually as simple and uncluttered as you'd imagine. Sitka is the seventh largest town in Alaska, 8,500 people live along the shoreline. There are floating pontoons for the seaplanes, the boats are mostly made of aluminium and there is no hurry at all. Sea lions and otters swim through the harbour basin like normal inhabitants. Life is not only simple, but also expensive. A newly built wooden house in Sitka, nothing special, costs 500,000 USD. No bargain for a place at the end of the world. No one moves here because of low living costs, that's for sure.
Juneau is the third largest city in Alaska with 30,000 permanent residents. Here we were able to experience a special example of Alaskan resilience. Stephen created a "Glacier Garden". A huge area of ice-cold and permanent forest, which immediately adjoins the Tongass National Forest. Despite constant rain and winds of up to 200 miles, Stephen replanted his forest every year. A real Sisyphus job. The highlight of Juneau is the Mendenhall Glacier, the most beautiful glacier of our trip pours into a lake.
Ketchikan is the salmon capital of the world and the city with the most rainy days in North America, 360 day a year to be precise. We lucky ones caught one of the five good days, even with some sun. A wild river flows through the middle of the charming little town, through which the salmon fight their way up the torrential current. If only they knew that you could buy smoked salmon everywhere along your way. After all, they also ensure that there are plenty of bears in the forests, which then leave the inhabitants in peace as they get more than enough fresh salmon.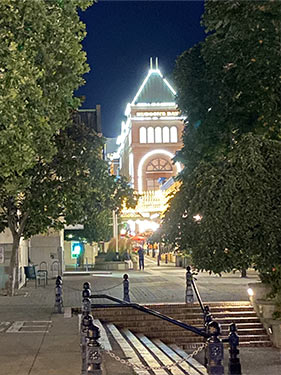 Victoria at night
The last stop on our journey took us to the capital of British Columbia.. Funnily enough, Victoria is located on Vancouver island and is not connected to the mainland by road. Vancouver island is way 5 times bigger than our home country Luxembourg. But with roughly the same amount of inhabitants and the same pricing for houses. Victoria is a dream city and we loved it from the first moment on. Great buildings, beautifully situated and with a pub culture of its very best. We definitely have to coma back again.
Our time in Alaska was too short, as usual. But we were able to experience a lot and got a small insight into a life that is completely different. Glad to have experienced this. However it was wonderful to warm up again from time to time on the cruise ship. Now we are on our way back to the more ordinary USA. We'll spend a few more days in Seattle and then visiting friends in Miami. Our journey continues. / Holger Binz