Barbuda: an island changes
After three eventful weeks in Antigua, the sea was calling us again. We checked out in Jolly Harbor, but still wanted to visit the second part of the double state, Barbuda. The island is tiny, only 160 km2 in size with only 500 people. Unfortunately, check-out is often not possible there and we didn't want to gamble. We couldn't do without the exit stamp, which shortened our visit time. So we adapted our trip to the weather and planned the triple jump Antigua-Barbuda-St. Barts-St. Martin.
The distance from Antigua to Barbuda is about 30 nm. We immediately went 39nm to the north of the island. The approach is bizarre. You can see most of the islands 30-40 nm ahead. With Barbuda, you don't think you've navigated Columbus and gone off course until 3 nm before landfall. The highest point of the island is 42 m, the rest is flat as a plate.
On the way to Barbuda, we once again cast our fishing lines and were rewarded with a tuna the right size for two. Our first meal in Barbuda was a delicious tuna sashimi.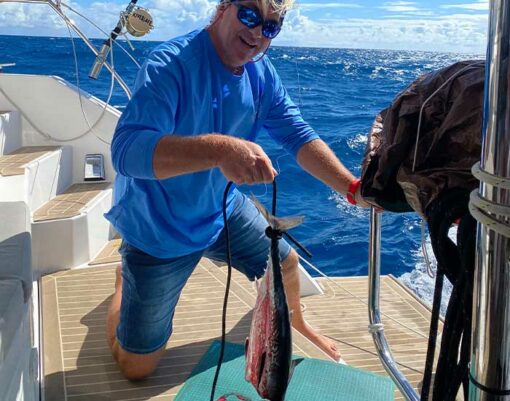 I don't know if there is an island that has more fine-grained sand in proportion to its surface area. The sand is so fine you could fill hourglasses with it, in white and pink.
One beach is called 11 miles Beach. Hurricane Irma changed that, however, and broke the beach line, opening access to the lagoon. Countless birds breed in this lagoon and I suspect there are more frigate birds than people in Barbuda.
The spectacular thing about Barbuda is its nothing. There is only nature and mind-blowing beaches. The western bay is only 3m shallow for miles out. The starry sky is not disturbed by any light and is almost as spectacular as being in the middle of the Atlantic. The perfect place to relax and recharge your batteries completely undisturbed. However, as a non-sailor, you have to earn the tranquillity of the oasis by the arduous journey and the tourist offer is quite limited. Barbuda offers the most exclusive minimal tourism. A paradise without jet skis and similar annoying nonsense. Besides, only a few sailors anchor in Barbuda. The island has no wind protection, but good anchorage.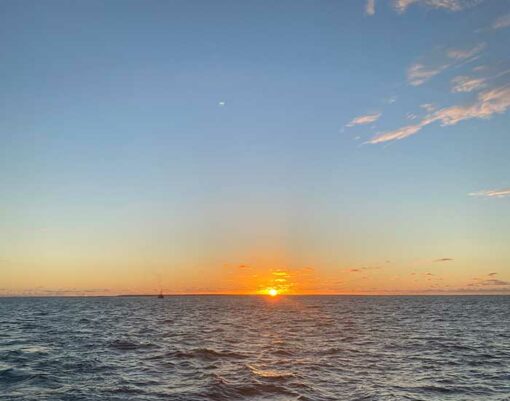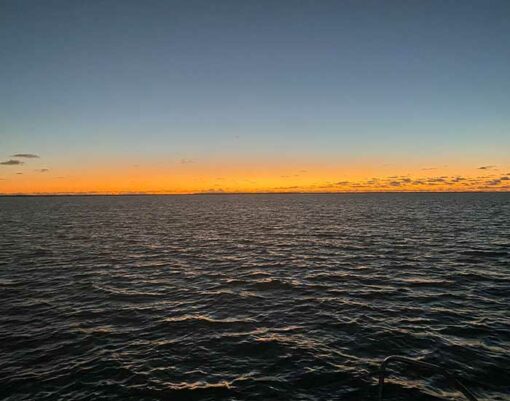 Sunrise in Barbuda. There is land ahead but its hard to believe. Time to set sails early in the morning.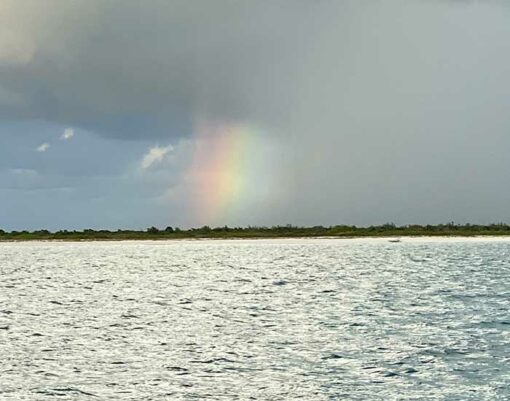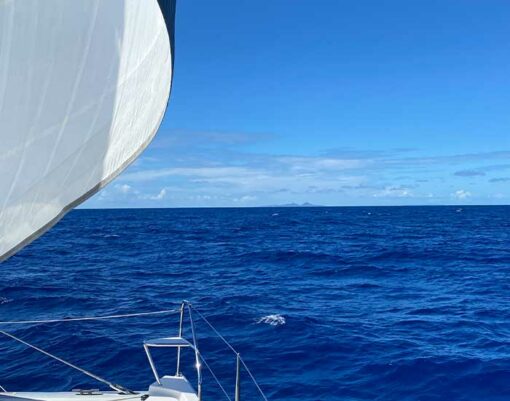 Rain over Barbuda. St. Barths ahead
Then came Irma
Hurricane Irma changed 2017 the land line. Irma devastated the entire island in unimaginable ways. One luxury hotel was completely wiped out, others severely damaged. Residents were evacuated to Antigua.
And then the reckless took over and Barbuda was forced to give up its values, in both senses of the word. Previously, no one could buy land. You could lease it with the permission of the council, but you could never become the owner of a piece of land. A rather unique idea,  great to preserve its essence. Because that kept the big hotel chains and mega-rich from occupying Barbuda and irreversibly changing it.
And then came greed
But that is also history now. Several investor groups put pressure on the Antiguan government to force Barbuda to change its land acquisition rules. Among the investors were such illustrious names as Robert de Niro and, we were told, George Cloony.
The first contracts have been written. It is only a matter of time before the big hotel chains start digging. Barbuda will then become another island of business and the mega-rich. There are already enough of these islands, which are also beautiful. But can't an island preserve its uniqueness? This island of birds, without water and infrastructure. At least for the few years until it perishes anyway.
It's no consolation, but we were allowed to experience Barbuda still untouched and natural. I guess in a few years it will be just a whimsical page in the history book.
Our next stop will be a complete contrast: St. Barts. Next week more from the sophisticated island of the Caribbean. / Holger Binz
Weather report:
Sunrise: 6:46 h, sunset 17:55 h, temperatures day: 30 degrees C, night 23 degrees C, wind 3-5 Bft, mostly sunny, few clouds, few showers.