From Mid-Atlantic to St Lucia
Our almost epic odyssey has come to an end. We have arrived. In St. Lucia, in the Caribbean – at our destination. Almost half a year to the day after we left Luxembourg.
The Atlantic allowed us to cross it in 16 days. Two-three days more than planned. Exactly after half the distance after 1,100 nm, on the 1st of Advent, we ran out of wind. The remaining 1,100 nm only went at half speed. After 20 kn in the first part (6 Bft), the second part often delivered only 4-6 kn, and rarely 10+ kn (2-3 Bft). Too little for a brisk ride. On the other hand, the sea was very tame and the waves much flatter. And of course it was nice and warm. Even I didn't have to put on long trousers for the night watch.
After entering Rodney Bay, we were briefed at the quarantine dock and summoned for the PCR test. That's right, there was a pandemic out there. After two weeks at sea, one is not only spatially in another world. Nevertheless, it is surprising that we are asked to take the test after 16 days in maximum possible offshore quarantine.  Especially since we left Cape Verde with a negative PCR test. Where should we have been infected? With the fish? We are getting really fed up with this nose picking.
It's a pity that we have to stay on the ship until we get the results of the test. We will then use the time to wash off the salt crusts of the Rivercafe and finally clean everything with fresh water. The first bar visit is postponed once again. Painkiller and Dark'n Stormy will have to wait a little longer.
ARC+ Rally Placement
We are the first and therefore the fastest ARC+ catamaran in St. Lucia. We even overtook a Leopard 47, which had started 27 hours before us. The two racers, a G-Force 1500 and an Outremer were disqualified because they left a day before the official start.
The fastest is not always first in sailing. In the ARC, engine hours are penalised with heavy time surcharges. On top of that, there is a handicap to compensate for the performance differences between the boats. We have to wait a few more days until the finish line is closed. Then the sailing time, engine hours and handicap of all boats will be evaluated. Only then will the winner be determined. We are 150 nm (about 1 day) ahead of the second cat, a Lagoon. But we will have to wait and see what engine hours they register.
Our water maker problem had a big influence on our result. The bitch had logged off on the very first night. So we couldn't make any fresh water and had to divide our water to 5 litres per person and day, with an ETA of 6.12. (ETA=Estimated time of arrival). 3-4 extra days were still in it. So we couldn't sit out the lulls and had to start the engines in between for safety reasons. But being the first to arrive thirsty is not an option. We are sure, however, that the other ships also had engines runing. On veut voir.
We were permanently the most northerly ship and our strategy was not bad at all. The last few days we were always able to sail with spinnaker in only 10-12 knots of wind again provided 6-8 knots of speed without using the engines. In addition, we had a 1.5 kn strong current with us. No matter where we end up, we will still celebrate our result as soon as we are allowed into the bars. And we are looking forward to finally seeing the other sailing friends again.
And how did we fare on the second half of the Atlantic? Splendidly. Despite the stressful water situation and the doldrums, the mood on board was great. To quote Gary: "good friends turned to be family". Our meals were almost decadently good. Every evening we ate together at the table in the outdoor lounge with mostly comatose sunsets in the background. It is the first time I have not lost weight on a long haul. One reason for this is our rich prey of fish: some mahi-mahi in the one metre range, tuna and Leerfish. No wahu or mackerel. Another reason is the skill of Ka, Jana and Gary. Examples? Roast lamb, mahi with fish fond (homemade), lamb curry, chicken curry, sashimi, grilled leerfish….
@Kalli: your lovingly mounted bait was bitten off by an unfriendly fish just like that. I wouldn't have wanted him on board either, he must have had a nasty set of teeth. But for that we dedicated the first Mahi to you.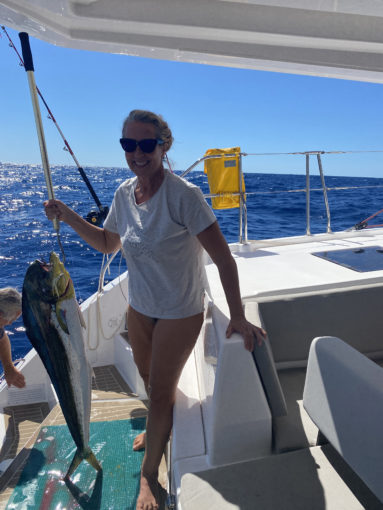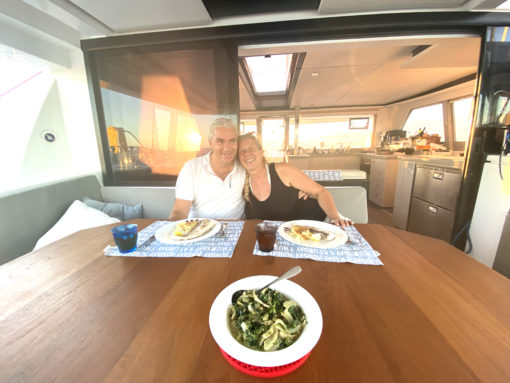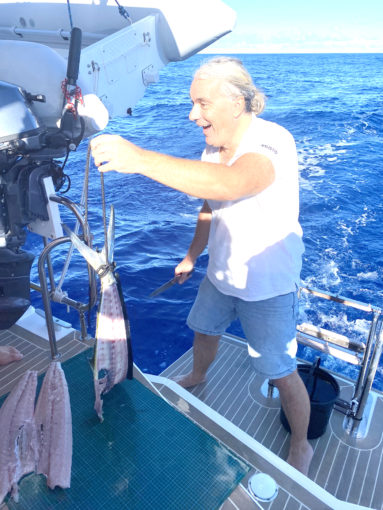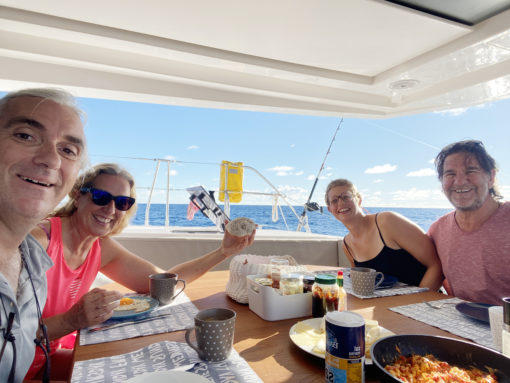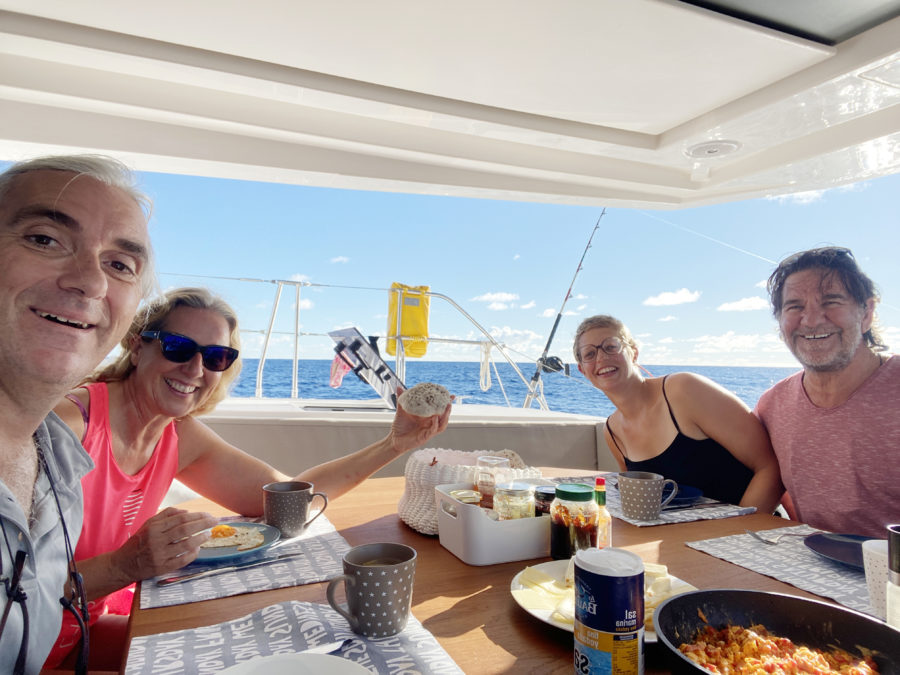 It's a really good feeling for a city dweller to catch, gut and fillet a fish. And of course – to eat it. You won't find this taste at any fishmonger's. Neither fried, nor as sashimi, and of course it couldn't be fresher.
Jana underwent a real metamorphosis. The first flying fish she landed on board she would have loved to resuscitate with first aid and artificial respiration. Now she catches fish (on purpose) and takes them apart in cold blood.
On 4 December, the doldrums offered us a rare opportunity, which the ladies on board took advantage of with joy: swimming in the middle of the Atlantic. We were so slow that we stopped. Ka and Jana jumped into the sea for a swim, enjoying the warm water. Unfortunately, Ka caught something in the floating Saragossa grass. Bites or stings, we couldn't identify it. It was obviously unhealthy, probably something poisonous, because she was unwell for two days.
Magic nights at sea
For me, the night watches are particularly impressive. Normally one is supposed to be able to see less than 5,000 stars in the sky. Here I doubt that. The starry sky looks 2-3 times as full as on land. Indescribably full and beautiful. Then, when the moon rises mostly fiery red, it looks like daytime, only without colours. Two-thirds of the stars are no longer visible.
During a night watch I noticed that I haven't thought about normal, everyday things for days. That I no longer think about sick orange US clowns, not about Corona or the stock markets. After two weeks at sea, everything is different, as if in another world. It's a pleasure to have time to think when you're alone at night with the sea and the stars. I have the feeling that the larger setting also invites larger thoughts. We didn't see a single plane on our trip. No wonder there is a feeling that there is nothing "out there".
Over the next few days, I'm sure we'll get up to speed. And I'll finally find out which team the NY Knicks are going with for the new season and whether the orange moron in Washington is finally vacating his seat.
As soon as we have the release from quarantine, we still have a few technical problems to sort out. The Water Maker needs to be repaired, our radio and AIS are spinning and the Raymarine navigation instruments have a relationship problem that needs to be resolved.
Once that's done, it's Caribbean for now. If I'm not mistaken, that was the plan for all our efforts. /Holger Binz