Dear Mr. President Ramaphosa
Today the number 1 was written in the steam at the shower door and tomorrow we should take the plane to Cape Town. We worked so long for it and looked forward to it for 830 days. And now we are not allowed to enter South Africa. Of course we would go into quarantine for 14 days, of course we have enough mouth and nose protection and disinfectant in our luggage. And of course we would like to fulfill the contract and take over our vessel. Just like us, the shipyard hopes for this moment. Because they will get a large remainder of money only at the handover. Thats why, Mr. Ramaphosa, please let us in.
South Africa is doing a good Corona job and is more successful than comparable countries like Spain, Italy or UK. However, the expected lockdown level has not been reduced from 3 to 2. Therefore, we do not have permission to enter the country now.
Luckily everyone is working hard to get us an entry permit after all. Therefore we remain optimistic that our trip will only be delayed for a few days. We would like nothing more than to support the suffering South African economy by fulfilling our contract. We are not tourists, Mr President – it is just business.
Since we left home two weeks ago, we have been traveling around Germany, going from hotel to hotel. Perhaps we should write a hotel test. First we spent a few days at the Nürburgring in the Eifel – family visit. Then a short stop in Frankfurt. Afterwards we spent a week in Berlin. And at the moment we are in the "Rheingau", always in sprint distance to Frankfurt airport. Traveling in times of cholera, äh Corona, is not pleasant at all. Not everyone has understood the now really simple rules.
But the side trip to Berlin was great. To experience Berlin as a tourist for a week was funny. After all we lived there for 10 years and from that time we still have some friends. It was great to see you: Joergen and Gitte, Bettina and Ernst, Barbara, Frank and Christina, Rie and Joosch, Tom, Sabine and Fritz.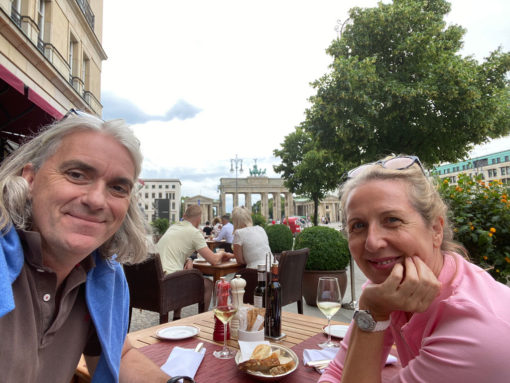 But we still have a great longing for water. In the miserable attempt to soften it a little, we took everything that had to do with water. Rowing on the Berlin lake, Spreerundfahrt, Rhine Tourist steamer past the Rhine castles.
We try hard to stay optimistic and hope for a daily entry permit to Cape Town. Keep your fingers crossed for us so that our countdown does not count up again. We are counting on you, Mr. President. / Karin Binz, Holger Binz