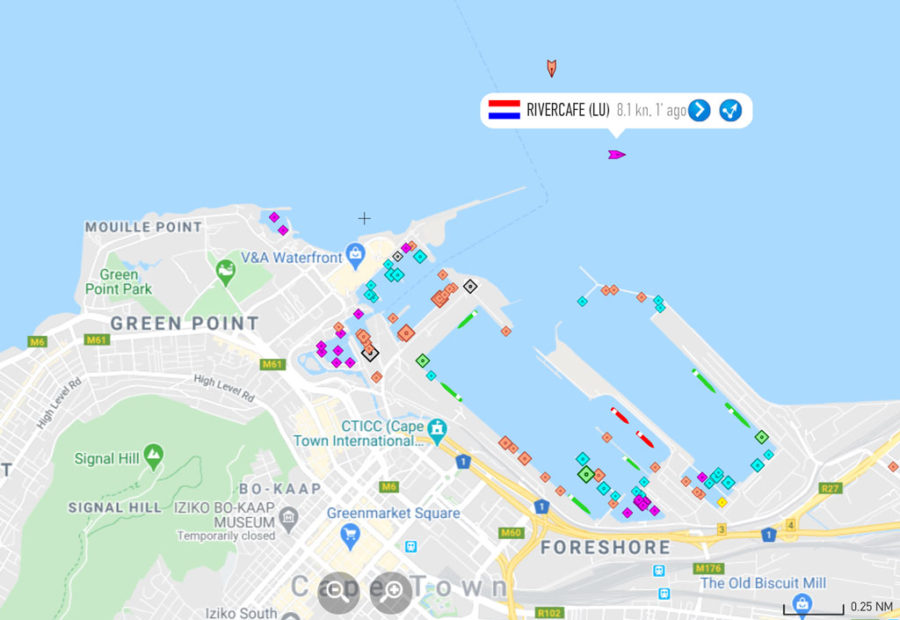 "We are officially cleared to depart"
Rivercafe is on its way
That was the most beautiful sentence I have heard in a long time. "We are ready to go". Our Captain Gary got clearance for his crew and Rivercafe and has left  Cape Town today, Sunday at 11.45 h with the opening of the bridge of the Victoria & Alfred Marina. Rivercafe is on the way to Tenerife. Halleluja.
We are in ecstasy. It's so good that no one sees us. Since this news, we've been hovering, grinning like idiots. Our journey will soon begin. At last. What a good decision not to wait for the lifting of the entry ban in South Africa. And what a fantastic coincidence that we found Gary. Delivery Captain of the Year.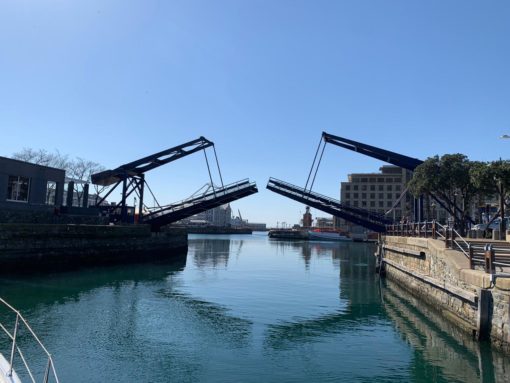 He's done a great job these past few days. Checking and approving the ship, getting our stuff on board, fitting out spare parts, dinghy, sails and safety gear ready, doing the sea trial and the refit with the yard. And on top of that, the preparations for more than a month on the Atlantic. Always patient but emphatic, Gary was our man for the handling with the shipyard and the suppliers. You can't believe what C19 is being blamed for. So if any of you ever need a first class delivery captain: Gary, it doesn't get any better than this.
Fortunately the handover went really well, there was only little to improve. We were used to different things from our former ships. Leopard was very cooperative with the retrofitting of the extras and the special requests after the sea trial. I guess they wanted to get the Rivercafe off the dock. Unfortunately the Leo boys forgot our complete our, sinfully expensive cushions for the two outside areas. They are now sent from the USA (why ever they are sewn there) to the Canary Islands. Fingers crossed.
We just did the routing as well and it will start very calm before the Lady can present her skills in a few days. Gary also uses PredictWind like we do. A very cool program that calculates the best course based on the sailing performance of our Leopard and the current weather conditions. I will write an own article about it. The calculation has shown that the course is about 5.500 nm, (about 10.000 KM) long in the current weather conditions. So the crew of the Rivercafe enjoys the fresh Atlantic air on a south-north course for about 30-32 days and nights. At the beginning of September the four should reach Tenerife. This is what such a routing looks like: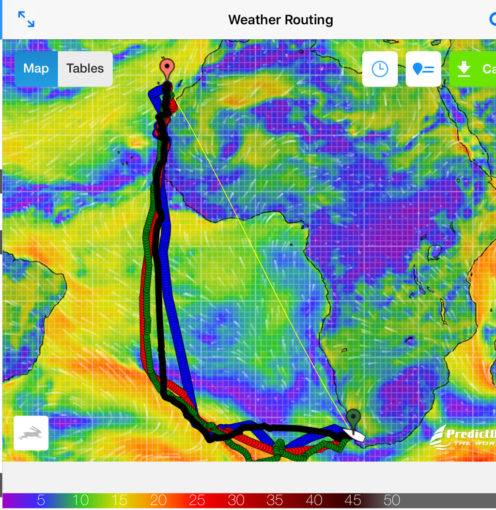 Ka and I can then go into a more relaxed mode from Sunday on. That's good, because the last weeks were very stressful and annoying. We will then get the positions from board via satellite mail every day and we will check the weather too. We can't do more than keeping our fingers crossed that everything on board will remain unspectacular and as boring as possible.
We will then have time to organize a few things, discover the island and see what the cuisine of the Canary Islands has to offer. And then we will slowly start to prepare our own Atlantic crossing. When the Rivercafe has arrived in good shape, we will sail to a few Canary islands and at the end of October we will sail to Gran Canaria where the ARC fleet is gathering. And then we'll be sailing soon, over into the turquoise water. / Holger Binz